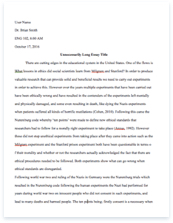 The whole doc is available only for registered users
A limited time offer! Get a custom sample essay written according to your requirements urgent 3h delivery guaranteed
Order Now
Federal Express (FedEx) Corporation is a global logistics and supply chain management company. FedEx has been known for their multiple innovations in information systems which they have integrated into their logistics and supply chain management systems. This case study analyzes strategies used by FedEx that helped earn its success as a global express transportation company. In addition to that, the report examines FedEx's reorganization strategies in becoming a company that offers more than express transportation and at the same time improve profitability of the company.
As FedEx invented the air/ground express industry, it was able to establish a reliable and reputable brand. FedEx was able to build a strong transportation and logistics infrastructure through acquiring its own transportation fleet and its initial merger with Parts Bank. FedEx also invested heavily in their IT systems and gained its success through its innovative software development that was able to integrate players in the supply chain.
Introduction
Federal Express (FedEx) was formed in 1973 as an express delivery company. It then evolved to a global logistics and supply management company. The success of the Company was highly attributable to its extensive track records of investments and innovations in IT systems. The Company was able to link players in the supply chain and identified points along the supply chain where it could provide management services. Despite this, their logistics business was struggling in performance and failed to generate profit.
The acquisition of Calibre Systems, Inc. in 1998 was aimed to reinforce FedEx's commitment on becoming more than just a transportation business. Following this acquisition, five subsidiaries were formed. Calibre Systems, Inc. and its subsidiaries had a completely different customer base from FedEx and provided elaborate logistics operation and fuller supply chain solution to FedEx. These subsidiaries operated independently, but compete collectively under unrelated names and logos. Customers continued to associate FedEx with transportation and the FedEx brand did not resonate through these subsidiaries, as hoped by the company. In 1999, a major reorganisation of the Company was done and the FedEx brand was extended to its subsidiaries. There would be one point of contact for FedEx's customers. However, because these subsidiaries still operated independently with different teams of delivery and pick-up, a tendency for duplication of resources could still occur. FedEx would also have to anticipate the challenge of establishing a reliable residential delivery business that was led by UPS.
This report seeks to analyse the case presented by FedEx and to identify FedEx's critical success factors and recommendations that FedEx can implement in order to address this problem.
3External Analysis (PEST)
3.1Political
Throughout the Company's operations, several regulations have helped with the success of the Company. Deregulation of the airline industry, allowed landing of larger air freights, which led to lower operating costs of FedEx and deregulations of the trucking industry allowed regional trucking systems to lower costs on short haul trips. Bilateral agreements between countries, such as trade deregulations in the Asia Pacific opened up new markets for FedEx as more businesses seeked global expansion, thus depending more on international freight transportation.
3.2Economical
Due to globalisation, a growing trend was observed where businesses expanded across national boundaries to capture new markets and outsource production. This increased the need for movement of goods which created demand for global transportation. From increasing inflation and competition, businesses were sought to reduce operating costs, hence demanding for more efficient logistics management to reduce inventory costs and implement just-in-time inventory.
3.3Social
FedEx encouraged its customers to integrate its systems to their businesses. In return, customers will be able to reduce inventory, save time and warehousing costs. At the same time, innovative customers were demanding for greater integration of FedEx's systems. FedEx was able to design and develop customised software for their customers in order to enhance integration, such as an extranet for Cicso Systems.
3.4Technology
FedEx is a company built around the use of technology. Continuous research and development of innovative software have helped the Company reach its success. As a result, FedEx was able to link its networks to enable sharing of information between departments and within departments in the company to increase operating efficiency, reduce costs and also to improve customer services.
4Porter's Five Forces
4.1Bargaining power of suppliers – High
Suppliers are able to influence pricing of products as they serve industries other than the air freight industry, giving them control over their prices.
4.2Bargaining power of buyers – Moderate
Competition in this industry maintains the price at its true market value. As this industry is seen as a market driving industry, many are not aware of the possibilities that technology can offer. Therefore, it is easy to influence buyers, making them dependent on the technology, speed and service offered by the company.
4.3Threat of new entrants – low
Companies need large amounts of capital to start-up, and a strong, trusted brand. Trade tariffs and international regulations are seen as a potential threat as they are directly able to influence the economy, hence affecting the Company's sales and services.
4.4Threat of substitutes – moderate
Substitutes for the Company are ships, trucks, and trains. Customers who use the Company's services desire fast, low cost and convenient delivery, which cannot be offered by other modes of transportation. However, the advent of Internet has decreased the need for shipment of documents as people are now able to use the e-mail, video conferencing and also the Facsimile.
4.5Degree of Rivalry – High
Competitors compete using price cuts. It is also relatively easy for customers to switch brands for basic transportation needs at a cheaper price. On the other hand, as companies demand for greater integration of FedEx's systems into their business, customer loyalty increases and switching costs would be high, discouraging customers to switch.
5Competitor Analysis
5.1UPS
UPS is the market leader for residential delivery service. Unlike FedEx, UPS outsourced their information systems development by forming strategic alliances wit Open Market, Inc., IBM and Lotus (UPS, 2007).
5.3DHL
DHL's express service links 120,000 destinations in more than 220 countries and territories with 500,000 employees. DHL is well known for their cheaper costs, the ability to offer freight and package shipping service worldwide, to areas such as Iraq and Burma (DHL, 2007).
5.4TNT
TNT is mainly based in Europe, providing services such as postal delivery in the Netherlands and express post worldwide. TNT serves more than 200 countries and employs around 127,000 people. The company employs 48,000 employees worldwide and has a fleet of 43 aircraft and operates over 19,000 road vehicles (TNT, 2007).
Company Analysis
6.1Strategy
With the Internet and Intranets, FedEx used technology to link supply chains to the point of raw materials and identified points along the supply chain where they could provide logistics services. Through this, businesses were able to reduce inventory and practice just-in-time inventory while saving costs on warehousing, and inventory management.
From the case study, FedEx has been identified as a multinational decentralised company where subsidiaries operate independently, focusing on their respective specialisations, but compete collectively (DeWit & Meyer, 2004).
6.2Marketing
FedEx is observed to market through websites, such as collaborating with Netscape and Cisco Systems. TV advertisements have been seen to emphasize on the value of FedEx's services portraying how FedEx saves time and costs in transportation by providing solutions for businesses. The PowerShip Programme, among their successful innovations, is a software designed to allowed their prioritized customers interact and integrate with FedEx directly regarding information of shipments, and logistics.
6.3Market Positioning
FedEx's marketing strategy is based on providing elaborate logistics management and fuller supply chain solutions through its five subsidiaries. Instead of sub-contracting their shipments and information systems development to a third party, FedEx differentiates from its competitors by focusing on building up their information systems and their own fleet of transportation.
6.4Financial Performance
Financial Analysis200019991998
Sales Growth8.84%5.67%11.48%
ROE14.38%13.54%12.69%
ROA10.79%10.88%10.57%
Gearing ratio0.370.290.35
Interest Cover Ratio11.711.88.23
From the table above, sales growth has improved significantly in 2000 compared to 1999, from 6% to 9%. The decline in sales growth seen in 1999 was partly due to the Asian economic crisis, where there was a substantial amount of outbound traffic destined for that region. In addition, the U.S. deferred package growth rate also decline in 1999 due to management actions that restrict the growth of these lower-yielding services. However, their sales growth picked up in 2000 and one of the main streams of revenue came from international package volume and yield, particularly in Asia and Europe. FedEx has a low gearing ratio, which signifies stability and decreased risk for shareholders. Their interest cover ratio is high, indicating that FedEx is able to cover its interest debt.
6.5Information Technology
Through investing in IT systems, FedEx was able to introduce revolutionary programmes that managed to reengineer the supply chain. Among them are the COSMOS programme; intended to keep track of all packages handled by the Company. In 1984, The PowerShip programme; which was launched to improve the efficiency and control of its delivery systems. FedEx also introduce the bar code labelling to ground transportation delivery. With IT, FedEx was able to link its physical delivery of parcels and the management and utilisation of the flow of information regarding the deliveries.
6.6Human Resource
Because FedEx aims to achieve maximum employee satisfaction, FedEx has various innovative HR practices that earned them the reputation of being one of the most employee-friendly companies in the world. Framed and valued since FedEx's inception in 1973, the people-service-profit (PSP) philosophy viewed employees as key contributors to the company's profitability.
7Critical Success Factors
We have identified several critical success factors that FedEx should have in order to succeed in this industry:
*Strong logistics and IT systems
*Speed
*Strong Leadership
*Global network of distribution centres
*Innovation
*Economies of Scale
*Good supplier relationships
*Branding
*Large transportation capacity
Among these, the top four critical success factors that we have identified are:
*Strong logistics and IT systems
Due to globalization of businesses and information technology advances, the demand for strong and reliable logistics and express transportation in the marketplace has increased. It is important that a company in this industry to be able to manage its supply chain efficiently. FedEx, who invented air/ground express delivery, has one of the most well-managed logistics operations. Through technology, FedEx is able to interconnect and distribute information to players in the supply chain. This enabled linking of companies to other parties in the supply chain, hence matching supply with demand.
*Speed
The ability to transport goods within a short time-frame determines the reliability and standard of an express transportation company. Shorter transportation times in this industry indicate the efficiency of a company's system. Speed is a critical not only for the Company, but also for its customer's success. With FedEx's advanced technology and logistics management, the order-to-payment cycle was shortened, which in turn led to improvement of the cash flow cycle and created customer satisfaction.
*Global network of distribution centres
A wide network of distribution centers is important as it determines and reflects the capacity, efficiency and reliability of a company to transport goods to destinations requested by customers. FedEx operates in 211 countries with 34,000 drop-off locations. They strive to build a reliable infrastructure that is able to connect the world's GDP, with a philosophy of 'Whenever a business was conducted, there was going to be movement of goods'.
*Innovation
With increasing competition, innovation in logistics management and transportation has become essential to maintain a competitive advantage. Companies that are able to innovate to enhance their supply chain management and transportation will be able to enjoy having the first mover advantage as this industry is a market driving industry. Through its innovative software, FedEx has been able to build a reputation for integrating technology to its logistics management.
8SWOT Analysis
8.1Strengths
Strong brand image in express transportation
oWith the first mover advantage, FedEx built a brand that was recognized in express transportation.
oThrough its software innovations, FedEx enhanced its brand by providing value-added services that allowed tracking of packages and a strong logistics management.
Innovation
oUsed airplanes and trucks differently than any other company before them giving them the first-mover advantage.
oHeavy emphasis is put on R&D for new software. 10% of their total revenues were allocated to R&D. This commitment keeps customers from switching to other service providers.
oThe Company also has good communication with their customers. The Company has introduced the first PC-based automated shipping system that allowed tracking for customers on all shipments.
Robust Operations
oThe Company provides guaranteed, time-definite delivery of packages, documents and freight to 211 countries with 34,000 drop-off locations, a fleet of 648 aircrafts, more than 60,000 vehicles and managed over 10 million square feet of warehouse space worldwide.
Ownership of own transportation fleet
oWhile competitors depended on commercial airlines and sub-contracting shipments to third parties, FedEx emphasized on acquiring their own transportation fleet.
Subsidiaries
oIncorporating smaller companies with similar operations under its belt to synergize and control more of the market.
8.2Weaknesses
Weak branding in subsidiaries
oThe company's logistic and supply chain operations were struggling with the historical image of the company as simply an express delivery business.
oPromoted five different subsidiary companies with completely unrelated names and business logo which cause customers confused and resource duplicated.
Rising Prices
oFedEx's prices are above their existing competitors. This can be a weakness if their customers do not perceive a difference between Federal Express and its competitors' services.
8.3Opportunities
Globalization
oFedEx should always seek to expand its networks to countries, such as Europe and Asia with more integration of economies
Acquisitions
oFederal Express can continue to acquire companies, such as relocation companies to expand into other areas in their industry
E-commerce
oWith the growth of online retail sales, FedEx can provide solutions for e-businesses that will be able to integrate its services into the retailer's business applications.
8.4Threats
*Increasing fuel prices
oImpact upon the Company's income it will affect the demand of transportation
*Internet
oWith email and online security, the demand for overnight courier is reduced
*Economic and Political Conditions
o The company is subject to world's economic and political condition as a whole. As a global company, they are subject to much more risk than domestic companies. And US economic downturn
*Intense competition
oFedEx's key competitors are UPS, DHL and TNT, which provide similar services to FedEx. These companies have strong international operations
9Recommendations
9.1Corporate Level
Single strategy to achieve competitive advantage
Because different subsidiaries are operating independently, the company strategy might seem out of focus. It is important that the Company has one clear focus, to better align its activities and resources to conduct its business successfully (DeWit & Meyer, 2004, p. 233). The Company can utilise the strategy canvas (Kim & Mauborgne, 2006) to identify the boundaries of their industry in which they compete in. Through this, they might be able to identify and reduce/eliminate factors that do not bring significant value to the company.
Time frame: immediate and should be re-visited on an annual basis
*Benefits: company will be able to synergise, build company culture, avoid unhealthy competition between subsidiaries, able to work towards one aim
*Costs: resistance from employees, structure change leads to financial costs (but only short term)
Work towards a transnational structure
Subsidiaries will be able to create interdependencies among one another, allowing information to flow through each subsidiary (Barlett & Goshal, 1995, cited in DeWit & Meyer, 2004). The customer database should be integrated onto one system, allow open communication and management should consider worldwide source of skills, ideas, capabilities and knowledge that can be harnessed for the benefit of the organisation.
Time frame: immediate and on-going
*Benefits: increase innovation and flexibility, synergise between subsidiaries, easier flow of information, stronger relationships in the organisation, strong company culture and at the same time, subsidiaries are able to work independently and effectively to fulfil their company's goals and objectives
*Costs: time consuming and costs in training
9.2Business Level
Integrate multiple databases
As FedEx still had different teams of delivery and pick-up staff, there is still a tendency for duplication of work, pick up and delivery. Customer database should be integrated to provide one point of referencing and standardization across the company worldwide, which in turn saves time and costs.
Time frame: immediate and on-going
*Benefits: more organised database, prevent duplication of work, increase accuracy on timing, more effective to work between subsidiaries with same database, same delivery and pick-up staff
*Costs: set up program to integrate database, HR – IT expertise, time consuming (initial)
Geographical independence
Regional offices could be established to control logistics and delivery management in a particular region. This is aimed to reduce transportation time between countries in the same region, if possible, less than 24 hours.
Time frame: 2 years
*Benefits: able to deliver in less than 12 hours within a group, shorten supply chain, bridge the gap between remote areas, able to boost economy of other countries, especially developing countries
*Costs: market research, software development, setting up infrastructure, exchange rates
9.3Network Level
Continuous expansion globally and locally
As FedEx is 'carrier-agonistic', FedEx only uses their transportation where it fitted in terms of costs and geographical coverage. To do this, FedEx could form alliances with local transportation companies in areas without FedEx operations.
Time frame: immediate and on-going
*Benefits: increase customer satisfaction, increase geographic coverage in remote areas
Online collaboration
Because FedEx consciously avoided residential delivery business, UPS has had the opportunity to lead in this business segment. To offset this impact, FedEx could set up online collaborations with e-businesses such as Amazon and e-bay, providing transportation of goods to consumers dealing with these e-businesses. This is aligned with FedEx's plan of focusing more with business-to-consumer e-tailing.
Time frame: immediate and on-going
*Benefits: able to utilise and collaborate with established e-businesses and reach out to new segments of customers, which increase revenues, able to associate brand with famous websites, with the increase in online shopping, collaborations with these businesses will provide a stable revenue stream
*Costs: set up costs, commission costs
9.4Functional Level
Continue research and development
As innovation in technology has helped the Company reach it's success, FedEx should continue this effort in introducing new systems into the industry to be able to drive markets and maintain a competitive advantage.
Time frame: on-going
Benefit: continue to maintain a competitive advantage and looking for new developments to be ahead of competition
Cost: research and development costs
Marketing
As the FedEx brand did not resonate through FedEx's five subsidiary companies, an increase in marketing should be implemented in order to increase the presence of these subsidiaries in the marketplace. FedEx could bundle their services, enabling customers to combine the range of services provided throughout the subsidiaries with a cheaper price.
*Increase marketing through advertising and promotions (discounts) to increase presence in health, automotive and consumer industry. Business to consumer (e-tailing)
Time frame: on-going
*Benefits: increase brand awareness through these five subsidiaries, increase brand loyalty and expand customer base through provision of bundling
*Costs: marketing and advertising
10Conclusion
In conclusion, FedEx is the world's largest express transportation company, delivering small packages throughout U.S. and to 220 counties worldwide. . The success of the company can be explained by a number of critical success factors. FedEx has established recognition from the concept of "next day delivery service evolution" due to shorten lead time of product delivery. The company has developed and built its transportation and logistic infrastructure by using technology to created innovative systems. The ability to interconnect and distribute information to the entire player in a supply chain became the focus of the company.
FedEx has a strong brand image. The company has the most recognized names in the global express delivery service segment as quick, and reliable. As a result, the company is able to drive domestic revenues, and facilitate international expansion.
FedEx introduced three major strategic initiatives in 1999, which are: naming their subsidiaries under the FedEx brand, reorganization of their customer service with one point of contact, and the introduction of a new low cost residential delivery service; in order to adapt and develop the company with the fast changing in the industry and be able to complete with its competitors in the market.
References
De Wit B. and Meyer R., 2004, Strategy: process content, context, Thomson: Singapore, International Thomson
DHL Website, 2006, viewed 15/01/2007 < www.dhl.com >
Federal Express Website, 2006, viewed 14/01/2007 < www.fedex.com >
FedEx 1998 Annual Report, viewed 12/01/2007 < www.fedex.com >
FedEx 1999 Annual Report, viewed 12/01/2007 < www.fedex.com >
FedEx 2000 Annual Report, viewed 12/01/2007 < www.fedex.com >
Kim, W. C. and Mauborgne, R. 2006, Blue ocean strategy, Harvard Business School Press, Boston, Massachusetts.
TNT Website, 2006, viewed 15/01/2007
UPS Website, 2006, viewed 15/01/2007 < www.ups.com >
Related Topics