Factors affecting group development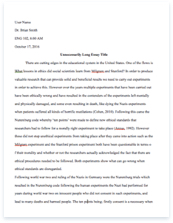 The whole doc is available only for registered users
A limited time offer! Get a custom sample essay written according to your requirements urgent 3h delivery guaranteed
Order Now
– This is the ability to persuade the group member to change and reflect the leadership style. Authoritarian leaders
predominate
compliant and dependent members
Democrat leaders
Persuade more active involvement
Environment
Physical factors ( space, temperature, seating arrangement)
Space/room (location and set up, e.g. Lighting & ventilation, seating arrangement) Emotional factors (emotional climate, verbal and non-verbal communication, moods & feelings of members Cohesiveness
– The sense of "we-ness" or group identification that gives a feeling of unity and "oneness" or solidarity that gives the members comfort and security to be with the group. Groups with high cohesiveness experiences the following:
1. Better attraction and close bonding to one another.
2. Support and caring for all the members.
3. Listening and empathy for the needs of the group.
4. Self-disclosure and feedback are easily expressed.
5. More productive and better cooperation Is attained.
Factors Affecting Group Activity
Size of the group (Ideal number: 12-15)
Threat reduction and degree of intimacy (people feel comfortable, know each other, mutual trust) Goal Formation
Distributive leadership with focus on group activity
Flexibility
Consensus and degree of solidarity
Evaluation
GROUP DYNAMICS
The forces and processes of interaction that are within a relatively small human group. According to GD, a small group:
a microcosm of society and the individual
A microcosm of humanity reflecting the bigger realities outside allows us to experience ourselves experiencing ourselves means knowing or discovering ourselves and exploring our potentials psychological tools to help facilitate the process of growth "I'm glad I am ME."
Psychological Methods used in
Group Activity Session
Psychoanalytic method
Behavioristic and Learning theories
Existentialism (here and now)
Humanistic approach
Field theory
Psychoanalytic method (Freud)
group members act out the group's unresolved conflicts from early childhood or previous life experiences Behavioristic and Learning theories (Watson, Pavlov, Skinner) believed that people can be trained to live effectively through the application of conditioning principles to the individual and the society. Existentialism (Maslow)
Emphasizes man's freedom of choice; focuses on the here and now Humanistic approach (Carl Rogers)
Unconditional positive regard
Individuals have much potential
Field theory (Kurt Lewin)
The individual must be seen as an element in a larger system.
The Johari (Joe and Harry) Window
To better understand yourself; who you are
The exercise allows you to understand how other people view you In this way, you're forced to think about your behavior, about yourself, about who you are. People Respond to Us in Three Ways:
Confirmation
Occurs when others treat us in the manner consistent with our notion of who we are. Rejection
Occurs when others treat us in a manner inconsistent with our self-definition Disconfirmation
Suggests to people that they do not exist or they are irrelevant to others
Facilitators and Participants
A Facilitator's Guide
"Accepting everyone's responses without judgment or maintaining a nonjudgmental attitude." Some thoughts…..
1. What can happen when a facilitator manifests a non-accepting attitude towards his/her participants? 2. Being facilitators, we do not need to preach about "better ways of being" or moralize how one should be. Agree or disagree? Why? 3. How can a facilitator show an accepting non-judgmental attitude towards his/her participants?
Who is the Facilitator?
A facilitator can be prepared for her work through a fine mix of both theory and practice. Six Basic Functions of the Facilitator:
1. Active listening (clarifying, reflecting back, paraphrasing) 2. Emotional stimulation ( challenging, confronting, clarifying, releasing strong emotions, etc). 3. Caring (conveying acceptance, understanding, modeling, warmth) 5. Executive Function (gatekeeping, setting standards, giving directions, blocking, directing traffic) 6. Achieving humanness (sensitivity to one's own humanness as well as to those of others in the group)
Training Components for Group Facilitators
. Conceptual knowledge of the dynamics of human behavior
cognitive and conceptual rationale for their interventions
Obtained through formal means
2. Understand group development
3. Understanding facilitating styles
4. Experiential learning as a group member in various types of groups (toxic vs. nourishing participants)
5. Process observation and analysis
Facilitators Observe:
Process
– interaction at any given point of time, of the forces of energies called process elements, manifested in overt behavior and interpreted from covert behavior, that actively influence the individual, the group and the situation. -What is happening to group members while the group is working? – How things are done, what is left unsaid, the underlying dynamics, which can only be inferred from what is observable. -participation, atmosphere, influence, leadership, cooperation, competition, conflict Process Elements: participation and atmosphere
2. Content
– the subject matter – what the members are talking about or the task which the group is working on.
Related Topics