Exploring Archetypes in Short Stories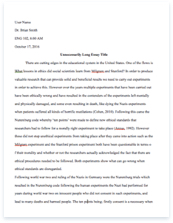 The whole doc is available only for registered users
A limited time offer! Get a custom sample essay written according to your requirements urgent 3h delivery guaranteed
Order Now
Archetypes are recurring symbols, characters, landscapes, or events found in myths and literature across different cultures and eras that help us organize events into categories. There are three main types of archetypes which include situational, character, and symbolic. All three are easily relatable to. Firstly, an example of a unhealable wound in a situational archetype can be found with Mrs. Maloney in "Lamb to the Slaughter." An example of a scapegoat, which is a character archetype, is Tessie Hutchinson in "The Lottery" where she is stoned to death. Finally, an example of a light/darkness symbolic archetype can be found in "The Sniper" where in this case darkness defeats light.
An unhealable wound is a physical or psychological wound that cannot be fully healed. An excellent example of this type of situational archetype can be found in the short story, "Lamb to the Slaughter" written by Roald Dahl. In this short story, Mrs. Maloney is faced with the psychological struggle of her husband leaving her. She is so used to the daily ritual and tradition after her husband comes home, that she is overwhelmed when a slight change occurs. After her husband implies that he is leaving her, she is so overcome with ache, that she is driven to murder her husband. By using a simple frozen leg of lamb, Mrs. Maloney successfully murders her husband and manipulates the police officers into eating the only existing piece of evidence related to the murder.
An example of the character archetype of the scapegoat can be found in Shirley Jackson's, "The Lottery." In this example, the scapegoat is Tessie Hutchinson, whose is stoned to death in a public ceremony. Since the town has been following the ritual of stoning a citizen to death every year, it is accepted and followed unquestioningly, even though it is considered illogical, bizarre, and cruel in our society today.
Finally, an example of symbolic archetype can be found in the "The Sniper" by Liam O'Flaherty, which is represented through light and darkness. In this short story, the darkness of the night in which the battle between two snipers is happening in, implies the unknown. If it were light outside, both
of their positions would be given away and their would be no sense of mystery or suspense. Furthermore, the two snipers would at one point come to the realization that they are brothers, so darkness also suggests the mystery behind evil.
Archetypes are important in literature because we can then file characters, symbols, landscapes, and events into categories for better understanding and for possible prediction. Throughout all of short stories that we have read, almost all types of situational, character, and symbolic archetypes can be found.
Related Topics