Example Learning team Charter for University of Phoenix Online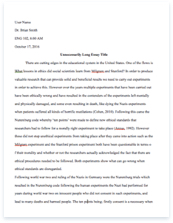 The whole doc is available only for registered users
A limited time offer! Get a custom sample essay written according to your requirements urgent 3h delivery guaranteed
Order Now
Team member one- I will participate fully on all team exercises. I will make it a point to be on time and make it to every team meeting. I will give my honest best effort each time I participate in a team activity paper.
Learning Team Goals
Complete assignments/projects in a timely and successful manner. Learn effective collaboration methods for online learning. Meet at regularly scheduled times, weekly.
What are potential barriers to the achievement of these goals?
Scheduling issues.
Group diversity.
Members not completing their assigned tasks in a timely fashion.
Organization, unforeseen emergencies and miscommunication.
Meeting via IM can tend to be difficult, but it is the only realistic approach since we all live in different areas
Ground Rules
Meeting schedule, locations, attendance expectations, agenda, assignment completion, communication methods, etc.
If for some reason you cannot meet the requirements set by the members of the team, you need to notify everyone ASAP so we can help cover the slack, COMMUNICATION is the key to our group's success!
We are a team and as a team, we will work to help any teammate that is falling behind or needs help.
All team members need to communicate respectfully and be open to everyone's thoughts and ideas, recognizing that differences can be a positive part of the process in achieving a successful team project.
Conflict Management
What are potential conflicts that might arise among or between team members during this course? How will team members deal with these and other conflicts?
Scheduling can be mitigated by picking favorable times for everyone, and constant communication with other team members.
Group disagreements on various topics can be mitigated by compromise or a democratic vote.
Misunderstandings on what is required weekly can be mitigated w/ clear, concise communication.
We will take steps to resolve conflict in a positive way, keeping our personal feelings and emotions out of the way, using steps and tools for effective conflict resolution
Related Topics