Ethics in Group Counseling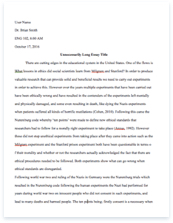 The whole doc is available only for registered users
A limited time offer! Get a custom sample essay written according to your requirements urgent 3h delivery guaranteed
Order Now
Abstract
This paper will study through some of the diverse ethical issues that can arise within group therapy sessions, such as conflict and confidentiality. While discussing the ethical issues within group counseling we will take note of how these ethical issues may differ and compare to the ethical issues of those within individual counseling sessions. This paper will also discuss reasons why a therapist might choose to lead a group therapy session over individual counseling and vice versa. Throughout this paper you will be accurately informed of the ethical issues surrounding group therapy and individual counseling.
As someone just starting out in the counseling field this paper may help to address any questions you had in deciding if leading group therapy is right for you or if you would be better suited for individual counseling. Ethics in group counseling 3 Ethics in groups Group counseling includes psychiatric treatment where more than one patient meets together with a therapist at the same time. Some groups are specific to a certain topic or issues that all members with the group are interested in or a problem that they are dealing with such as substance abuse, others may be involved in a group that is more for support such as a support group for parents struggling with children with autism.
Groups have different topics but those attending a particular group are all attending for the same reason, they want personal growth. (Jacobs, 2012) Jacobs (2012, p.3) says "Although there is still a place in a community agency for individual counseling, limiting the delivery of services to this model is no longer practical, especially in these tight financial times. Not only do groups let practitioners work with more clients, but the group process is a unique learning advantages." Amato (2000) warns therapists to be aware that records may be disclosed directly to patients and that boundary violations may occur as a result of any secondary relationships that alters the therapeutic relationship with the client. Therapists must also be aware that members of the group may abuse other members in the group; avoidance of this behavior may be avoided with proper guidelines in place and disclosure at the start of the group process for each Ethics in group counseling 4 member.
A close relationship can be built between all group members as well as the therapist, Forsyth (2011) refers to this relationship as group cohesion. Tenbrunsel (2006) mentions social cohesion, as enabling unethical and selfish actions, instead of a positive feature of group life. Certain modalities of therapeutic treatments are linked to ethical dilemmas as well; these modalities affect treatment outcomes as well. Dyadic therapists may misuse the intimate nature of the sessions by pushing their values on the client or clients, or by allowing therapy to extend beyond its efficiency. Confidentiality can be broken much easier with the group setting; therapists need to be highly guarded on this topic. (Amato, 2000) "In group psychotherapies, the therapist may fail to obtain fully informed consent, or may inadequately explain that confidentiality cannot be guaranteed in a group setting. The group therapist may not have the skills to differentiate between helpful and harmful feedback from the group, may lack the knowledge to understand when premature disclosures can be harmful to a group member, or might misunderstand how groups form norms that can be either healthy or unhealthy.
Family therapists are faced with problems of agency, forthrightness to the family, working with members who do not want to participate in therapy, and issues of informed consent. Family therapists must be able to distinguish between their own values and those of the family, and refrain from promoting their own Ethics in group counseling 5 value systems." (Amato, 2000) Corey (2014) described some ethical issues within the group setting as making sure the group leader has quality training. As many references stated Corey (2014) also noted that confidentiality is an important issue within the group. Continuing with the values that each group should uphold, utilization of what techniques to use in the sessions, and ethical issues in-group membership. Ethics in individual counseling Dufrene (2011) conducted a study on current and emerging ethical issues in individual counseling situations.
Their study was based off of three research questions: What di experts believe are the most important ethical issues currently facing the counseling profession, what do experts believe are the most important emerging ethical issues that the counseling profession will need to address during the next five years, and do experts identify social justice concerns as important current and emerging ethical issues. Dufrene (2011) used the Delphi technique that uses written responses rather than bringing all the experts together for a discussion. This technique reduces potential bias because the participants and separate and unknown to each other. The twenty-two participants believed that the top four current ethical issues were ensuring that counselors practice ethically/abide by the code of ethics, strengthening the professional identity of counselors, determining boundaries of Ethics in group counseling 6 competence, and practicing with multicultural competence.
These same twenty-two participants noted that the top four rising future issues were: dealing with social justice and diversity issues, being accountable for measuring effectiveness of counseling, serving emerging populations and dealing with issues created by medical advances, and managing diagnosis and changing concepts of mental health. Compare/contrast group and individual counseling What is the difference between group and individual counseling? We know that individual counseling is one on one counseling between the client and the therapist. Group counseling includes psychiatric treatment where more than one patient meets together with a therapist at the same time. We also know that there are ethical issues within both types of counseling relationships. How do they compare? How are they different? From the research done so far regarding ethics in both groups and individually we can see that the standards for counseling and ethics do not change. The same codes apply to the counselor counseling the individual or the counselor facilitating a therapeutic group.
The major difference is that within a group setting it becomes more difficult to manage ethical principles and that therapist must be highly trained to manage such groups to avoid falling into ethical dilemmas. The group counselor must be guarded for confidentiality and cautious of dual relationships. Full disclosure and guidelines is important in the Ethics in group counseling 7 first group session to set the right pace of the group sessions. The same should be done for the individual counseling session. The one on one therapist will still face ethical issues but they may be must easier to be cautious of in this type of setting. "Counselors should take clients' words as significant communications about what they need or what is troubling them." (Jungers, 2012) This needs to be applied to all settings, especially the group setting, the counselor must be highly aware of all discussions within the group. Amato (2000) examined ethical differences within group and individual counseling. In doing so she noted that group therapists have less control over what occurs during their sessions.
Because group interactions are encouraged, it is important for the therapist to closely monitor these interactions to insure what is being said is appropriate for the therapeutic process and helps to move the process along and does not promote negativity throughout. Sensitivity to cultural issues must be promoted within the group setting. It must be advised to those attending group sessions that confidentiality cannot be guaranteed within the group setting. While it may be hard to avoid the pairing of group members it is important to stress that dual relationships are discouraged. Choosing a preference When choosing group therapy the therapist must be aware that the American Counseling Association (ACA) and the Association for Specialist in Group Work Ethics in group counseling 8 (ASGW) Code of Ethics both require a formal assessment of the group prior to the actual start of the therapy sessions.
I feel the most challenging type of group to lead would be a therapy group. I feel like the group setting, with many different individuals, each with their own needs could be overwhelming for the counselor when trying to help each person in the group. While I also believe that group counseling could be extremely helpful for many individuals over individual therapy, from the counselors perspective I could see myself favoring one on one counseling with the client as opposed to counseling and therapy groups. Jacobs (2012) mentioned "Because members of these groups vary in their degree of mental health, the chances for complex dynamics are much higher than in any other group discussed". Only certain individuals under certain circumstances will benefit the most from group therapy. The leadership style that would be best for this type of counseling would be a leader directed leadership style.
This puts the leader in control as opposed to the group. This approach ensures that there is structure and the needs of the group and individuals are being met through the group. Jacobs et al. (2012) also mentioned that an intrapersonal approach would best suit a counseling and therapy group. When using the intrapersonal approach the focus it put on the specific needs of each individual member as opposed to an interpersonal approach, that focuses on the group as a whole (Jacobs et al, 2012). The counselor is to make sure there are Ethics in group counseling 9 no dominating factors that could hinder the work of the counselor and the goals of the group.
Related Topics