Enduring Love Literary Analysis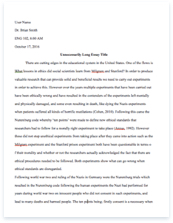 The whole doc is available only for registered users
Pages: 4
Word count: 859
Category:
A limited time offer! Get a custom sample essay written according to your requirements urgent 3h delivery guaranteed
Order Now
From the very start of the novel "Enduring Love" it is made clear that the relationship between Jed and Jose Joe begins on an awkward note; Jed followed Joe to the scene of Logan's death and Joe describes his appearance as "threatening". With the assistance of Joe's retrospective observations we learn that this is the start of Jed's obsession, having misinterpreted a "friendly nod" from Joe as a sign of love. This awkwardness is further increased as Jed attempts to convince Joe to "pray together"; something that should usually be an intimate affair between loved ones, rather than complete strangers.
The fact that Jed goes on to talk about Joe's partner Clarissa in an over-amicable manner as if he also knew her confirms Joe's view that his behaviour was particularly peculiar. With retrospect, Joe claims it is now "odd to evoke the figure of Jed… " which confirms that from his first meeting an uneasiness had already developed in his mind and that the relationship between him and Jed was one doomed to failure.
The extent of Jed's delusional belief in a romantic relationship existing between himself and Joe is fully established at the very end of chapter three – structurally placed at the end to give the most emphasis. Jed calls Joe at 2AM in the morning and says "I just wanted you to know, I understand what you're feeling. I feel it too. I love you". The degree of threat from the phone call is particularly multiplied as it is a real, physical threat rather than something abstract – it is not something that can be ignored.
Furthermore, the fact that the call is received at such an early hour also leaves Joe in a vulnerable position. It is important to note that this is the pivotal moment of the novel and it is from here that the future of the relationship between Jed and Joe is marked, but it also shapes Joe's relationship with Clarissa – it causes a crack to develop in their relationship, as Joe conceals the true reason for the phone call, saying it was a "wrong number".
The phone call Joe received clearly results in him being in a more "apprehensive" state, even leaving him uncomfortable whilst researching at a library; he convinces himself that he has seen a "pair of white shoes, trainers with red laces", a motif representing Jed, but then decides that it may have been a figment of his own imagination, built up in his fear. Regardless, the effect Jed has made on Joe by this point is quite clear, his character transforms from a rational scientist to a paranoid and possibly delusional man.
After initially being invited to a single meeting by Joe Jed declares himself as "like a man blessed in love" and demonstrates his own obsession towards Jed using the simile "like a dog tied up outside a shop". However, this is juxtaposed to Joe's own view towards Jed; he bluntly confronts him saying "Who the fuck are you? What are you talking about? " using expletives to demonstrate his frustration towards Jed's attitude. After leaving, Jed proceeds to 29 calls on his answering machine, leaving us and Joe further alienated from him, and widening the huge gulf between the two of them.
Jed's love for Joe is also made quite clear in chapter 11, through McEwan's use of epistolary; in his letter he uses several sentimental and clichi?? d similes such as "like an electrical current" and "as strong as a steel cable" to describe the strength and endurance of his love for Joe, although we are unable to emphasise with him at this point, as we know that these feelings are not mutual between him and Joe, in fact quite the opposite.
The relationship between Jed and Joe transforms into something more dangerous as Jed arranges for the murder of Joe whilst at a restaurant, but fails, and the wrong man is shot. It is clear here that what started with a "friendly nod" has turned into a fatal game, all due to Jed's delusions. This is further emphasised by the concluding sentence of the chapter, Joe decides he "needs a gun" – this is particularly surprising as we are used to his character being one of calmness and rationalism, him resorting to violence and weapons is a complete surprise, and a consequence of Jed's actions.
In conclusion, the relationship between Jed and Joe begins as something no more than amicable, and despite Jed believing it transforming into a romance, it in fact actually goes onto become something of an annoyance to Joe and eventually endangers his own life, as well as Clarissa's, as seen in both the restaurant scene and in chapter 22 as Jed holds Clarissa hostage in her own house and is finally shot by Joe in the arm.
Although this would suggest that the relationship between Joe and Jed has come to an end, though the second appendix, Jed's letter to Joe three years after being admitted to a mental hospital, makes clear through Jed's stream of consciousness that his delusions continue, he thanks Joe for loving him and exclaims that "faith is joy". Jed's love is enduring.
Related Topics