Employment Discrimination Research Paper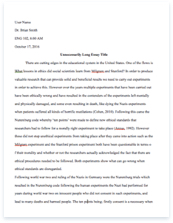 The whole doc is available only for registered users
A limited time offer! Get a custom sample essay written according to your requirements urgent 3h delivery guaranteed
Order Now
"Sexual harassment encompasses the request for sexual favors as well as touching, joking, commenting, or distributing material of a sexual nature that an employee has not consented to and finds offensive" (Moran, 2013).
Evidence needs to be established that the employer's motivator to not submit the refusal was based on sexual advances that were made to the employee. The employee will present evidence of employment records showing work performance was within company standards. Copies of your employment records will be made in case of adverse decisions.
Converse with the offender: confront the person who is mistreating you. If things do not improve put it in writing. Keep a copy for yourself. File a complaint within your company. Next, make an internal complaint. Before you can bring a discrimination or harassment lawsuit under federal law, you must file an administrative charge with the federal Equal Employment Opportunity Commission (EEOC) or a similar state agency.
The victim should tell the person that his or her behavior offends them. Don't engage in the conversation, otherwise it sends mixed signals. Direct communication, verbal or written, is better than ignoring the behavior it hopes it will disappear. Report harassment to your boss. Write it down as soon as harassment is experienced. Be specific: dates, places, times, and witnesses.
When a person reports a racial harassment claim; a person must prove the work environment is hostile, intimidating or offensive. Th offensives are "racial jokes, ethnic slurs, offensive or derogatory comments, or other verbal or physical conduct based on an individual's race or color," define by the EEOC definition.
"The passage of GINA in May 2008 has set a national level of protection against discrimination based on a person's genetic information. Genetic information refers to information about a person's genetic tests, the genetic tests of a person's family members, and the incidence of diseases or disorders in a person's family ("family history"). It also includes information about any person's or family's request for, or receipt of, genetic services or their participation in clinical research that involves genetic services. Genetic services include genetic testing and/or receiving genetic counseling. Genetic counseling involves obtaining, interpreting, and/or assessing genetic information. GINA specifically defines the term "genetic test" as the analysis of human genes, chromosomes, proteins, or metabolites to determine a person's genotype and whether the person has one or more gene mutations or chromosomal changes" (Genetics and Public Policy Center, 2008d).
GINA regulations interpret the law to be available by May 2009. The health insurance provisions will come into effect May 2009, employment provisions take effect, November 2009. The implementation period for the health insurance protections will continue until May 2010. When these protections and provisions come into effect, nurses will need familiarize themselves. GINA does not allow the following behaviors: "(a) individual and group health insurers to use an individual's genetic information to determine whether they are eligible for health insurance, (b) an insurer to ask for or mandate that a person have a genetic test, (c) employers to use an individual's genetic information to make decisions about job assignments, whether to hire or fire an individual, or any other terms of employment, or (d) employers to ask for, require, or buy genetic information about an individual or his or her family members" (Genetics and Public Policy Center, 2008c; Hudson et al., 2008). This article also states GINA legislation prohibits insurers and employers from using research participants' genetic information against them (Genetic and Public Policy Center, 2008e).
Give the main legal reason why every company should have a valid written policy against all forms of harassment (besides the fact it is the 'right' thing to do.)
Policies are the framework in an organization that governs its employee relations. Policies and procedures will guide managers and employees. This will relay what is expected and will help prevent disagreements in the workplace. They can be used to illustrate commitment, a positive work environment, and nondiscriminatory employment practices.
Can an employer require that only females serve female customers and only males serve male customers? Explain your answer using legal terms.
Generally, no. The Bona Fide Occupational Requirement (BFOQs) has been found acceptable only under rare circumstances. Situations involving privacy concerns could justify hiring only women as ladies' rest room attendants. For religious-run businesses, such as a Catholic-run hospital, hiring only Catholics for policy-making level positions is acceptable. How many employees must an employer or company have working for it to be subject to:
Pregnancy Discrimination Act
The Pregnancy Discrimination Act amended Title VII of the Civil Rights Act of 1964. Discrimination on the basis of pregnancy, childbirth, or related medical conditions constitutes unlawful sex discrimination under Title VII, which covers employers with 15 or more employees, including state and local governments.
The ADEA covers all private employers with 20 or more employees, state and local governments (including school districts), employment agencies and labor organizations. . (EEOC, 2015)
The Immigration Reform and Control Act of 1986 (IRCA) prohibits discrimination on the basis of national origin by smaller employers (with 4 to 14 employees).
Assume you work for a company that has a sexual anti-harassment policy, but not a religious, sexual orientation, or racial anti-harassment policy. Write a one-two paragraph statement to your boss (the HR Director), as to why you believe it would make sense to revamp the policy to include other forms of harassment. Include one example of a real situation where a policy may have protected a company from liability or stopped harassment from happening. (You will find case examples on the EEOC website).
It has come to my attention that the company does not have a religious, sexual orientation, or racial anti-harassment policy. These policies are in place to protect the company. I did some research and will explain in detail why we need these policies intact:
The law forbids discrimination when it comes down to any aspect of religion, sexual orientation, and racial anti-harassment. The law protects not only people who belong to traditional, organized religions, such as Buddhism, Christianity, Hinduism, Islam, and Judaism, but also others who have sincerely held religious, ethical or moral beliefs. The law requires an employer or other covered entity to reasonably accommodate an employee's religious beliefs or practices, unless doing so would cause more than a minimal burden on the operations of the employer's business.
This means an employer may be required to make reasonable adjustments to the work environment that will allow an employee to practice his or her religion. Harassment can include, offensive remarks about a person's religious beliefs or practices. When it comes down to sexual orientation the EEOC has held that discrimination against an individual, because that person is transgender (also known as gender identity discrimination), is discrimination because of sex and therefore is covered under Title VII of the Civil Rights Act of 1964. The Civil Service Reform Act of 1978 (CSRA), as amended, also protects federal government applicants and employees from discrimination in personnel actions (see 'Prohibited Personnel Practices' http://www.opm.gov/ovrsight/proidx.asp) based on race, color, sex, religion, national origin, age, disability, marital status, political affiliation, or on conduct which does not adversely affect the performance of the applicant or employee — which can include sexual orientation or transgender (gender identity) status.
Additionally, federal agencies retain procedures for making complaints of discrimination on any bases prohibited by Executive Orders reviewed below. For example, some lesbian, gay, and bisexual employees may file complaints under both the agency's Executive Order complaint process (for sexual orientation discrimination) and 1614 process (for sex discrimination), as these are separate processes.
Basically no. A business may not depend on collaborator, client, or customer inclination for a male or female. In some exceptionally restricted circumstances, on the other hand, an executive may have the capacity to choose a person for work task in light of sex. For instance, a business in the social insurance field may give a tolerant solicitation for a specialist of the same sex to help them with showering, without abusing the law.
Policies for other types of harassment apart from sexual harassment is equally important as other types of harassments are also covered and equal place in the eyes of laws. There are a wide exhibit of assurances accessible under the law that shield people from being harassed or oppressed. Under different bits of social equality enactment, representative separation on the premise of race, religion, sexual orientation, national starting point, age, handicap or whatever other secured status is disallowed. These social equality laws change by state. The representative is ensured in wording being procured, terminated or advanced, and concerning any of the terms and states of job. Now every form of harassment needs to be taken care otherwise company can face a legal case from one of its employee.
Michelle Vinson had asserted that her administrator continually subjected her to inappropriate behavior both amid and after business hours, on and off the superintendent's premises; she charged that he constrained her to have sex with him on various events, caressed her before different representatives, tailed her into the ladies' restroom and presented himself to her, and even assaulted her on a few events. She affirmed that she submitted because of a paranoid fear of endangering her work.
The Supreme Court concurred that the case ought to be remanded for thought under the 'antagonistic environment' hypothesis and held that the correct request spotlights on the unwelcomes of the behavior as opposed to the 'willfulness' of the casualty's cooperation. In any case, the Court held that the court of bids wasn't right in reasoning that bosses are dependably consequently obligated for harassment by their supervisory workers. The Court dismisses the executive's contention that Title VII restricts just separation that causes financial harm. 'Title VII manages worker the privilege to work in a situation free from biased intimidation, derision, and affront whether taking into account sex, race, religion, or national inception'.
I agree with the Court's decision that working environment inappropriate behavior is unlawful, and damages Title VII. Inappropriate behavior by a director of a worker under his watch, prompting a biased workplace, ought to be attributed to the manager for Title VII purposes paying little heed to whether the representative gave 'notification' of the offense. All in all, do on to others as you would have them do on to you the demonstration which was being referred to was Title VII of the Civil Rights Act of 1964 Philips alleged that she was denied employment because of her sex.(1) in 1966 Martin educated Mrs. Phillips that it was not tolerating employment applications from ladies with pre-school-age kids; (2) as of the time of the movement for outline judgment, Martin utilized men with pre-school-age kids; (3) at the time Mrs. Phillips connected, 70-75% of the candidates for the position she looked for were ladies; 75-80% of those employed for the position, gathering learner, were ladies, consequently no inquiry of predisposition against ladies in that capacity was introduced.
Court said that the record before us, nonetheless, is not sufficient for determination of these imperative issues. Summary judgment was in this way shameful and we remand for more full improvement of the record and for further thought. Mr. justice Marshall said that he concur that this case must be remanded for a full improvement of the truths, he can't concur with the Court's evidence that a 'true blue word related capability sensibly important to the ordinary operation of' Martin Marietta's business could be built up by a demonstrating that a few ladies, even the dominant part, with pre-school-age kids have family obligations that meddle with employment execution and that men don't for the most part have such obligations. The result of this case was discrimination based on sex was added to the Act by an amendment offered during the debate in the House by Rep. Smith of Virginia.
This case do change the shape of employment on the basis of sex. It further helped in clearing the thoughts written in Title VII of the Civil Rights Act of 1964 by making amendments in the law, the ban on discrimination based on sex was added to the Act by an amendment offered during the debate in the House by Rep. Smith of Virginia. 110 Cong. Rec. 2577. This definitely clears out the thoughts of the employees and employers by helping the employers clears the type of applications required for the particular job offered and does help anyone not to feel discrimination on the basis of their sex.
I think by this case the employment law were made stronger. As this case helped Title VII of the Civil Rights Act of 1964 more clear and broad by making new amendments regarding discrimination on basis of sex. This case further helped clear about inequalities of men and women and asking companies to make extra arrangements to guarantee equal performance from both sex. This case would have been a stepping stone to look further into situations that Title VII doesn't talks about.
Related Topics