Employee Profile Motivation action Plan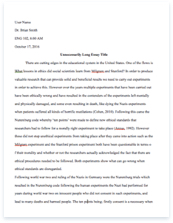 The whole doc is available only for registered users
A limited time offer! Get a custom sample essay written according to your requirements urgent 3h delivery guaranteed
Order Now
Motivation is giving somebody a reason or incentive to do something. It can be intrinsic or extrinsic. Intrinsic motivation is focused by an awareness or satisfaction in the task itself and usually occurs within the person rather than relying on external force. Extrinsic motivation is from outside the individual. Some common extrinsic motivators are rewards or punishments like evaluations or money, pressure, and threat of reprimand. The key to an organization's success is the motivation of the staff. It is clear that organization's need motivation plans that inspire, provide anticipated incentives, and keep the staff involved in the process and results of the plan. A successful leader needs to understand and be able to use the tool that motivates each member of their staff.
Yolanda is a strong employee who is overall satisfied with her job and has a self-awareness regarding her attitude, adaptability and ability to get a job done in a timely manner. Yolanda's area of opportunity for growth is being able to stay focused on the tasks at hand. Motivational Strategy and Action Plan: When difficult goals are set and accepted by others, the results are in a much more productive environment. Through self-monitoring while making goals, individuals anticipate their achievement or disappointment based on capability, effort, or difficulty of the task. Relevant Theory: Goal Setting Theory is based on when the goals to be achieved are set at a higher standard, employees are motivated to achieve better results and put in use their best effort. It coincides with the idea of people believing that they are capable of accomplishing a hard task. An ideal goal should present a condition where the interval between the beginning of behavior and the end are close. Behavior is essentially goal oriented, which means our actions are usually motivated by a need to achieve some specific outcome.
Florence has a strong ability to stay engaged despite her job dissatisfaction. Florence is highly engaged with educating and relating to the needs of children. Florence is happy and enthusiastic regarding educating parents and kids, but lack enthusiasm for the way the organization is run. Florence is emotionally stable, and has a positive attitude toward teaching, but has a negative attitude toward the organizational structure. Motivational Strategy and Action Plan: Herzberg described motivators as inner encouraging aspects which always inspire the employee's to put forth their best efforts. These motivators for teachers can include, "recognition from department heads, empowerment, student's achievement or career advancements" Relevant Theory: Herzberg's Motivation-Hygiene Theory states that there are two types of motivators, one type which results in job satisfaction and the other which merely prevents dissatisfaction. The theory differentiates between environmental factors such as the workplace and co-workers (the hygiene – dissatisfaction factors) and internal perceptions such as importance extracted from the effort itself (the motivators – satisfaction factors).
Deveeta has a strong ability to stay focused and remain on task and finishes projects on time. Deveeta is overall dissatisfied with her job. Deveeta is very enthusiastic, but admits she often feels fearful and distressed. She is a somewhat deliberate decision maker, but when time pressure is present she can become very indecisive. Motivational Strategy and Action Plan: The more self-determination desires that are fulfilled the better the level of one's own self-determination and motivation. If Deveeta feels a need for her input and see the outcome of what she does as a benefit, then she should become more motivated in her job setting. Relevant Theory: Self-determination theory states that a person's level of independence is determined by the fulfillment of three essential psychological needs: autonomy, competence, and relatedness (Bachman & Stewart, 2011, p. 183). Autonomy refers to being the foundation of one's own actions and achieving equivalence between the activity and their own cohesive sense of self. Competence is the need to have an effect on the situation and to attain wanted results. Relatedness is the aspiration to feel associated to others.
Follow-up on each person's goals and give constant feedback on how they are proceeding. Depending on the person and the situation you can do this weekly, bi-monthly, or monthly. Always leave room for adjustment of the goals should the condition need it. Do what you ask of your staff: demonstrate to your staff that you are not just telling them what you want, but that you are working for it also. Do your work the same way you want them to perform theirs. Follow-thru with all aspects of the plan and make sure to update the goals when needed. Try to not let outside factors, such as upper administrative peer pressure push you to make changes that are not needed. The necessity for assistance and follow-thru of this proposal needs to include all staff members.
The organization's leader should act as any good leader would. They need to be there for their staff and always watch out for potential signs of change in the school environment. Staff must be kept motivated. A properly structured motivation plan that involves all people concerned is of major importance. Providing constant feedback, incentives and the ability to change are all a part of this motivation plan. If the plan is used and modifications made to fit each distinctive situation that may arise, it can give many rewards and the organization will benefit.
References
Robbins, S. P., & Judge, T. A. (2011). Organizational behavior (14th ed.). Upper Saddle River, NJ: Pearson/Prentice Hall
Bachman, C. M. & Stewart, C. (2011) Self-Determination Theory and Web-Enhanced Course Template Development. Teaching of Psychology, 38(3), 180-188.
Hersey, P., Blanchard, K. H., & Johnson, D. E. (2008). Management of Organizational Behavior. Upper River Saddle, NJ: Prentice Hall.
Marques, J. (2011). Turning Inward to Connect Outward: Interbeing as Motivational Path in Today's Workplace. Interbeing, 5(1), 19-29, 67.
Rasheed, M., Aslam, H., & Sarwar, S. (2010). Motivational Issues for Teachers in Higher Education: A Critical Case of IUB. Journal of Management Research, 2(2), 1-23.
Related Topics