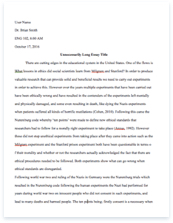 The whole doc is available only for registered users
A limited time offer! Get a custom sample essay written according to your requirements urgent 3h delivery guaranteed
Order Now
My Current Beliefs about Young Children and Learning|My Future Teaching Practices that Reflect My Current Beliefs| Example- Pestalozzi: Children learn best when they have real objects to touch and interact with.|Example- My classroom will have many objects for children to explore based on their interests. Reggio Emilia: Children must have some kind of control over their learning.|I will spend one on one time with each child in my classroom to find out how he or she best learns so that I can develop a learning stagedgy for that particular child.| Plato: You can discover more about a child in an hour of play then you can in a year of conversation.|My classroom will have play-based learning activities, where they can express themselves through play. Vygotsky: I believe that learner-centered teaching strategies are highly effective in teaching children.|My classroom will participate in activities where the children will learn about a certain topic by asking the questions, investigating to discover, and answering based on their own experience.
Montessori: Children need structured, hands on learning.|I believe as a teacher we should let the children have freedom, but there should still be some sort of structure in the classroom. Hands on learning is a great way to let the children express themselves while still having pacific instructions to follow.| Bruner: Learning is optimized when children are free to explore their environments, manipulate objects, and experiment with ideas as they interact with others.|My classroom will incorperate free time in our daily schedule, where they can pick any activity in the class to do. This will give the children a chance to explore their minds with imagination as well as build interaction skills through playing with other children.
There are many philosophies that caught my eye, though some stuck out to me personaly more then others I believe that they all hold equal importance in the roleof teaching. I did not know that there were so many philosophies that made up the art of teaching, and I am excited to learn about the many more to come.
The Reggio Emilia philosophy is my absolute favorite. I love everything that it stands for. The Reggio Emilia approach does away with traditional teaching, and opens a whole new world for both the teacher and the children. "Reggio teachers would take on the role of guides rather than authority figures and observe children's interests as a way of planning their learning experiences." (Estes, 2012). I believe that this allows the students to think about whatever subject that we may be learning about in their own individual way. It gives each and every child a sence of freedom in their learning. To be able to effectivly teach with this approach I believe that it is important to get to know each and every child. I plan to spend individual time with each and every child in my classroom to learn that chils pacific likes and learning needs so that I will be able to teach that child and effectivly possible.
The Plato philosophy is another that caught my attention. Plato says "You can discover more about a person in an hour of play than in a year of conversation." (Estes, 2012). I think that this is a very true statement, simply because when a child plays he or she is able to express themselves freely without fear or correction. I am a strong believer in having play-based learning activities in order to give the children in my classroom an oppertunity to express themselves through what kids do best….Play!
Vygotsky is another philosopher with a great theory. That is one of the philosophers that we get our learner-centered teaching strategies from. The great thing about a learner-centered activity is that they classroom is in control. The children get to learn about a ertain topic in their own way, which if you can't already tell from the previous two paragraphes, I am all for the children being about to learn in their own unique way. For example, if we are learning about tree's the children will get to go out and discover different things about trees then they get to ask queestions and investigate to come up with their own answers. I think that this is an extremely unique way to teach. You get the students interested in whatever the subject may be by interaction with that thing so that they are enthusiastic about learning more and doing a project. This is an exact example of how I will be teaching in my own classroom.
The Montessori methos is another that I like. Though I cannot completely agree with everything that this method stands for, I do like the idea that it presents that children need structured, but ahnds on learning. To me this means that the children need structure in everything that they do, but they should still be able to express themselves. Hands on activities are a great way to keep the children concentrated on a project as well as give them supervised freedom in their learning. "Montessori's goal was to support children's independence while offering them enough structure to investigate and learn without impeding the learning process of other pupils (Mooney, 2000)." (Estes, 2010). In my classroom I plan on having a friendly kind of structure, where there are rules set in place, but nothing that holds a child back from being themselves.
Bruner is the last philosopher that I choose to write about in this paper. Bruner says "Learning is optimized when children are free to explore their environments, manipulate objects, and experiment with ideas as they interact with others." (Estes 2012). I think that having free time in the classroom instead of just at recess is an important way to incorperate this theory. Free time gives a child ways to explore their minds with imagination and also helps them to pocess the necessary interaction skills among their peers that they will be playing with. In my class room play will be an important part.
I guess that when it all boils down, my philosophy is that if a child can express themselves then they can grow. When they are stuck in an environment where they are not free to express themselves in any way then they will not get as much development, academicaly or socialy and both are crutial at this young age.
References:
Estes, LA., Krogh, S. (2012). Pathways to teaching young children: An introduction to early childhood education[->0]. San Diego, CA: Bridgepoint Education, Inc.
Related Topics