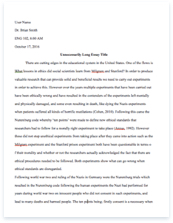 The whole doc is available only for registered users
Pages: 4
Word count: 865
Category:
A limited time offer! Get a custom sample essay written according to your requirements urgent 3h delivery guaranteed
Order Now
Rita is doing an Open University degree on literature. She is doing this course as she likes reading, but she has never read any serious literature, only pulp fiction (such as Ruby Fruit Jungle). She changes her name from Susan to Rita, because Rita Mae Brown was the author of Ruby Fruit Jungle. Rita wants to learn, but she just does not know how to due to her lack of formal education. Rita left school with no qualifications and became a hairdresser. Her husband, Denny does not want her to do the course.
Rita says. "He hates me comin' here". That is what Denny's frightened of, he thinks Rita and him will grow apart if Rita gets the education she has longed for. However, after seeing Frank, her tutor, Rita thinks it makes her stronger as a person. Denny believes if Rita has a baby everything will be all right, then he can have Rita to himself and through this, she will not want anything else. Instead of gaining an education, he wants her to go to the Pub with him and his mates, being the highlight of his week.
Rita comes back from Summer School, in Act 2 Sc1, a changed woman.. As an audience, we see this through the stage directions. At the beginning of each Act, Rita has dramatic entrances. In Act 1, Rita rushes in swearing and shouting about the sticking door. She says, "It's that stupid bleedin' handle on the door, you wanna get it fixed! " However, in Act 2, Rita twirls on the spot to show off her new clothes, we see this through stage directions. She is dressed in new, second hand clothes after her trip to the summer school.
This, the audience sees as a physical change in her character. Since Rita's return from summer school, her attitudes have changed, she given up smoking; we see this from her refusal to except the duty free cigarettes that Frank bought for her from his holiday. In my opinion I think Rita has stopped smoking to try and fit in with the new friends she has met at Summer School, Rita had never believed she could be friends with other students, she thought they were different from her and Rita always believed they were better then she was.
The dramatic change to Rita's ability to answer Frank back as an equal is shown in Act 2 Sc 1, by the use of an analogy. When Rita is comparing a room to a plant because they both need air. Frank gets sarcastic, goes a bit too far, and starts saying, "Let's get a watering-can and water the carpet; bring in two tons of soil and a bag of fertilizer. Before Rita used to agree with Frank and never had the ability to interact with Frank. Rita's state of mind, she is very happy and excited and wants to tell frank all about Summer School.
Rita tells Frank about her new friends she met at summer school, how much fun she had all the things she did such as: Went all round London, got drunk and bought all sorts of second-hand gear in markets. Trish is Rita's new flat mate, she moved in just before Summer School, and Frank new nothing about it. Where as before Frank new everything when it happened. Rita copies people's actions and tries to act like them. She used to be very fond of Frank, but know she has met some new people she has moved away from Frank.
Near the end of the play, Trish tries to top her self, and this was somebody Rita looked upon. I believe Rita's relationships follow a pattern. Rita's attitude to work has improved, while she was at Summer School in a lecture a professor asked if anyone had a question, and Rita stood up in front of about 2000 people and asked him a question on Chekhov.
This showed she had grown confidence, because before she would not have done that apart from ask Frank. Rita is very eager to learn and asks Frank, What are we doin' this term? Let's do a dead good poet". This quote shows Rita really wants to learn, as before Summer School she only wanted to ask Frank about his life, and talk to him about her life. Frank chooses to do Blake; he does not know Rita did this at Summer School, and Rita recites from memory the poem. Frank says, "You weren't supposed to do Blake at Summer School, were you? Rita replies saying, "Nah, we had this lecturer though, he was a real Blake freak.
He asks then, "You covered all the songs of Innocence and Experience? Rita acts all cleave and says, "Of course; you don't do Blake without doing innocence and experience, do y"? Frank at this point is very upset. Because he wanted to teach Rita, Blake and he did not get the chance to do so, he had the whole term sorted; he feels Rita does not appreciate the work he put in to try to teach Rita Blake. He was really looking forward to teaching Rita something new, and did not know she was going to study Blake at Summer School.
Related Topics