Eagle Industries Case Answers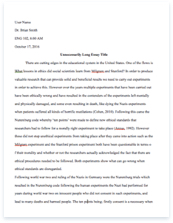 The whole doc is available only for registered users
Pages: 5
Word count: 1221
Category:
A limited time offer! Get a custom sample essay written according to your requirements urgent 3h delivery guaranteed
Order Now
1. Why are office products frequently chosen as a lead commodity in strategic sourcing efforts? Office products were chosen as the lead commodity in strategic sourcing efforts conducted by Smith and his team mainly because of the fact that there was not an appreciable difference in the product specifications when it came to differentiating different suppliers. It would almost be like comparing apples against apples. This would therefore provide a nice segway to try and understand the sourcing practices that were currently being employed. Also, office supplies are low value commodities which are used at every level in an organization, and there is a good chance that companies do not optimize these purchases. Hence, studying the purchasing practices of these commodities could provide insight into inefficiencies, and the results would certainly be encouraging in terms of percentage savings gained.
2. What observations can you develop about Eagle's SKU usage, prices they pay and contracts they currently use? There has been a proliferation in the SKU consumption. This is evident from the fact that about 94 different types of staples and 104 different types of pencils had been purchased. There also isn't a standardization in the prices being paid by the different purchasing units. Also the variance in prices is sometimes higher than 50%. About 37 different items have a price variance of greater than 30%. The #10 envelopes SKU is a case in point, since it has the highest variance in price, with the price being paid at location B almost 200% that of the price being paid at location A. This is evidenced by the data in exhibits 5 and 6. In terms of the contracts employed, the company is currently using two contract suppliers and one catalog supplier.
The reason for the spread in price variance is mainly due to the fact that there had been no price comparison between the two suppliers. Additionally, the catalog supplier has been using a promotional pricing strategy with discounts for specials and charging premiums on the non-discounted items. The catalog supplier has also been providing gift incentives to the ordering staff to help sustain this pricing strategy. Based on the above observations, it can be said that there has not been much effort from the purchasing team at eagle industries to cut costs, and there is no strategy to implement the same from a top management perspective. Also, there could be some issues related to corruption, since the catalog supplier is able to charge premiums by giving gift incentives and also since same product is being sold to two locations at different prices by the two contract suppliers. And also they can wide price variation.
3. Discuss potential implementation barriers.
Some of the potential implementation barriers are:
a. Possible resistance from administrative staff to change due to the fact that they have been receiving gift incentives
b. Costs involved in implementing EDI
c. Their dual headquaters is also a barrier for potential implementation
d. They can not choose the SKUs for free
4. Perform a supplier market analysis and discuss strategic sourcing leverage points you observe.
Some of the key aspects that are to be considered when conducting a supplier market analysis are:
Commodity description: Office supplies
Market size: $250 billion
Growth rate: 5% CAGR (Compound annual growth rate)
Market history: Highly fragmented, with top 5 suppliers consuming only 20% of market share
Supplier research and cost structure comparison:
Sales channels can be broadly classified into four categories: Retail stores, (40% market share), contract suppliers (33%), catalog suppliers (22%) and internet sales (6%). A breakdown of the different types of suppliers in the market: Traditional dealers – personalized neighborhood service; pricing usually at MRP. Office products warehouses – about 7000 SKUs; pricing between 40-60% lesser than MRP. Contract suppliers – Highest economies of scale. Pricing lowest in industry. Broad selection of up to 15000 SKUs. Catalog suppliers – High low pricing strategy. Consolidation of industry.
Wholesale clubs – Select line of fast moving products on offer, with margins typically about 10% less than office products warehouses. Electronics stores and Computer retailers – Preferred for some computer parts and accessories Office furniture dealers – Specialized furniture dealers who compete with the office products warehouse and contract suppliers for this market. M&A activity: Consolidation in the catalog supplier industry, with Boise Office Products acquiring OfficeMax and Reliable, Staples acquiring Quill, and Office Depot acquiring Viking.
Product segments: Four product categories and their respective market share percentages:
a. Computer and accessories: 45%
b. Supplies: 28%
c. Office machines: 20%
d. Furniture: 7%
Customer segments
a. Home office and Small Business (1-19employees): 45%
b. Large Business: (50+ employees): 44%
c. Medium businesses (20-59 employees): 11%
Key Market Indicators:
Economic Indicators – small business growth, growth in office workers, and office technology changes. Production Indicators – Economies of scale, geographies of sales. 5. Use information given in the case to estimate potential savings. I am looking for specific numbers here. To make the potential savings we should foucs on lowering the purchase price and increase the efficiency of usage also decrease the transaction costs. So there are 3 parts of potential savings. Total spending = $3,800,000
No of employees = 15,000
Therefore spending per employee = $253.33
Cost for per employee is $284.52—-$247.66 so the average is $266.09 So we can save $15,000*(266.09-247.66)=$ 276,450
Saving for transaction costs is total spending is $3,800,000 Average purchase amount: $105
No. of orders per year: 3.8M/$105 = 36,190
Cost per order: ($125+$175)/2=$150
Ordering Cost: $150 x 36,190 = $5,400,000
So we can save 36,190 x ($150 – $12.5) =$ 4,976,125
6. Use the information you assembled thus far to develop a sourcing strategy for Eagle. Use a single contract supplier, EDI tools and spot price on Super A SKUs . Limit SKU selection A. Should they pursue a centralized or decentralized strategy? While a decentralized strategy would normally be the better option given the range of suppliers, a centralized strategy would be a better option in this case since the decentralized one that is already in place does not seem to be functioning effectively. Centralizing the office products sourcing would firstly reduce the payroll costs, and also ensure that the central team is responsible for getting the best price quotes from all available contract suppliers. Also, monitoring would be easier from the perspective of the top management, and chances for malpractices such as receiving gifts to place orders would be reduced, if not eliminated altogether.
B. Should they use contract, catalog, or Internet suppliers? Contract suppliers would be the best option given the pricing that they offer. Also, the office supply needs could be forecasted since this type of commodity does not fluctuate vastly in demand. This would enable the company to get the best rates from the contract suppliers. For contingencies, the purchases could be made from the Internet suppliers/ neighborhood retailers. C. Should they deal with a single supplier or multiple suppliers? It is always advisable to deal with at least two suppliers, since given the current market trends, price points could vary across different suppliers. Also, it would be in the best interests of the firm to do so since it would provide them with a sense of security
D. How should they structure the contract for Super As, A, B, and C items?
7. What is your recommendation for implementing the strategy?
Related Topics