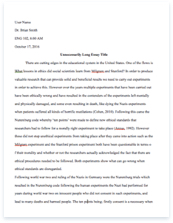 The whole doc is available only for registered users
A limited time offer! Get a custom sample essay written according to your requirements urgent 3h delivery guaranteed
Order Now
The period of life, which we spend to receive education in educational institutions, is called student life. It is not only the best time of a man's life but also the seedtime as the success and happiness in our life depend on how we have spent our student life. That is why, this life is the life of work, of duties and responsibilities if the later part of life is to be a life of achievement and success. But what exactly are the duties of this life? Giving a satisfactory answer to this question needs a rather lengthy discussion.
It is said, "Man has three duties – duty towards God, duty towards parents and duty towards mankind." I think, a student has to do all these three duties including an extra duty, i.e. study. The first and foremost duty of any student, as everyone opines, is study. The main study course of a student consists of the books or materials he / she is supposed to study. These are undoubtedly, the primary source of knowledge for students. Since these are pre-planned and prepared according to their specific needs, they should first learn from them. A wide range of other reference as well as non-reference books, novels, dramas, poetry, magazines, articles, however, will be considered equally important in this regard.
After that, a student should say his prayer regularly as praying habit creates all the qualities of humanity like honesty, truthfulness, modesty, politeness, punctuality, discipline etc. He should bear in mind, what Mahatma Gandhi comments, "Real education consists in drawing the best of yourself; what better book can there be than the book of humanity." He should pass his time in a systematic way, which will help him to follow the rules of discipline and punctuality to the latter. He should take part in games and sports to keep fit also. It helps him to have a sound body and consequently, he can develop a sound mind. He also should take in debate, discussion, seminars, and symposium, which will widen his knowledge.
A man's character is much more influenced by his companions. So it is the foremost duty of all the students to mix with good friends and give up bad company at all costs. A student can go on excursion and picnic with his fellow students by which monotony will be derived. A student should obey his teacher's instruction to the letter. Parents are the most well-wishers of a man. So he should never be out of control of the society. A student has to get involved in the weal and woe of his own family. A student should become a real patriot. A student can render many social and benevolent activities. He can teach the illiterate people.
He can help them understand the importance of family planning, malnutrition, sanitation, explosion etc. During the time of natural calamities, he can serve the affected people by giving them food, shelter, medicine, pure drinking water, clothes etc. He has to know how to identify himself with the whole nation with respect to various aspects of its pride and deficiencies. That is, he has to grow a sense of belonging. Though, student should not take active part in politics, they should take a bold stand at the time of natural need and set everything right. They should bear in mind that only students can make a nation great. So they should be careful to attain the qualities of a worthy citizen.
There is no rose without thorns, no right without duties, and no pleasures without pains. No wonder then that a student has to discharge duties to his own self, to his parents, to his family, to his country and to the wide world. Mistake once committed in this period can hardly be recovered. The success of our life depends on the best use of our student life.
Related Topics