Discussion of Good and Evil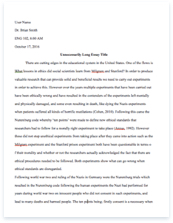 The whole doc is available only for registered users
A limited time offer! Get a custom sample essay written according to your requirements urgent 3h delivery guaranteed
Order Now
In "Vultures", Chinua Achebe discusses about the good and the bad. For example, "cold telescopic eyes…" This imagery makes me feel that the vultures are heartless. It is like they are robots. They don't sense the emotions on their surroundings. At the end, Achebe adds ellipsis, which provides the viewers time to consider concepts regarding to good and bad. "love in other ways so particular will pick a corner in that charnel-house – her face turned to the wall!" This personification implies that somewhere like a charnel house, where the corpses are kept, love can be discovered. The words "turned to the wall" indicates that love is attempting to not look at the dead bodies.
Achebe uses oxymoron, such as "Fumes of human roast clinging rebelliously to his hairy nostrils" comparing to "pick up a chocolate for his tender offspring" At first it gives an unattractive image of what the commandant does every day; afterwards it provides a heartwarming image of the commandant giving his child chocolate. It compares the terror in concentration camps with the beauty of kindness. These few words gives a distinction between horror and sweet. The message it wants to share is that love and evil are closely related. Achebe writes "in every germ of that kindred love is lodged the perpetuity of evil.
" The word "germ" is talking about the germ of love. Germs are something that can spread and grow, and "perpetuity" means everlasting. The poet wants to convey that the germ of love is not going to always grow because evilness will forever exist and will stop the love from spreading. In last stanza, the poet gives us two options. We can choose to praise providence for letting the cruelest creatures to show signs of love or we can choose to give up and think that they only show love to their families and accept themselves to show cruelty towards others. This demonstrates that anyone can perform acts of evil but also perform acts of kindness. It doesn't matter how sinful something is, beauty will always exist. However, it doesn't matter how nice something is, evilness will always exist. I think that human beings are born innocent. It's the person's surroundings and environment that change some people to evil. Afterall, I believe that we should think that kindness can be inside evilness, but we should also be aware that evilness can be inside kindness.
Related Topics