The Problem of Discrimination against Students Abroad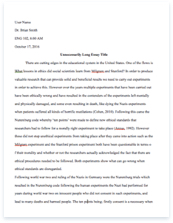 The whole doc is available only for registered users
A limited time offer! Get a custom sample essay written according to your requirements urgent 3h delivery guaranteed
Order Now
Education is the backbone of a nation, it is the key to success and everyone should be given the opportunity to have education regardless of race, nationality, and gender, however, many students come to a foreign country to build those education levels but unfortunately faces discrimination and fewer opportunities. International students facing problems is not a rare issue that happens in an individual's life every day. International students are being most targeted who indirectly or directly faces problems after approaching this country or a foreign English speaking country.
They become more discriminated by other groups or community members as well as genders. Whenever people experience real discrimination, they begin to develop less self-confidence, and they may not continue to seek the opportunities that they desire. This has been happening among international students. International students do not get advantages like financial aid from the government although they pay for their tuition. International students differ from other students because they are accustomed to different lifestyles and cultures. They are being more stereotyped not to do further moves because of their culture and their appearance.
Many are being segregated if they wear a veil or a gown that covers their whole body. People think that they are not the right people that they want, they are different from what we expect or like not the type that they are. However, this is not it with being stereotyped. They also get more segregated based on their fluency. Being stereotyped is a common problem in everyday life. "It is a subtle but offensive comment or action directed at a minority or other nondominant group that is often unintentional or unconsciously reinforces a stereotype"(Dictionary.com).
International students are being directly discriminated against by other groups and community members. Because of their race, gender and nationality. Moreover, according to the source, "I get very frustrated if a professor ignores me because my English is not as good compared to a native speaker . . . such times, I feel I'm stupid." and "I've been ignored by a professor to participate in a classroom discussion. I think everyone's opinion should be respected and heard." People think they have lack knowledge of the English language which also led them to think that they are might be good in Math but not in English since they are weak at pronouncing words well or struggle to say things that are tough enough.
International students face segregation on campus based on their race and culture. When they cannot easily interact with other students, because of their cultural differences, they become target international students. For example, in some cultures hugging and handshakes are common greetings, but it is rare in other cultures, and international students are not used to these greetings and if they are not used to these activities, they get more separated. As a result, they get neglected from the campus and they feel embarrassed and causing depression.
Monica Williams, PhD graduates and author of the Journal of Racial and Ethnic Health Disparities, states that "Research over the past decade has connected experiencing microaggressions with symptoms of psychopathology, including anxiety, depression, substance use disorders, and even suicidal ideation." (Williams, 2017) In this quote, she expressed how segregation led to depression for many students, facing disabilities. Researchers long have discovered that it can be a downfall for students who get judged by their racial circumstances.
The anxieties that they tolerate, provide negativities as a result. Anxiety disorders are mental health disorder that leads to extensive nervousness, fear that can be by group behaviour and stereotyping of racial differences that can be an impact of segregation. Adding on, quality learning is major teaching for all people in order to have a good future for both males and females. International students come for higher education in the USA and are emotionally pressured when they start a new life in a different country. However, they face struggles to gain the facilities like admitting to a college or maybe to continue with their college education because they don't get the financial aid.
"The FAFSA is not intended to be used by schools for processing institutional aid applications submitted by international students. Only US citizens and eligible noncitizens may receive federal student financial aid. US citizens have SSNs, eligible non-citizens have ARNs, and international students have neither." It is describing if the student does not have a green card or the permanent resident card no matter if they have a social security card, they would not get to apply for the FAFSA which is financial aid. In the quote, it is also clearly said that international students won't get any of the financial aid unless the student is a citizen or a permanent resident of the state in the USA. It is prohibited in other words for international students to apply for financial aid which could hold mostly 97% of the tuition fee or the amount that a student need to have a good chance to study.
Being stereotyped because of religion is another issue that international students, particularly female students may be discriminated against. Muslim international female students wearing hijabs find it difficult to build relationships with non-muslims because of western views of the religion. This is because many Americans have the perspective that Muslims are terrorists. Based on their religion international student may be refused assistance from Americans. Abu Lila Lughod, the author of "Attitudes toward Muslim Women in the West", states "Due primarily to misrepresentations and lack of respect from professors and peers, Muslim students often viewed their academic integration as estranged.
A Muslim woman wearing the hijab, for instance, reported that some peers and faculty held negative perspectives about veiled women. She also expressed being perceived as docile, oppressed, and as having limited English speaking ability because of her veil" (Lughod, 2002) It means that the terrorist event on 9/11 has affected Muslims in ways that now there asked for answers to all terrorist attacks all throughout time. This states that because of the different perspectives held on Muslims, international students wearing the burka or hijab, face racial slurs being thrown at them by peers and even faculty.
International students can be benefitted from foreign countries, not only in the USA. For example, according to the International students in English- speaking Universities, "International students in institutions of higher education in English-speaking countries make valuable educational and economic contributions." This quote indicates that, as a person, you are well enough educated and have all the qualities which we all need as a glorious person to get to build future careers, education builds enlightenment for the society by people being the centre of society. Education changes individuals' life tremendously and helps them reach their ultimate goal or dream.
The quote also states that international students are capable to make enough goods and can make more money. With the help of international students, governments would also get help by having different types of ideas about financing more economically. In conclusion, international students face difficulties because of their gender, religion, nationality, race, and language variances. They struggle for better education in their country and come here, to the USA, for a change. But because of the issues that they face, proves even more difficulties for them to better their lives and are being treated differently for their peers.
They are seen as estranged, unintelligent, and all in all, they are seen differently. International students get judged because of their appearance whoever wears a cultural dress or maybe veil and abaya. But, people also forget that international students can see as valuable humans who can change the economy of the country as well as the world. As a solution, all schools should have programs addressing international students and Americans to come together for a meeting and talk where they can change negative perspectives about veils or covering bodies. Talk about anything from school to home life or discuss and solve the different opinions among everyone and there should be enough abilities like as financial aid for students so that they can continue their education.
Related Topics