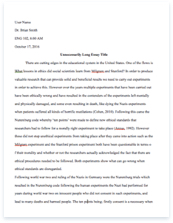 The whole doc is available only for registered users
OPEN DOC
Pages: 5
Word count: 1083
Category:
A limited time offer! Get a custom sample essay written according to your requirements urgent 3h delivery guaranteed
Order Now
1. Evaluate the value proposition offered by the Courier Pak
The product in question is a freight product that covers shipment of documents or other items up to a weight of 2 pounds and offered overnight delivery of the documents. Another value proposition of this product is the added safety feature of it being shipped in waterproof or tear-proof envelopes ensuring the documents are shipped without the possibility of damage.
The targeted segment for this product is the Rush segment customers who are not too price sensitive and expect delivery of the consignment on the following day. Typically the order for a consignment is placed by either the executive or his secretary that desires the shipment.
In this segment, Federal Express faces competition from many airfreight forwarders (Emery Air Freight), some airlines and also the US Postal Services Express Mail. Due to the availability of many established and recognized alternatives such as Emery (61% unprompted recall for Emery against 12% for Federal Express) the perceived value for Federal Express is lower than the Objective value offered. This low perceived value has also affected the demand for Courier Pak.
The objective value or true economic value offered by the Courier Pak is higher because the customer in this case cares most for reliable and timely shipping of documents. This is not a price sensitive customer and in most cases the cost of the shipment would be borne by the company. On these two parameters of reliability and timely shipping of documents Federal Express was rated 93% on performance as against 42% which is the most recognized brand.
Another advantage that Federal Express offers to its customers is the culture of their business. The freight business is a very operational and labour intensive business and relies on efficiency of the employees for reliability. The fact that a proposal for union creation was voted down shows that Federal Express has an advantage over its other rival United Parcel Service where the employees were on strike in May 1976.
The extensive network coverage provided by Federal Express also allows for pick-up and delivery service across 130 cities in the US market. As the clients in this segment are mostly corporates, the ability to offer doorstep delivery or collection is valuable to the clients in this segment.
2. Should Federal Express keep the Courier Pak?
There are several reasons for Federal Express to stick with Courier Pak.
1. The air freight business is growing rapidly having doubled revenues between 1965 and 1970. As of 1975 the business generated revenues of USD 1bn. Inspite of the rapid growth, this business is only 2% of the total freight business indicating significant potential for growth. The Small Package market in this business was growing at an average pace of 20% per year. Courier Pak by itself had more than doubled its order size from 1975 to 1976 even though there had been moderate price increases (Courier Pak prices had increased from USD 5 at inception to USD 8.50 in mid-1974, to USD 10 in early 1975 and further increased to USD 12.50 in mid-1976) indicating that this is a market with a fairly inelastic and growing demand. With sales of nearly 28,000 Courier Paks in May 1976 the company earned revenues of USD 350,000 from Courier Pak in May 76. Assuming an average monthly sale of 25,000 Paks this translates into revenue of nearly USD 3.75m for Federal Express (about 5% of total revenues).
2. Profitable Product: The variable cost of providing Courier Pak to the client is USD 4.25 while the revenue per item is USD 12.50. The margin of USD 8.25 (66%) is the highest across all products offered (gross margin percentage of 57% in Priority One and 27% for Standard Air Services SAS). Even rival UPS has recognized the profitability of this segment and expanded its presence through offering of the Express mail. 3. Users: Although greatest demand for the Courier Paks comes from Manufacturing and Distribution, the per account demand is greatest for the booming industries such as Telecommunications (19 packs per account in May) and Advertising and Market Research (16 packs per account in May). 4. Fixed Costs: This is an industry with high fixed costs (hub operations and airplanes) and these costs have already been incurred by Federal Express. To establish economies of scale it is sensible to continue offering a profitable product such as Courier Pak. 5. Reputation: This is a segment that relies on the providers' ability to stick to delivery schedules with reliability. If Federal Express were to exit this segment it could send a negative signal to the clients of their other time sensitive products such as Priority One indicating an inability on the part of Federal Express to deliver on time.
That being said, Federal Express is faced with an uphill task in growing its market share. The target segment in this case is corporates and it is very difficult to get corporates to change buying patterns. It is faced with stiff competition from incumbent Emery Air which currently has the highest recall and also seen as a reliable freight service provider. Additionally, it is trying to market a product that is fairly standardized and does not have many distinguishing features. The best way to expand sales for such a product is by improving the perceived value through innovations and higher visibility. In my opinion, Federal Express would benefit from adding features that indicate reliability such as the tracking features offered by EMCON (Emery Air).
An expenditure of a few millions (I assume a cost of USD 3m) at the current margin per unit (USD 8.25) results in a breakeven of 370,000 units. Federal Express is already selling roughly 300,000 Courier Paks per annum so this is feasible. Additionally, this is a feature that will also benefit its other products such as Priority One and SAS. To further underline the ability to offer express services I would also suggest entering into the emergency service market. Such an endeavour will highlight their ability to offer prompt and fast delivery and also such a measure can only be undertaken by a provider that is confident in its ability to deliver to time sensitive customers. To promote the product to executives Federal Express should place advertisements at Airports and Airline Magazines as many people realize they have forgotten important documents behind when they take their seat on the flight.
Related Topics