Corporate Sponsorship in Schools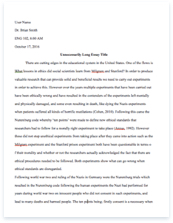 The whole doc is available only for registered users
A limited time offer! Get a custom sample essay written according to your requirements urgent 3h delivery guaranteed
Order Now
The United States and the struggle for the American dream has been talked about time and time again through history, and Michael Moore has dedicated a huge amount of his adult life to documenting such topics. Michael Moore has been acknowledged for his controversial style documentaries such as his film on the attacks in New York City on September 11th and also his Oscar award winning film on the Columbine High School shootings. These projects of Moore's are sometimes misunderstood for their satirical content and questioned by citizens and some political party leaders.
Any topic that arises in our country is documented on such media as the news, radio, newspaper, magazines, and even movies. So is it such a surprise that Moore would decide to write an essay on such a controversial topic such as the effects on corporate sponsorship in public schools? In this essay, Moore goes into depth on corporate sponsorship and the effects it is having on not only today's students, but the faculty and the school system. Due to many different types of contributions from these companies, certain conflicts of interests and dilemmas have arisen. Along with those conflicts, there also comes some benefits from such sponsorship.
"Over the past ten years, school programs and activities have seen corporate sponsorship increase by 248 percent" (Moore 143). Corporations contribute a lot of money to today's public school system, so it is safe to say that not all sponsorship can be considered problematic. "…schools get ten cents for each box top logo they send in, and can earn up to $10,000 a year…all you need is a school of 528 kids to get that free computer" (144). Companies like Coke, Nike, Pepsi, and other affiliates constantly put money into schools to either better the education or to provide certain facilities the students need in order to further their academic and sometimes athletic careers. At some points these contributions may seem conflicting and sometimes questionable, but at best they are just providing for today's youth. A vast majority of public schools in our country do not have the advantage of a fairly large budget in order to have certain facilities such as a library, or even a gymnasium. This is where corporations see that their contributions are welcome and much appreciated.
Even though there seem to be some benefits these corporations can offer, sometimes the beneficiaries aren't always pleased with the final result these contributions bring. "And what better way to imprint a corporate logo on the country's children than through television and the Internet beamed directly into the classroom" (146). Moore explains that corporations intend to help our children but through, what some may call, unconventional ways. Some corporations will go as far as to "provide free computers to pre-selected Web sites" which these companies can monitor and that also have "constantly scrolling advertisements" to subliminally place in the student's heads to purchase more of that product. This is why some schools are afraid of getting such sponsorship from companies, they tend to lean more towards what they can get out of the contract then what the school and students get out of the funding.
"Anybody wonder why there are more overweight kids than ever before? Or more young women with calcium deficiencies because they're drinking less milk?" (144). Along with the interest conflictions between the schools and the corporations, some problems have evolved due to the introduction of soda and fast food corporations in public schools. America is known for being the most obese country in the world, especially with our youth. Kimberly Thedford from Northwestern University explains that "…when you take in calorie full beverages on top of food, you are pretty much just adding extra calories to your diet…and all it takes is an extra 500 calories a day to add a pound a week" (Thedford). The public schools are looking for ways to help their students by seeking out corporate sponsorship, but don't anyways agree with what demands the corporation has in return.
That is the only problem when seeking outside help from such large conglomerates, is that as generous as the contributions are, the end result always ends up helping the company more then helping you. It's not saying that companies do not care about the livelihood of the students; but with such large sponsorship dollars given, the companies obligated to get something in return. With what Moore and Thedford have found out about the effects of soda on students, companies have gone in the production of offering water and also some juices to go along with their unhealthy counterparts.
According to Pepsi-Cola's School Policy, "Through our bottling partners and third-party distributors in the United States, Pepsi-Cola North America (PCNA) is committed to offering schools a portfolio of low-calorie and nutritious beverage choices. This wide variety of products includes bottled waters, juices, sports drinks and no- or low-calorie carbonated soft drinks, juice-flavored drinks and iced teas. Schools decide which beverages are available, and where and when they are sold" (Pepsi 1). These different choices are what allow these soft drinks to remain in public schools, variety means that all students can have what they want and the complaints of the parents and faculty are satisfied.
Corporate sponsorship is not necessarily just a bad thing or a good thing. There seem to be a lot more problems with such sponsorship then there are benefits but schools get out a lot more then one may think. These schools are getting the required learning materials they need that they could not get without such outside help. Schools may be offering their buildings and students up as advertising materials, but it is a good price to pay in order for students to get a good education. People can argue and say that schools could do better off raising money on their own and doing without selling out to these businesses; however, how many schools are doing that now that can not even afford books for their library? So what if the public school system is selling out to corporations? Schools should be researching any way possible to get their students the education they need, no matter what.
Work Cited
Moore, Michael. "Idiot Nation" Rereading America 27 May 2005Pepsi-Cola, Pepsi-Cola North America's U.S. School Policy 3 May 2006
Related Topics