Consequence of Individual or Organisational Characteristics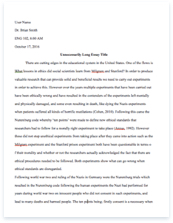 The whole doc is available only for registered users
A limited time offer! Get a custom sample essay written according to your requirements urgent 3h delivery guaranteed
Order Now
Organisations are defined as congregations of people who are in an interdependent and collaborative relationship to accomplish common goals or objectives (Mcshane, Olekalns & Travaglione 2010). From ancient to modern times, there has been an ongoing need for a guiding beacon on which these organisations can rely on to discern what is morally decent or right. Emerging from this need is the study of ethics. According to Preston (2007), ethics does not have a singular meaning. Ethics can be referred to as a 'moral philosophy' which examines an individual's or a culture's values and their corresponding rationalisations. Ethics can also be the moral principles that a person considers when making decisions and relates to the moral obligation, responsibility and social justice of all parties involved in the decision making process (Morf, Schumacher & Vitell 1999). In this paper, I will be investigating a few case studies related to the study of ethics with the aim to discuss whether it is the individual or the organisation that influences the choices and subsequent actions of people at the workplace. In the workplace, ethical behaviour is an expected requirement at all times.
However, Lewis (1985) states that not everyone will have the same understanding of what is morally right or wrong, good or bad, ethical or unethical. To resolve the issue of ambiguity, many organisations or companies come up with their own Code of Ethics as a guide for employees. Take for example the case study of F J Benjamin Holdings Ltd, which is a brand building and managing company listed on the Singapore Exchange. In its Code of Ethics, it is stated that every director and employee has the responsibility to understand and comply with the code of conduct and that functional managers should ensure their subordinates do the same (F J Benjamin Corporate Code of Ethics). F J Benjamin's Regional Compliance and Internal Audit department, which reports directly to its independent directors, performs the monitoring and enforcement to ensure compliance by its employees. Through rigorous enforcement of its Code of Ethics, F J Benjamin ensures that its every employee is an active participant in promoting and adhering to ethical conduct.
F J Benjamin's requires each and every employee, regardless of status, to undertake the personal responsibility to understand the Code of Ethics and that all managers must ensure their subordinates also achieve the same. In this case study, it can be clearly seen that F J Benjamin has chosen to go in the direction of positive and proactive organisational management through setting high ethical standards and influencing the actions of its people at the workplace, i.e. employees. On the other end of the spectrum, we have the case study of the National Kidney Foundation Singapore (NKF). Established in 1969 by Doctor Khoon Oon Teik, NKF is a Singaporean voluntary welfare organisation carrying out kidney dialysis and rehabilitation programmes for kidney failure patients. NKF relies on charity donations to carry out its day to day operations. At its peak, NKF's annual turnover amounted around S$116 million, all of which came from charity donations. On July 2005, a scandal broke out from within NKF when the organisation was featured in a Straits Times article for its commercially-driven fund raising practices and alleged lavish spending by its then CEO, TT Durai (Straits Times 2004).
Subsequent investigations had revealed that Durai had been indulging in unnecessary luxuries using funds meant for patient care. An auditor's report by KPMG also uncovered that in 2003, only ten cents out of every donated dollar went to patient care instead of fifty-two cents out of every donated dollar as previously claimed by NKF. Tan (2007) has explicitly listed out ten fatal flaws which had brought NKF down, of which three will be discussed here. Firstly, NKF did not have a strong and independent chairman. Richard Yong was alleged to have been a docile chairman who did not challenge TT Durai on his corporate decisions, which led to a dearth in counter-checks for the organisation. Furthermore, it was alleged that Yong had undeclared business dealings with Durai and was in fact brought onto the board to replace a previous, non-compliant chairman. OECD (2004) states that as a basis for effective corporate governance, supervisory, regulatory and enforcement authorities should have integrity and be given jurisdiction along with the necessary resources to fulfill their duties in a professional and impartial manner.
As mentioned by Tan (2007), NKF's board and executive committee allegedly did not hold any real executive powers or authority. They were essentially 'handicapped' and unable to exercise any consequential supervisory role with regards to the operations and management direction of the organisation. Considering all of the above and including the fact that Richard Yong was an ineffectual chairman, TT Durai had practically free rein in running the organisation as he deemed fit. Tan (2007) summarised and attributed the NKF's fall from grace to one crucial factor, which is complacency. The article alleges that due to its significant success in fund raising over protracted periods of time, NKF had become complacent. NKF had entrusted too much power and authority to TT Durai, who was deemed to be the one mostly responsible for its success. This gradually eroded any form of good corporate governance within NKF. Higgs (2003) states good corporate governance must help promote productivity and contributes towards successful corporate performance. However, strong and ethical corporate leaders who are held accountable to effective boards still remains as the crucial link to corporate success. As seen in NKF's case, a strong but unethical leader answering to ineffective boards brought about the organisation's downfall.
Cadbury (1992) also suggests that corporate governance is a system with which companies are steered and controlled. Within the companies, the board of directors is responsible for setting out and implementing the strategies, and directing the management of the business towards the benefits of the shareholders, or in this case, the stakeholders. It is therefore obvious that in this case study, NKF had also suffered from a lack of proper corporate governance resulting from the leadership of an unethical CEO.
F J Benjamin advocates ethical behaviour at work through positive and proactive organisational management. If an individual such as TT Durai had been in an organisation like F J Benjamin that places such high emphasis on ethical behaviour and strong corporate governance, it would have been very difficult for him to abuse his authority and position. In fact he would not have lasted long within that organisation. Trevino, Hartman & Brown (2000) affirms that just a single individual who does not adhere in accordance with the organisation's value can have overwhelming and sometimes irreparable consequences on the organisation's image and culture. Even today, although NKF has recovered admirably since then, there are still residual nagging doubts about its reputations. NKF's downfall was caused by excessive executive powers and trust misplaced in one individual who, to borrow a quote from Baron Acton, had been absolutely corrupted by the absolute powers granted to him.
The two parallel case studies of F J Benjamin and NKF have demonstrated that the choices and actions people make in the workplace are influenced by both organisational and individual characteristics. At the start of this paper, it has already been established that organisations are made up of people. Coupling this fact along with the case studies discussed earlier, it can be inferred that the actions of people are linked to and influenced by individual and organisational characteristics. From the case studies, we can see that having good corporate governance and promoting ethical behaviour are crucial aspects of any organisations that are successful. As such, let us now look at ethical behaviour and how to promote it at work. Leaders are the ones who create, cultivate and influence the culture of an organisation (Schein 2010). This is an extremely significant fact concerning an organisation's ethical culture. Verbos et al. (2007) also expound that within a positive ethical organisation, ethical practices have to be initiated and promoted by the authentic leaders.
These ethical practices must then be introduced and distributed the rest of the organisation and put to use in conjunction with the organisation's existing formal and informal structures, processes and systems. However, to achieve all this, clear standards have to be set; therefore there is a need for Code of Ethics, which is to define the ethical values which the organisation seeks to maintain and uphold (Kaptein 2004). Stevens (2008) also states that codes can serve to provide people with a sense of shared values and commitment within the organisation and also stressed on the importance of effective channels of communications to transmit expected ethical standards. The success and failure of the ethical practices being implemented depends directly on whether the right communication channels were used. Some channels include, and are not limited to: Staff orientation, email, newsletters etc. However, the organisation cannot stop at only transmitting and implementing the ethical practices. Verbos et al. (2007) has also asserted that these ethical practices have to be buttressed and reinforced within an ethical organisational culture.
This goal can be achieved via intensifying ethical cognizance and promoting a strong ethical identity for each employee. To lay a firm foundation for ethical behaviour, the leaders in an organisation must also lead by example. Trevino and Brown (2004) surmise that individuals are influenced by the actions and behaviour of others around them. This is more so for leaders as their every action and behaviour are constantly in the spotlight and thus emulated by their subordinates. Stevens (2008) also asserted that managers should set the example by behaving ethically so that other organisation associates can have a better understanding of what ethical standards are required. As a leader, being an ethical individual who makes ethical decisions will not be enough. A leader's reputation for being ethical and letting others be aware of his ethical reputation is equally important to fostering an ethical culture in the organisation (Trevino, Hartman & Brown 2000). The best way for others to learn is to see how a leader put into practice the stated codes of ethics and how he behaves accordingly.
It is also important to realize that changes in organisational culture begin with the individual. Each and every person within an organisation is but a small part of the big picture. However, when a great multitude of smaller individual components assemble together, they form a much greater entity with much more impact than its individual parts. This fact shows that if each and every employee is motivated to pursue ethical behaviour at work, a change will be triggered within the organisation, leading it down the path of eventually maturing into a positive and ethical organisation.
In conclusion, it can be seen that because organisations are essentially made up of people, it remains that individual and organisational characteristics are tied in an intricate relationship of influencing how people behave, think, make decisions and act at work. Due to this phenomenon, promoting ethical behaviour at work involves changing and influencing both the organisation starting with the individual. Changes will take place when leaders start the initiative to encourage individual employees towards adopting ethical behaviour at work. To quote Aristotle, the whole is greater than the sum of its parts. By working together instead of working individually, everyone in the organisation can contribute in a greater way towards promoting ethical behaviour at work. However, the chain is only as strong as its weakest link. As can be seen in the case of TT Durai and NKF, when just one member does not conform to the ethical standards expected, he/she can be the reason why an organisation fails dramatically with drastic results.
Reference List
F J Benjamin Code of Ethics, viewed 7 February 2013, http://www.fjbenjamin.com/pdf/fjb_codeofethics.pdf Higgs, D 2003, 'Recent Developments', Review of the role and effectiveness of non-executive directors, pp. 16. Kaptein, M.: 2004, 'Business Codes of Multinational Firms: What Do They Say', Journal of Business Ethics 50, 13-31. Lewis, PV 1985, 'Defining Business Ethics: Like Nailing Jello to a Wall', Journal of Business Ethics, pp. 377-383. Long, S 2004, 'The NKF: Controversially ahead of its times', The Straits Times, pp. 12. Mcshane, S, Olekalns, M, Travaglione, T 2010, 'The Field of Organisational Behaviour', Organisational Behaviour on the Pacific Rim, 3rd Edition, McGraw-Hill Australia, pp. 4. OECD 2004, 'Ensuring the Basis for an effective Corporate Governance Framework', OECD Principles of Corporate Governance, pp. 17. Preston, N 2007, 'Encountering Ethics', Understanding Ethics, 3rd Edition, Federation Press, pp. 16-17. Scheins, EH 2010, 'The Leadership Role in Building, Embedding, and Evolving Culture', Organizational Culture and Leadership, pp. 195 Stevens, B 2008, 'Corporate Ethical Codes: Effective Instruments for Influencing Behavior', Journal of Business Ethics, pp.606. Tan, J 2007, 'Ten Lessons from the National Kidney Foundation Saga', The Directors' Bulletin, pp. 16 – 18. Trevino, LK & Brown, M 2004, 'Managing to be ethical: Debunking five business ethics myths', Academy of Management Executive, vol 18, no. 2, pp. 72.
Trevino, LK, Hartman, L.P. & Brown, M 2000, 'Moral person and moral manager: How executives develop a reputation for ethical leadership', California Management Review, vol 42, no. 4, pp. 128-142.
Verbos, AK, Gerard, JA, Forshey, PR, Harding, CS & Miller, JS 2007, 'The Positive Ethical Organization: Enacting a Living Code of Ethics & Ethical Organizational Identity', Journal of Business Ethics, pp. 17-33.
Related Topics