Conflict Theory on Corruption of the Criminal Justice System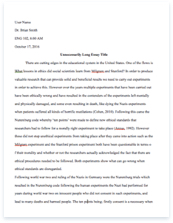 The whole doc is available only for registered users
A limited time offer! Get a custom sample essay written according to your requirements urgent 3h delivery guaranteed
Order Now
Marx's conflict theory mainly emphasizes that powerful people in society control the people with low social and economic status and decide whether their behavior is legal or illegal. Therefore, it focuses on the role of social institutions in the creation of crimes and deviations, as well as the impact of the formulation and implementation of laws on crime. It tends to be more of a marxism ideology. Racial prejudice is a major contributing factor in a lot of the decisions in implementing punishments for crimes committed. Minority groups tend to get harsher punishments for the same degree of crime as opposed to Caucasians. Prison violence in the United States of America is an excellent example of this theory. The conflict theory exhibits the criminal justice systems' tight control on prisoners as injustice and pleads for more distribution of resources and power.
There are three different aspects in the legal process, the first one being racial discrimination. Those in power in the justice system tend to look more favorably upon white people over black people. To add on, the jury also tends to be primarily white, therefore they tend to have a bias towards their own race. To exemplify, Ryon Hoffman a conflict theory analyst for CSU Monterey Bay shares in his research that, "inmates are categorized into groups of 'black','white', and 'brown' based on skin color, and these differences will be perceptually accentuated or exaggerated" (Hoffman). Instead of recognizing the offenders by the severity of their crime or by their name, the first resort is to separate the inmates by their race. This is extreme bias and degradation against someone of a minority group which is an abuse of power from those who are in charge. Similarly, in the article, "The Effects of the Conflict Theory on Imprisonment", it is said that, "racial discrimination in legal processing is produced by organizational or institutional aspects of criminal justice that have the unintended effect of ensuring that minority defendants receive less favorable dispositions than whites"(St. Rosemary Educational Institution).
It is very heartbreaking to know the odds are against a certain individual just based on the color of their skin, something that they have no control over. This is why it is essential to have a redistribution of power in order to even the odds and the chances of being re-established into society after being in prison, and to not experience so much hostility and discrimination while in prison. Furthermore, socioeconomic status is another major contributing factor in the determination of punishment. Those with higher economic status have more access to better resources in order to have a good defense team to aid them in court. It is a stereotype that those who are more affluent tend to be better assets to society. For example, it is stated in the same article that, " Juries are more likely to give a lenient sentence to a person they know is valuable to society regardless of the crime committed" (St. Rosemary Educational Institution). Usually, the jury has some prior knowledge before the knowing what the sentence will be, if the defendant had any contributions to society or if they will potentially contribute to society. Innocent until proven guilty know has a completely different meaning.
Those who have the upperhand in making decisions rely on factors that should not be important to make their final point. To highlight even more, in the "Conflict Theory" written by Dr. Larry J. Siegel, a professor of criminology at Northeastern University, it explains, "One of the conflict theory's most important premises is that the justice system is biased and designed to protect the wealthy, but research has not been unanimous in supporting this point. Marxist criminology views the competitive nature of the capitalist system as a major cause of crime" (Siegel). The criminal justice system as a whole is basically a marxists competitive environment that is unbalanced and favors those who are more likeable in society in general. A system that is supposed to bring fair justice and protect citizens from danger is more corrupt than it should ever be. It is unfair because those who should truly be incarcerated can escape justice on the basis of just having better resources available to them than those who do not. This amount of corruption leads to moral degradation of society and shows those who are at a disadvantage that there is no hope for them. The conflict theory of the criminal justice system showed an important part of the key to
Related Topics