Compare and Contrast American and British Sitcom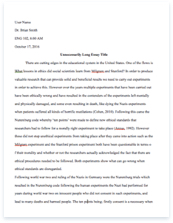 The whole doc is available only for registered users
A limited time offer! Get a custom sample essay written according to your requirements urgent 3h delivery guaranteed
Order Now
Why are sitcoms so popular? Why do so many people find them so amusing? Maybe it's the fact that they're based on day to day events or because they are so humorous. Whatever the reason, it seems we all love them, but the big debate is, which are better, the American sitcoms or the English ones. I personally find American sitcoms the most amusing, 'My wife and kids' being my favourite, closely followed by 'Friends'. However, many people find the likes of 'Only fools and horses' and ' My family', ten times more comical than any American sitcom.
Whichever is your favourite, you may or may not have noticed, that both type of sitcoms have a number of similarities. Both types of sitcoms are extremely humorous and make us giggle at least 10 times in every episode.
Not only this, they both represent women in the same way. They represent women as the more vulnerable and weak sex, the sex that needs more protection and comforting. However, in a bid to make the sitcom seem more humorous and comical, in some cases they do swap the role of men and women around, for example in 'My wife and kids', the husband stays at home and looks after the children, whilst his wife goes off to work each day. Aswell as this, the wife seems braver and stronger than her husband.
Both types of sitcoms are based on every day events. I feel that this is why they are so popular, as many people can relate to the events that are occurring within them.
On the other hand, there are quite a few differences between American and English sitcoms. American sitcom characters, quite often tend to be younger than those in English ones. Not only this, they are often more modern aswell. Characters in English sitcoms are middle-aged to older people, who dress in a boring and dull manner, whereas, in American ones, the characters tend to be young, trendy and fashionable. I have also noticed that American sitcom characters are a lot more attractive than those in English ones.
There is also a big difference in the setting of the two types of sitcoms. English sitcoms tend to be set in either a rather old-fashioned family house, or in the country side. Whereas, American sitcoms are often set in busy cities, in contemporary apartments or houses. Yet again, the American way of life is represented as trendy and hip and middle class, as opposed to British life which is portrayed as monotonous and average, where the majority of the population are working class. Nevertheless, both settings do tend to provide perfect opportunities for a humorous televised show.
Maybe in time, English sitcoms will change also, and become more up to date, but for now both types of sitcoms are famous for their humour, setting and characters and will probably remain like that for a long time. So, which types of sitcoms are your favourite, modern American ones or traditional English ones?
Related Topics