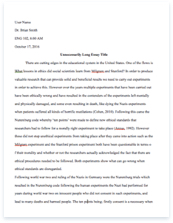 The whole doc is available only for registered users
A limited time offer! Get a custom sample essay written according to your requirements urgent 3h delivery guaranteed
Order Now
Clinical supervision sits at the heart of the UK Government's agenda for improving the quality of service delivery (Department of Health, 1997, 1998, 1999). The practice in the workplace was introduced as a way of using reflective practice and shared experiences as a part of continuing professional development. Clinical supervision has ensured that standards of clinical care remain a key mechanism for monitoring the performance of Trusts, with clinical performance measures being given equal weight to financial and accounting measures. Each Trust is required to have a clinical supervision lead and a clinical supervision committee. The clinical supervision process within Trusts is performance managed through annual reports scrutinised by Strategic Health Authorities. (Kohner 1994; Faugier 1992) The Commission for Health Improvement review teams focus, during their visits, on the clinical supervision process. There are therefore several mechanisms for monitoring the delivery of clinical supervision.
Clear national standards for services and treatment support the development of high-quality services. The National Institute for Clinical Excellence Guidelines and technology appraisals are sent to all Trusts with a requirement that they be implemented. Other key drivers for clinical supervision include National Service Frameworks, Effective Healthcare Bulletins, Cochrane reviews and national audits including Suicide and Perinatal Mortality. Trusts are expected to establish robust management mechanisms to ensure that this national guidance is implemented.
In addition to the implementation of national standards, a further requirement for clinical supervision is to ensure that good ideas are facilitated locally, and form an integral part of clinical improvement. (Butterworth 1992; (Farrington 1995)) This requirement recognises that many improvements that will make a real difference to patient care will be identified by clinicians working directly with patients. Clinicians and patients together are often able to identify local factors, which will make a real difference to the local delivery of care. Establishing a mechanism whereby these bottom-up changes can occur alongside the implementation of the more top down requirements is a real challenge for clinical supervision teams within Trusts. This paper sets out how Dorset Healthcare NHS Trust (a specialist mental health and learning disability Trust) has met and responded to this challenge.
The clinical supervision structure
Clinical work in health care is largely delivered by teams of staff rather than by individuals or hospitals as a whole. It is recognised that training whole teams can often be more effective than training individuals within the team. Hence, real quality improvements are most likely to be delivered by teams rather than by individuals. (Johns 1993; Faugier 1994) The first priority, therefore, for Dorset Healthcare's clinical supervision programme was to identify all the clinical teams delivering patient care. These teams are largely multidisciplinary and include hospital inpatient wards, community mental health teams, and specialist treatment teams. Each team is part of one of the Trust's four supervision teams (directorates): adult, older people, learning disability, and child and adolescent mental health. Trust priorities for clinical supervision are agreed and monitored through the Trust Clinical Supervision and Risk Management Committees and Subcommittees of the Trust Board.
Clinical supervision portfolios
The Trust had an established mechanism of recording training, appraisal, supervision, etc. for individuals, and also recording audits and patient and public involvement activity at Trust and directorate level, but no clear mechanism for recording and developing such activity at team level. In order to monitor and record team clinical supervision activity, Dorset Healthcare NHS Trust provided each clinical team with a clinical supervision portfolio. The portfolio consisted of ten sections:
1. team members;
2. maintenance record;
3. clinical supervision programme for the year;
4. evidence-based practice;
5. projects and activities;
6. user and carer projects;
7. compliments, complaints and incidents;
8. training;
9. away days; and
10. clinical supervision information, policies, guidelines.
The portfolio was designed to record all the clinical supervision activity done by the team and had the following aims:
* to increase awareness of clinical supervision;
* to ensure clinical supervision was central to team activity;
* to encourage clinical supervision activity; and
* to monitor clinical supervision activity.
One member of the team was asked to act as the portfolio co-ordinator. A job description for the Clinical Supervision Portfolio Co-ordinator is shown below:
It is the whole team's responsibility to participate in clinical supervision and clinical audit and to keep the portfolio up to date.
The key roles of the portfolio co-ordinator are to act as a Clinical Supervision Champion and ensure that clinical supervision is discussed regularly by the team to hold the Clinical Supervision Portfolio for the team to maintain the portfolio so it is up to date and make sure that team members provide and file documentation/evidence in the portfolios to monitor the team's clinical supervision programme to understand the objectives of the portfolio and to facilitate the team to also understand the objectives of the portfolio to understand what has to be achieved by the team for the year to meet with their clinical supervision facilitator at least every six months to ensure there are arrangements for Clinical Supervision portfolio work to carry on in their absence (e.g. annual leave); and to ensure that the portfolio is discussed at team away days. The Portfolio Co-ordinator will be allocated one session per month to facilitate portfolio co-ordinator work.
Portfolio sections
Team members. An ongoing record of team members is recorded in this section. Some teams have used this section to write brief portraits of the team members, including training undertaken and particular skills. (UKCC 1996) This resource is then used as part of induction for new team members, both students and permanent members of the team. In some teams, this section has been developed in order to provide an introduction to the team for users and carers.
Maintenance record. This section is completed by the portfolio co-ordinator to record the time spent on writing in the portfolio. This section was included to meet the concern that the introduction of the portfolio would be yet another bureaucratic burden. In practice, over the 18 months that the project has been running, each portfolio co-ordinator has spent approximately 30 minutes a week completing sections of the portfolio.
Clinical supervision programme for the year
This section includes all the quality initiatives that the team undertake. The information and activity recorded in this section has varied enormously amongst teams, and includes both Trust-wide projects such as record-keeping audits and audits of the Integrated Care Programme Approach together with specific team-based projects such as looking at menus in a learning disability home, or how to reduce clients not attending a substance misuse clinic.
Evidence-based practice
This is where teams record when they review clinical evidence as a team and what action they have taken. Articles from Evidence Based Mental Health and other journals have been reviewed.
Projects and activities
This section includes all audits not otherwise recorded that the team have undertaken, both Trust-wide and team audits, together with action plans and follow-up arrangements. The Trust's audit standards require that all audits undertaken clearly identify improvements to patient care resulting from the project. All quality-based initiatives not otherwise documented are also recorded here. These have included team journal clubs, quality circles, master-classes and research activity.
User and carer involvement
This section highlights the role of the patients and their carers within the team's clinical supervision activity. Formal consultations with users and carers are included. Teams have undertaken user and/or carer surveys in partnership with local users.
Compliments, complaints and incidents
Each team is sent their own compliments, complaints and adverse incidents, which are reviewed as part of the Trust's risk management process. In addition, key lessons to be learnt from complaints and adverse incidents involving other teams are reviewed. Learning points for the team are then recorded in this section.
Training
Team members record all training that they have undertaken. Best practice is that this training is shared, as appropriate, with team members. Team members who have been on training write brief information about what they have learnt on training courses and what implications it has for individual and team practice.
Away days
The agenda for away days is included in this section. The focus of team away days is clinical supervision activity. In this current year, teams have been asked to complete the Commission for Health Improvement mental health trust clinical team self-assessment document.
Clinical supervision information
This section includes clinical guidelines and policies that the team have reviewed, together with any other clinical supervision information.
Implementation of the portfolio
The project was implemented by the Trust's Clinical Supervision Department. Each team was asked to identify a portfolio co-ordinator who met with a link person from the Trust's Clinical Supervision Department to establish the portfolio and discuss the reasons behind it and how it should be used within the team process. Once started, each team had visit from a member of the Clinical Supervision Team for advice and support at least every six months. Some teams had more regular support in the first months. Over an 18-month period, 158 teams began using the portfolio to co-ordinate team clinical supervision activity.
The teams that have been most successful in implementing the portfolios are those, which refer to the portfolio regularly at team meetings. Some teams discuss clinical supervision activity at all team meetings, some only at designated away days. The value of the portfolios was immediately apparent to some teams. Other have utilised the portfolio more gradually, aided by the example of strong advocates of the process and also by the growing importance and recognition of clinical supervision throughout the Trust.
Monitoring of the portfolio
In order to monitor the effectiveness of the portfolios, 58 team portfolios were reviewed by the Clinical Supervision Department between June and September 2002. These team portfolios were chosen at random from each directorate to ensure portfolios from all directorates were reviewed. A scoring system was used to summarise the quality of relevant clinical supervision information in each section. Each section was given a summary score: little, some or good.
The results of the portfolio survey were presented at a team-training day for all portfolio co-ordinators. This day involved looking at the results achieved with portfolios, and presentations by different portfolio co-ordinators looking at the successes and difficulties with establishing clinical supervision at team level. An action plan was drawn up following this. The action plan included a focus within teams for the next year on evidence-based practice, user and carer involvement, and away-day content. These were areas where the least clinical supervision activity had been recorded. An agreement was reached to hold a regular annual training session for portfolio co-ordinators.
Benefits of the portfolio
Use of the portfolios has resulted in clinical supervision having a higher prominence at team level than would otherwise be the case. Portfolio co-ordinators use the portfolios at team business meetings, and they are discussed at away days. This has brought a knowledge and awareness of clinical supervision to all Trust staff.
Practical changes that have been recorded include the decision by one adult community mental health team, following a critical incident, to ensure that patients with personality disorders and a risk of self-harm are not followed up by junior members of the team. An older people team found from audit that team discussions were not being included in the integrated clinical record, and established a simple mechanism for doing this. A learning disability team produced patient menus using a pictorial format. A child and adolescent mental health team decided to review the evidence for each psychological treatment being offered in order to focus and prioritise care.
Discussion
This article has described the introduction of clinical supervision portfolios at team level within Dorset Healthcare NHS Trust. The portfolios have been implemented throughout the Trust, and form an integral part of team activity. Implementing change is always a challenging management task. Unsurprisingly, there has been a variation in the enthusiasm with which teams have implemented the portfolios. Within some teams they have proved to be remarkably successful, with teams using the portfolio as a structure around which to co-ordinate and monitor all the relevant clinical supervision activity. All teams have used the portfolio at least in part. Most teams included information about audits, compliments, complaints and critical incidents. Fewer teams had established a clear mechanism for reviewing evidence-based practice and involving users and carers. Overall we believe that the success of the portfolios reflects the desire of most clinical teams to have a mechanism whereby they can influence good clinical practice rather than feeling pressured by others to change practice.
Facilitating the use of the portfolios by the clinical supervision department was acknowledged by many as crucial in the early stages of the project. It was agreed to be an important use of clinical supervision staff and moved the focus away from clinical supervision staff actually carrying out audits and other clinical supervision activity towards facilitating teams performing the activity themselves.
The role of the clinical supervision portfolio co-ordinator has developed with time, and is recognised by the Trust as requiring one session per month of time. The recognition by the Trust of the value of the portfolio coordinators has been important in order to give them the time and authority to remind other members of the team about clinical supervision on a regular basis. It has been important to emphasise that clinical supervision responsibility does not rest solely with the clinical supervision portfolio co-ordinator, but is shared amongst the team. The portfolio co-ordinator has the responsibility, however, for bringing the portfolio to team meetings and ensuring that clinical supervision retains a high profile within the team.
A significant advantage of using the portfolio has been the ability to identify changes in practice within one team that might be of value for similar teams across the Trust. A computerised clinical supervision management system has been developed to manage data coming from the portfolios, and information from this is used to spread the results of good practice. (Hawkins 1989)
The clinical supervision portfolio has not been introduced in isolation from other Trust initiatives. In particular, the increasing recognition of the importance of learning from adverse incidents and complaints came at a very appropriate time for the portfolio, which has a section in which adverse team incidents and complaints can be discussed alongside compliments. The value of this is not only to emphasise the importance that the Trust places on teams reviewing their own critical incidents, but also to move the focus away from blaming individuals to seeing teams having a responsibility for learning from adverse events that have occurred.
The main difficulty raised about using the portfolio has been the lack of time. This concern has been raised at all levels by both clinicians and managers. It has been seen as part of the role of those leading clinical supervision within the Trust to reinforce and highlight that clinical supervision is not an add-on to clinical activity but needs to form an integral part of it. The use of the portfolios to highlight the critical importance of the clinical team as the fundamental unit whereby demonstrable improvement in patient care is going to happen has been recognised by all as being correct.
The next development within the portfolio project will be to strengthen those areas in which less activity had occurred, in particular user and carer involvement at team level, and also reviewing evidence-based materials at team level. The continued use of the portfolios to highlight and then share good practice between teams is another priority. The role of the clinical supervision portfolio co-ordinator continues to be seen as crucial in enabling the Trust to develop a culture whereby clinical supervision is not seen as something solely imposed from senior management and the Government, but something that is influenced and developed at team level.
References:
Butterworth, T, Faugier, J (1992) Clinical supervision and mentorship in nursing. London: Chapman and Hall
Department of Health (1993) A vision for the future. Report of the Chief Nursing Officer.
Department of Health (1997), The New NHS: Modern, Dependable, Department of Health, London
Department of Health (1998), A First-Class Service: Quality in the New NHS, Department of Health, London, Health Service Circular 1998/113
Department of Health (1999), Clinical Governance in the New NHS, Health Service Circular 1999/065
Department of Health (2002) Public health and clinical quality: clinical governance. London: DH
Farrington, A., (1995) Models of clinical supervision. British Journal of Nursing. 4(15). 876-878
Faugier, J, Butterworth, T (1994) Clinical supervision: a position paper. Manchester: University of Manchester
Faugier, J., (1992) "The supervisors relationship" in Butterworth, CA and Faugier, J eds. Clinical supervision in mentorship and nursing. London: Chapman and Hall
Hawkins, P, Shohe, R (1989) Supervision in helping professions. Milton Keynes: Open University
Johns, C (1993) Professional supervision. Journal of Nursing Management.1.9-18
Kohner, N (1994) Clinical supervision in practice. London: King's Fund
UKCC (1996) Position statement on clinical supervision for nursing and health visiting. London: UKCC. The NMC replaced the UKCC and four National Boards in April 2002a
Related Topics