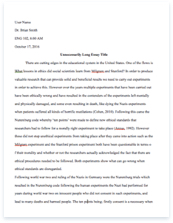 The whole doc is available only for registered users
A limited time offer! Get a custom sample essay written according to your requirements urgent 3h delivery guaranteed
Order Now
PURPOSE:
The purpose of this lesson is to create a better understanding on Modern Mathematics.
OBJECTIVES OF THE LESSON:
To provide awareness to students regarding the existence of Chinese Mathematics
To have a better understanding of Modern Mathematics thru the history of Chinese Mathematics
To apply the Chinese Mathematics with modern mathematics thru math problems
INSTRUCTIONAL PROCEDURE:
Group Research Assignment for students on the history of Chinese Mathematics
Group Presentation on the research assignment, how they understood the Chinese Mathematics and what are its possible significant contributions to Modern Math
Class discussion on the Group Presentations
Activity: Composition of Math problems per student
Activity: Random exchange of Math problems to be solved by a classmate
REFERENCES 
Gangolli, Ramesh. (1999). Asian Contribution to Mathematics. 117p.
Joseph, George Gheverghese. (1991). Crest of the Peacock: Non-European Roots of Mathematics. International Study Group on Ethnomatics Newsletter. 7(1).
Retrieved November 7, 2007, from website: http://www-history.mcs.st-and.ac.uk/Indexes/Chinese.html
Retrieved November 7, 2007, from website: http://www.crystalinks.com/chinamath.html
Related Topics