Chapter Analysis – chapter 43 Pride and Prejudice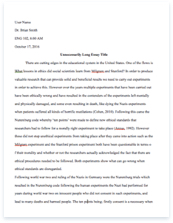 The whole doc is available only for registered users
A limited time offer! Get a custom sample essay written according to your requirements urgent 3h delivery guaranteed
Order Now
In chapter 43 Elizabeth and Mr and Mrs Gardiner go for a visit to Pemberley. Jane Austen describes Pemberley Park as being "very large and contained great variety of ground" meaning Mr Darcy has acres of land with lots of different variety e.g. a lake, flower beds, woods etc. all this has been kept in very good condition. Pemberley also has a bridge before you come to the house.
As Elizabeth enters Pemberley she becomes overwhelmed by the view
"Elizabeth's mind was too full for conversation". She couldn't think of any thing to say to Mr and Mrs Gardiner because she was too busy admiring the grounds of Pemberley. As they drew near to Pemberley house they crossed over a bridge that led them to the front of Pemberley house. Austen has described the house as being "a large, handsome, stone building, standing well on rising ground" at this point 'she felt, that to be mistress of Pemberley might be something!' Elizabeth starts to think that who ever marries Darcy will be a very lucky woman, having all the grounds and the house. The grounds of an estate could be an index to the owner's taste and personality and I think Elizabeth likes Darcy's taste.
As they reached the door they were met by Darcy's housekeeper "Mrs Reynolds". Austen describes the housekeeper as being "a respectable looking, elderly woman much less fine and more civil" They are shown around by Darcy's housekeeper who is very complimentary about her master, describing him as 'the best landlord, and master… that ever lived'. The 'respectable-looking' housekeeper's' description of Darcy is designed to be taken at face value and gives an objective view of Darcy's many hidden attributes, which prior to this point have been largely concealed.
Pemberley house has lots of fine rooms; Austen describes the dining parlour as being " a large, well-proportioned room, handsomely fitted up". Austen doesn't go into much detail of each room but from how she describes room from room you can just imagine the rooms to be full of portrait's, antiques and very fine furnishings. Elizabeth starts to think that if she had said yes to Darcy then this would have been hers. Then she recollects herself and remembers how proud Darcy is and how horrible to Wickham he has been. Then Mrs Reynolds takes them through to see pictures of the family. Mrs gardiner calls Elizabeth over too take a look at a picture of wickham this is when Mrs Reynolds tells them that Mr Wickham has "turned out very wild" its then that Elizabeth starts to think that wickham hasn't been telling the truth.
Then they are shown other portraits of Darcy and Miss Darcy. Mr Reynolds explains that "Miss Darcy is just as handsome has her master" and how she loves to play and sing all day. Mrs Reynolds takes them to the gallery where the paintings are much finer and larger. They see the portrait of Darcy. Elizabeth is still prejudiced against Darcy. On seeing Pemberley, however, her opinion of him begins to change. Elizabeth starts to think 'to be mistress of Pemberley might be something' but is convinced that Darcy would never condescend to welcome members of her family there. Whilst observing Darcy's portrait Elizabeth feels a 'gentle sensation' and experiences 'a deeper sentiment of gratitude' towards him.
The reader gets the impression that Mrs Reynolds is very proud of Darcy and a very faithful housekeeper. She tends to praise Darcy quite a lot and also tells Elizabeth about how Wickham has treated Darcy. At this point Elizabeth comes to realise her true feelings for Darcy. She also starts to realise how prejudice she was being towards him. Elizabeth wanted to hear more about him but did let on. She just waited for Mr and Mrs Gardiner to ask all the questions. So at this point the reader can see Elizabeth starting to change her mind.
The grounds of an estate could be an index to the owner's taste and personality (as also the interior decorations and furnishings of a house).
Therefore it can be said that after seeing the house and grounds at Pemberley, and hearing his housekeeper's praises of him, she begins to perceive his real merits, without having to see through the darkened veil of some of his personal mannerisms. (And in any case, if Elizabeth wished to be mercenary, she knew the rough size of his fortune long before she visited Pemberley, before he made his first proposal, in fact.) Elizabeth begins to feel for the first time that being Darcy's wife might have a great deal of prestige and pleasure attached to it. Elizabeth went to Pemberley because she was curious about Darcy
Related Topics