Case Team Analysis of Jenson Shoes: Jane Kravitz's Story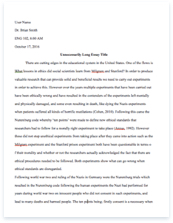 The whole doc is available only for registered users
A limited time offer! Get a custom sample essay written according to your requirements urgent 3h delivery guaranteed
Order Now
1. Problem and Issue Identification
The fundamental issue in the case of Jenson Shoes: Jane Kravitz's Story is that Jane's distorted perceptions of Lyndon Brooks causes her to manage him ineffectively. Specifically, disregarding Chuck's negative perception of Lyndon, Jane opts to give Lyndon the "benefit of the doubt", attributing his incompetent behaviour to external causes. This in turn, influences her management decisions; instead of using her authority to demand the required output from Lyndon, she makes special allowances for him in hopes that he will realize the potential she originally perceives him to possess. Throughout the analysis, when we refer to her decisions, or managing approach, we are referring to examples from the case including: throwing him a party, excessive guidance for project, taking him out for lunch, and negotiating the amount of work he is assigned.
2. Analyses and Evaluation
a. Factors that influence Jane's perception of Lyndon
Individuals make decisions based on their perceptions, which are influenced by characteristics of the perceiver, the target, and the situation. Furthermore, errors, biases, and organizational constraints also influence this decision-making process. In order to understand Jane's decisions, we must first understand how she formed her perception of Lyndon. Jane, the perceiver, is confident in her own managing skills and has a positive attitude toward this new project. This confidence causes her to overlook any negative connotations associated with Lyndon. In regards to the target, Jane assumes that Lyndon "could be a star if given the right situation and motivation". Her optimistic view of Lyndon is caused by the context of the situation, namely, the fact that this new job is important to Jane's career development.
b. Attribution Theory
Through application of the Attribution Theory, it is evident that Jane initially attributed Lyndon's inadequate behaviour, such as his lack of motivation or failure to complete assigned tasks, to external factors including the additional environmental project and his "demotion" from a managing role. In reality, evidence suggests this behaviour was internally caused. This is demonstrated through the three determining factors in the Attribution Theory: distinctiveness, consistency and consensus. Lyndon demonstrates low distinctiveness because his uncooperative behaviour is typical and he has dismissed assigned work in the past. Additionally, Lyndon's poor performance reviews over the past three years and his reluctance to complete previous s.o's shows high consistency among his actions. Lastly, his actions can be interpreted as possessing low consensus because his resistant behaviour differs from that of his co-workers who have been assigned similar tasks. Jane's initial distorted perception of Lyndon negatively affected her decision-making process and the quality of her management style.
c. Biases and Errors in Jane's Decision Making
Jane fails to accept that Lyndon's behaviour is internally caused as a result of her anchor bias and overconfidence bias. Even though there are obvious signs of Lyndon being an irresponsible employee, she holds onto her first impression of him and does not change her style of management. Rather, considering herself to be a good manager and confident in her ability to address challenging situations, she maintains her initial easy-going approach. Her decision to preserve her style of management can also be attributed to a confirmation bias. She uses the fact that Lyndon completed the environmental project as a confirmation that he is competent. She is impressed with his project, when in reality it was only mediocre. Additionally, by sticking with her original way of dealing with Lyndon even though it is not working, she escalates her commitment. By taking time to analyze the situation, she would realize that her agreeable approach is unsuccessful.
d. Bounded Rationality
In her decision-making process, Jane operates within the confines of bounded rationality. Rather than considering the complexity of the problem (ie. what factors are causing Lyndon's behaviour), and developing and evaluating alternative courses of action, she "satisfices. She concedes to Lyndon's idea to only complete one project and furthermore, to choose which one to complete. While this solution avoids the possibility of Lyndon not completing any project, it is suboptimal; ideally, he would complete both the Latino and African American projects.
e. Organizational Constraints on Jane's Decision Making
Organizational constraints also affect Jane's decision-making process. Desiring to be a good manager, she feels obligated to comply to the company's formal regulation of an "open-door" policy. She takes an extreme approach to this policy by giving Lyndon special treatment to ensure his satisfaction. Furthermore, her decisions are influenced by performance evaluations. Since Lyndon's performance is a reflection of her performance, she is "conscious of wanting to keep him happy", so as to improve his performance. Finally, the presence of a reward system and system-imposed time constraints also shape her managing style. Recognizing that neither she nor Lyndon will get a bonus if he misses the deadlines for the s.o.'s, she goes out of her way to ensure the timely completion of the projects. 3. Recommendations
Jane has several options proceeding in the situation. Firstly, Jane and Lyndon should discuss their individual perceptions of the situation. This will give Lyndon the opportunity to express his feelings. Jane should then inform Lyndon that she has been keeping a performance log and documenting his actions since the start of the project. If he has a reasonable explanation for his behaviour, he should continue by only completing one s.o. If not, however, Jane should present Lyndon with the following option: he completes both assignments with the help of an assistant who would be assigned to him. This would be the optimal solution for both Jane's reputation as a manager and Lyndon's career development. By giving him a low-level assistant, it is possible that Lyndon's perception of his position will improve as he will now be managing someone, and both projects will be completed on time. If Lyndon still refuses to cooperate, Jane should admit that her perceptions of Lyndon were distorted and that her approach to managing the situation was ineffective. After deliberating with Chuck about Lyndon's future at the company, they should terminate his employment and replace him with another marketing professional. Finally, in more general terms, Jane's compliant approach to managing Lyndon has proven to be ineffective and it is necessary for her to adopt a new technique for managing her employees. She needs to become more assertive when expressing her goals and expectations in order to make sure that no employee will take advantage of the company's open-door policy.
Related Topics