Case Study Trap-Ease America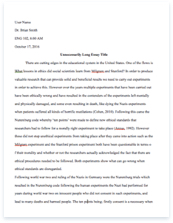 The whole doc is available only for registered users
A limited time offer! Get a custom sample essay written according to your requirements urgent 3h delivery guaranteed
Order Now
Questions for Discussion
1. The information they need to evaluate this opportunity will be: What kind people actually buying their product? They need to know this to target their real consumers. Their customers' income level. By knowing this, they will see the reason of people who still buy those spring-loaded traps. Are there better products in the market? If so, no wonder why people don't like to buy their product. If there is not a better product, they still have their opportunity. How consumers evaluate their product? This is the most important thing they need to know to evaluate this opportunity. From the background information they provide, their product are more expensive then the spring-loaded trap. So the company needs to make the consumers feel their product worth to spend more money to achieve the same goal. Their mission statement would be "To get rid of mice in an easier, cleaner, safer way." But I would write "By using our product, you can save your time for clean the mess, you don't need to worry about the spring will hurt you or your children, and no more poison need to worry about. We believe your health and your time worth much more than the price."
CASE STUDY TRAP-EASE AMERICA 2 2. I believe the best target will be women, especially house-wife. Those house-wives will care more about this kind mousetrap. For them, to set a spring-loaded mousetrap will not be easy. Also they probably don't like the mess made by spring-loaded mousetrap. So women are the best target for trap-ease. The firm might also target those office building. To have a loaded old type mousetrap is not a good idea for those busy people. They are too busy to running around with report that they might not realize there is a loaded mousetrap on their way. So trap-ease is a good choice for them. 3. Right now, the company positioned the Trap-Ease: Traps mice easily. Clean, safe, easy to use. This is a good way to position this product, no need to position it in other way. But the company should let the consumer know, this product create no injure, no poison, and no need to clean. 4. The price of Trap-Ease is $2.49 with 2 units in a pact. Sells through National grocery, hardware, and drug chains such as Safeway, Kmart, Hechingers and CB Drug. The problem about this mix is the company can actually sell their product in more places. Especially those big markets like Target, Rite-Aid, Wal-Mart, BJ's, and Costco. Since the company is targeting women, more likely house-wives, they should put their product in these kind markets. Those house-wives probably will go to this kind place more often, so the company will have higher chance to sell their product.
 2 5. The Trap-Ease America's competition is the traditional mousetrap for now. Their product has a lower price, but it can also help people get rid of mice. But in a long-run, there will be more products like Trap-Ease come out on the market to compete with Trap-Ease. 6. Right now, the Trap-Ease's marketing strategy is product-orientated. They want to make their product the best product to get rid of mice. Actually, without other product like Trap-Ease, it's the best product in the market. But the Trap-Ease isn't making enough money for the company as they expect, because Trap-Ease cannot meet the customer's need.
The company should think more about the customers instead of how to improve their product; since their product already good enough. The company needs to change their strategy to customer-orientated. This might help them to sell their product when they can meet the customer needs. For the control procedures, the first priority needs to be control the time for their product to be delivered to their retailers. Also they need to control how those retailers show their product. The customers need to see how Trap-Ease catches a mouse; instead of just leave the product out. People have been use the traditional mousetrap for years; they know how a traditional mousetrap works. But they will not know how Trap-Ease works without retailers show it to them. So it's really important to control the sample has been used to show how Trap-Ease works.
Related Topics