Carbohydrate Tests Argumentative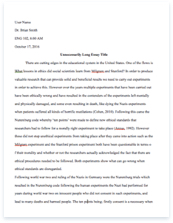 The whole doc is available only for registered users
A limited time offer! Get a custom sample essay written according to your requirements urgent 3h delivery guaranteed
Order Now
The following tests will record positive (+) reactions or negative (‐) reactions to fructose, sucrose, cellulose, starch, lactose and an unknown carbohydrate.
Observations and Results
Report your test results in a tabular format
• Record the bacteria identified in each of the Four Media Tests.
Test Bacterium 1
Test Bacterium 2
Test Bacterium 3
Test Bacterium 4
Gram Stain
Gas from Glucose
Acid from Glucose
Sucrose
Lactose
Identification
Initial color of medium in Gas and Acid from Glucose test: If you have a positive test, describe the changes seen in the medium. What is the purpose of the Durham tube? You use the Durham tube to trap gas.
Discussion
o All four bacteria were able to metabolize glucose, but not all produced identical results. Predict the metabolic products expected for the four bacteria. A chemical energy is released when glucose is broken down. Glucose is broken down into CO2and H2O. A glucose test is screening the blood for signs of high blood glucose and low blood glucose. Not only not, but this test can help diagnose diabetes as well. o If all four bacteria were able to metabolize glucose, explain why all four were not able to metabolize lactose and sucrose. Consider the different chemical structure of each carbohydrate and what the bacteria would need to metabolize each carbohydrate.
The bacteria quickly metabolized the glucose, initially producing an acid slant and an acid butt in a few hours. After further incubation glucose is consumed because the bacteria could not use lactose or sucrose. o Sugar fermentation tests are positive when the pH turns acidic. How are media for these tests modified to allow production of acids to be detected? The MR test employs the addition of the pH indicator methyl red, to determine whether an organism has produced high levels of acid during glucose fermentation.
Bacteria use the mixed acid fermentation pathway produce high levels of organic acid which cause the methyl red to turn red in color. If acid production is relatively lower, then the medium remains yellow or turns slightly orange after the addition of methyl red. Remaining red is a positive (+) reaction for the MR test, remaining yellow or slightly orange, is a negative (-) reaction for the MR test. o Negative tests indicate that the sugar was not metabolized to produce acids. How can growth be accomplished in a carbohydrate test medium when the sugar is not metabolized? Growth can be accomplished without metabolizing sugar by a culture has already utilized sugar and preceded to peptone nutrition. Either this or a culture doesn't use sugar and growth only with amino acids from peptone.
Related Topics