Business-to-Business Messages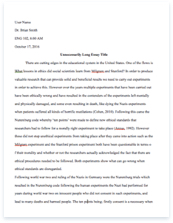 The whole doc is available only for registered users
A limited time offer! Get a custom sample essay written according to your requirements urgent 3h delivery guaranteed
Order Now
Excellent communication skills are necessary for organizations to build enduring relationships with organizations in the corporate world. Exchanging accurate data and information between organizations creates a more cohesive working environment. Business employs a number of communication methods including e-mail, memos, letters, and proposals. Communications are delivered via, e-mail, interoffice mail, and postal services. The purpose of this paper is to select and analyze three business to business messages using the communication process write a business-to-business message that has ABC Company asking to create a working relationship with XYZ Company; and write an unfavorable reply message to ABC Company.
PLEASE STOP SENDING YOUR FRIENDS, RELATIVES, AND ANYBODY ELSE YOU CAN THINK OF TO THE PERSONNEL OFFICE TO ASK FOR ME.
I am covered up-and these people walking in at all hours of the day, unannounced and unscheduled, are just slowing down the hiring process. I don't think you realize that some of these folks DEMAND to be seen just because you told them they would be. We have a process by which we do our hiring. AND part of that process is checking references before people are interviewed.
If you have someone in mind for a job-JOT IT DOWN, and send it to me! When I get a chance, I will look for their application-BUT I will not consider anybody who argues with me about when I can see them (Roebuck, 2006).
Communication Analysis
The preceding is an interoffice memo designed to inform employees of human resources policies regarding applicants for employment (purpose). This memo serves to illustrate inappropriate format for composing memos. The environment appears to be a corporate setting. Mr. Madd is the sender of the message, who is, perhaps, the manager or director of human resources within the organization. Text within the body of the memo comprise the message the sender composed. Displayed within the message is ranting of an angry department manager and will probably not be read by a majority of employees. The tone of the memo is harsh displaying his emotion through the subject line composed of all capital letters. According to Roebuck (2006), "using only uppercase letters makes it appears as if you are shouting and will mark you as heavy-handed or rude" (p. 132). A more appropriate subject line would consist of upper and lower case text (media), specifically identifying the intent of the memo. Moreover, the message is more a narrative rather than instruction for complying with the human resources policy.
Because the technology for the delivery of the memo is unknown, a safe assumption is that the delivery is through interoffice or electronic mail (e-mail). Noise, according to biz/ed (2010), "represents a barrier to communication [and] can take many forms, which include language, technical content, lack of understanding of what the receiver wants or needs" para. 8). Noise associated with this memo is the tone of the message that reflects the hostility of the sender. The receiver of the memo is all employees. A feedback message reverses the communication analysis; however, as no response or, feedback occurs.
Business-to Business Letter
March 30, 2010 Princess Lance 123 Alabama Street
Dear Mrs. Lance,
Good day!!!
We are writing this letter to inform you that the ABC Company branch in Alabama will soon to open. We will give service and merchandise for the companies who are in line in online or computer business. Please feel free to visit our website at [email protected]. In our website you can see all the services that we can offer. This is also a good option for you to choose the right merchandise for your computer business. One of the best services that we can offer is that we can give is that we can give online promotion for your business. I included brochure in this letter for your future references. We are very much happy to answer your question about our business. I can be reached at (111) 111-1111.
Respectfully yours, Jacky Sanchez (Business Correspondence, 2009).
Communication Analysis
The preceding is a business-to-business communication the sender of the correspondence is Jacky Sanchez whose position with ABC Company is unknown. Appropriate format for a business letter is to include the title of the sender. One purpose of the letter, included in the message, is to inform Mrs. Lance of expansion of ABC Company with a new branch establishment in Alabama. An additional purpose of the letter is to offer services and merchandise to proprietors of computer businesses. The offer of services and merchandise is ambiguous as the offer implies a gift. Adding specifics to the offer would add clarity and enhance interpretation.
The mechanics of the letter are appropriate; however, the grammar fails to display a professional tone. Exact location of ABC in Alabama does not appear, in addition to the specific date when ABC will be open for business. Technology for the delivery of this communication is unknown; however, the assumption is delivery through United States Postal Service. Noise is the body of the letter that is confusing and poorly written. Improvement in this communications would occur if written by a more proficient communicator.
Business-to-Business E-mail
Hi John, I enjoyed talking with you this morning. As I indicated I am attaching the revised EAGLE standards that we have been working on. The Commission plans to make these effective July 2010.
Should Children's Home choose to utilize the new standards, we can extend the time frame to host a site visit to no later than March 15, 2011.
Please let me know how you wish to proceed.
Thanks, Teresa
Communication Analysis
This e-mail was sent to me at [email protected], in response to a telephone conversation with Teresa regarding accreditation requirements and a request from me on behalf of my organization, for deadline extension. Teresa of Eagle Accreditation is the sender of the e-mail. The message is the text or body of the communication; the purpose of which is to confirm the information discussed in an earlier telephone conversation. The message confirms that Eagle accreditation standards revisions will be effective July 2010. E-mail is the technology employed for delivery of the communication. The noise that may be associated with this e-mail could be the casual tone in addition to the color of the typeface. However, the casual relationship that Teresa and I share reflects the tone of the e-mail. As this e-mail is a confirmation of a phone conversation, no feedback is necessary.
Business Letter Requesting Partnership
Children's Home of North Carolina, Inc.
3493 Orphanage Road
Kancord, NC 28081
(704) 555-1212
July 10, 2010
Ms. Kathy Kramer
Children's Charities Coordinator
Ricky David Racing Foundation
900 Race Road
Mooresville, NC 28115
Dear Kathy:
As a major contributor to Children's Home of North Carolina, your gifts play a remarkable role in the life of children placed in our care. For 67 years, Children's Home has been providing a safe and loving environment for hurting, abused, dependent neglected, children at-risk placed privately and through the North Carolina Department of Social Services. Our commitment is to meeting the needs of desperate children by offering hope and healing to enable them to mature in all areas of their lives, breaking the cycle of pain, so they may become productive citizens. This care began in 1944 when a single mother abandoned her two daughters on the steps of V.A. Childress' home in Kancord. Since that time, Children's Home continues to provide a safe environment for children throughout the Piedmont of North Carolina.
As a nonprofit organization, we are not immune to the disastrous effects of the worst recession in decades. The economic downturn is forcing Department of Social Services (DSS) to reduce budgets by providing at-risk children services in their home resulting in fewer children placed in residential group homes. As a result, child placement is at record lows forcing the Children's Home to consider alternative services. We are initiating a new service, which is creating huge interest, to provide placement for single teen mothers and their babies. To accommodate these residents, we must refurbish one of our cottages at an estimated cost of $100,000.
Would you at Ricky David Racing Foundation consider partnering with us in this new endeavor to assist young mothers who would otherwise find themselves homeless? As always your generous gifts are deeply appreciated.
Congratulation on the new teen mother and baby services Children's Home is initiating. We at Ricky David Racing Foundation share your enthusiasm in the potential benefits this exciting new venture has to offer and wish you much success.
As you know, Willie, children at-risk hold a special place in the hearts of each of us at Ricky David Racing. For this reason, Ricky David Racing Foundation continues to develop relationships with children's homes located in 10 cities throughout the nation in which Ricky races the infamous number one car. Visiting the children at each of these facilities is the highlight of his travel to these cities.
Unfortunately, Ricky is, as many others, experiencing a significant downward direction in revenue as a result of the racing team's failure to finish the past 25 races above 30th position. Clashes between Ricky, the pit-crew, and the owner, Petty Richards, creates havoc and devastates team strategy that would enhance the team finishing in the top 10. In addition, sponsors are withdrawing their support creating a financial crisis within the organization.
As much as we appreciate the invitation to partner with Children's Home in this vital new venture, we are unable to provide resources you require to support this program. As conditions improve within Ricky David Racing, the organization will certainly reconsider support of this project.
Best regard,
Kathy Kramer
Children's Charities Coordinator
Ricky David Racing Foundation
KK/cm
Conclusion
Mastering business-to-business communications skills is essential to ensure messages are composed and delivered to the intended receiver with minimal noise. Employing a basic communications model is the initial step in analyzing a message, identifying intent of the sender, the needs of the receiver, and the elements of the communications environment (A Basic Communications Model, n.d.). Composing business letters that exercise appropriate format, grammar, and style can mean the difference between a favorable and unfavorable response.
References
A Basic Communications Model (n.d.). University of Phoenix material. Retrieved July 12, 2010 from University of Phoenix resource, COMM/470 Communicating in the Virtual Workplace Web site.
Biz/ed. (2010). Business communications. _The basic communication model._ Retrieved July 11, 2010 from /www.bized.co.uk/educators/level2/comms/activity/buscomms12.htm
Business Correspondence Examples (2009). _Examples of business correspondence and business letter_. Retrieved July 9, 2010 from businesscorrespondencesamples.com/category/introduction-letter/
Roebuck, D. B. (2006). _Improving business communication skills_ (4th ed.). Upper Saddle River, NJ: Pearson Prentice Hall. Retrieved July 10, 2010 from University of Phoenix resource, COMM/470 Communicating in the Virtual Workplace Web site.
Related Topics