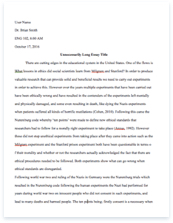 The whole doc is available only for registered users
Pages: 4
Word count: 920
Category:
A limited time offer! Get a custom sample essay written according to your requirements urgent 3h delivery guaranteed
Order Now
1) Why did Birds Eye develop as a vertically-integrated producer?
In early 1940s, shortly after Birds Eye started its business, there were some difficulties in the frozen food industry. In order to keep the quality of the food high, it had to be frozen quickly. Even if the food is frozen right away, it had to be kept frozen until it gets to customers. First of all, to secure high quality raw materials, Birds Eye had annual contracts with farmers and had control over the materials. For fish, it had contracts that give it the right to buy certain percentage of the catch with some price agreements. That is, Birds Eye exercised a backward vertical integration by securing its suppliers.
Next, Birds Eye had to establish a national distribution system. In the beginning, it was really hard for Birds Eye to make its relailers to install refrigerated cabinets even though the return on investment was quite high. However, Birds Eye succeeded in convincing two refregerator producers to start producing "open top" display cabinets. And Birds Eye decided to seek business only with the retailers who installed these cabinets. By doing this, Birds Eye achieved a forward vertical integration and established a nation-wide distribution network. These two things had to be done for Birds Eye to be successful in the industry because they were both critical in 1940s as mentioned in the beginning.
2a) Why did specialized intermediaries emerge?
Capital needed. The first reason why specialized intermediaries emerged is because some smaller companies that focused on one segment or even one product emerged. Since these small producers do not have enough capitals for distribution, there was a need for specialized intermediaries such as Christian Salvesen and Union Cold Storage. Not only those smaller food producers but also some maeketing-only companies emerged. They bought frozen food from producers and made their own brand name. In this case, there was also demand for specialist firms providing transportation and freezing capacity. Therefore, these specialized intermediaries came to provide a variety of services such as storage, freezing, processing, and distributing the products as small companies emerged. Exhibit 2 shows how these "other" small companies were achieving more market share. Christian Salvesen, one of these specialist firms, was capable of freezing almost one-third of Birds Eye.
2b) Could Birds Eye have prevented this from occurring?
It is unlikely that Birds Eye could have prevented this. In 1960s, food retailing was moving from counter service to self-service, and it was a great opportunity for frozen food processors. In addition, emergence of supermarkets and large supermarket chains led themselves to supply private-label frozen foods. These opportunities also let the industry explore new markets such as home freezer centers and catering. In 1940s and 1950s, the frozen food industry was in the embryonic stage; however, in 1960s, when specialized intermediaries emerged, the industry was no more in the embryonic stage. It was in the growth stage instead, and the market and opportunities kept expanding. Considering this fact, it is unlikely that Birds Eye could have blocked all these new entrants and still sustained its absolute competitive advantages. It couldn't have even covered all the demand by itself because of the lack of capacity. Moreover, the nature of the "growth stage" wouldn't let Birds Eye prevent it from occurring. 3) Does a vertically integrated producer have a competitive advantage in the early 1980s?
Vertical integration would probably not generate a competitive advantage. As discussed earlier in 1), Birds Eye did have a competitive advantage being a vertically integrated producer because securing good raw materials and distribution network was critical during that time. However, in the early 1980s, the situation is different. Because of the new entrants in 1960s and1970s, the competition has become more and more intense. In addition, the traditional retail market was no longer the only big market. The industry became diverse. Therefore, now Birds Eye needs to be flexible and deal with a variety of products ranging from frozen food for supermarkets to frozen food for home freezer centers. However, with a vertical integration, Birds Eye is not flexible because of the previous upstream and downstream investments. Moreover, vertical integration increases bureaucratic costs even though Birds Eye is trying to decrease costs for higher profitability. 4) What should Birds Eye have done in 1979?
As discussed above, the vertical integration with a lot of investments seems to be a problem to Birds Eye at the end of 1970s. Birds Eye should have given up being a vertically integrated producer.
First, it costs more to be vertically integrated as mentioned earlier. The objective of Birds Eye was to "restore a satisfactory level of profitability," so it cannot spend too much to stay vertically integrated while the integration is not working as well as it used to be. Second, Birds Eye needs to be flexible if we consider the situation of the industry as mentioned in 2) and 3). The previous investment and existing vertical structure make it difficult for Birds Eye to be flexible efficiently. Thus, vertical integration doesn't appear to be working well anymore.
If Birds Eye were to use integration, a horizontal integration would be better (if it is financially possible) because the competition has been keen. It would be able to increase the market share and achieve bigger economic scale.
Vertical integration needed to be avoided at this point. Birds Eye didn't have to completely terminate the integration, but it could have at least moved toward ceasing vertical integration.
Related Topics