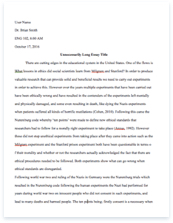 The whole doc is available only for registered users
Pages: 6
Word count: 1395
Category:
A limited time offer! Get a custom sample essay written according to your requirements urgent 3h delivery guaranteed
Order Now
The reason Elizabeth is challenge with her capacity needs and must to move into a more superior facility…Back in the early 80's a lady by the name Elizabeth McDoogle pet name "Biddy" started a custom-style bakery in Cincinnati, Ohio operated in conjunction with three of her friends to produce a multiplicity of sweets and was sold to the general community and local eateries. There specialty was the McDoogle pie, a deep rich chocolate ingredient combination in a cookie crust, a deep rich chocolate ingredient combination in a cookie crust. The recipe has been handed down from generation to generation in their family. Although this operation started as a hobby in Elizabeth home on the first floor, the business "Biddy bakery" accepted orders in advance however the sales were slow and steady but eventually grew overtime and required additional space to accommodate the business demands for more products. Thus the first floor of Biddy home was converted to accommodate the growing business, but by 1994 the business outgrew the newly renovated space therefore requiring Biddy to research other opposition to effectively operate her business.
Midyear of 2000 Biddy unfaltering acquires the adjoining building to move her complete bakery operation into this building, Hence the new building had significantly more space than needed, but the possibility was that business would continue to grow. However Biddy didn't do her research before acquiring this new facility. The challenges Biddy was face with in obtaining her building space was that she should have considered the following business practices before moving into the larger building. The first thing missing was a Business Plan. "A Business Plan is a business strategy to help develop entrepreneurs and managers to help consider numerous facts and strategies decisions. The facts and strategies include developing a mission statement, analyzing market, and focusing on company strengths. These facts are critical to developing company's long-range plans and/ or business strategies. (Reid & Sanders, 2010,)
The second key element is the Operations Strategy and Competitiveness"The responsibilities of operations strategies are to provide a plan for the operations tasks so that it can make the finest use of its assets. Operations strategies specify the policies and plans for using the institutions resources to support its long-term competitive strategies. (Reid & Sanders, 2010, pp. 59) Additionally a Layout plan is to decide the best physical understanding of all resources that uses space within a building. These resources might include a desk, a work center, a cabinet, a person, an entire office, or even a department. Decisions about the arrangement of resources in a business are not made only when a new facility is being designed; they are made any time there is a change in the arrangement of resources, such as a new worker being added, a machine being moved, or a change in procedure being implemented. Also, layout plan is performed any time there is an expansion in the facility or a space reduction. (Reid & Sanders, 2010, chp 10).
The plan completed by the team of business undergraduate would dramatically modify the way Biddy was conducting her business from the obsolete traditional method to a more conventional method. Thus customize the products that she would be producing. The focus would shift from making pies and cakes to just making her specialty pies McDoogle pie, a deep rich chocolate ingredient combination in a cookie crust, a deep rich chocolate ingredient combination in a cookie crust. Consequently limiting her from sales the other variety of bakes goods she is known for producing.
The problem with this proposal is that Elizabeth was confused that this proposal would transform the original objective for "Bibby bakery" to a commercial base operation and mainly focus on fabrication of the McDoogle pie, a deep rich chocolate ingredient combination in a cookie crusts in enormous volumes to solve her capacity issue but didn't offer an objective for the overall state of her current business. The student didn't focus on the complete operations of Biddy's Bakery hence leaving Elizabeth clueless about the future of her business. Additional some measures could have been implemented into the metric for the ratio of outputs over inputs. Productivity is used to measures how well a business converts its inputs to outputs. Productivity and Efficiency Measure performance related to standards. (Reid & Sanders, 2010,) Some of the varieties of operations Elizabeth has in place are called: pure services". Services with high customer contact. This operation has high in person contact and are greatly labor demanding. The standardization for the product is low, and each customer has exclusive requirements, and with low sales volumes. Pure service operations have an atmosphere of low system efficiency in comparing to other service businesses. (Reid & Sanders, 2010, chp 3)
The operation needed to assemble the suggestion made by the team of business undergraduates would be "quasi-manufacturing" This function has an elevated degree of service standards, a very high sales volume, but is very low in labor demands. This operation has nearly no in person interaction with customers and is in many ways parallel to manufacturing operations. (Reid & Sanders, 2010, chp 3) i.e. in this contract Biddy's Bakery would center the attention on the production on the McDoogle pie, a deep rich chocolate ingredient combination in a cookie crust, which would be distribute in mass quantities to a local store twice a week. The quantity of pies required would occupy the excess space and absorb most of the space from fabrication of the other sweets. Moreover increasing the operational hours and labor would be needed to fulfill the new business practices.
The major differences between these two operations as explained in the previous paragraphs the "pure services" operations have high visible in person interaction and the labor is demanding. And the "quasi-manufacturing" This operation is very standardization and sales are much higher volume, thus the labor less demanding.
Elizabeth senses that her company would be dissimilar is because of her lack of knowledge and understanding of today's business. The roles of her business would be dramatically different i.e. the roles of the business (Catering to a large public), the operation of the business (operating in a large capacity) and the finances of the business (producing a steady product) hence bringing in a steady income. The hours of operation would be impacted, longer business days no more 6am-2pm work days, potentially more employees to manage and a more diverse customer base. Not to mention that the variety of products that she was currently making would be limited and the specialty order compromised. However thru it all her capacity issues with the mitigated.
I would advise Elizabeth to seek alternative advice if she isn't clear on the plan proposed to her by the undergraduates and seek advice from a
professional source. I would then advise that a cost benefit analysis be done to help with her understanding and knowledge. A cost analysis or evaluation is use to establish how successful or unsuccessfully, a plan will turn out. Although a cost benefit analysis or evaluation can be used for roughly for many things, it is most frequently done on economic questions. Since, the cost benefit analysis or evaluation relies on the arithmetic of positive factors and the calculation of negative ones to agree on a net outcome, this as well is acknowledged as running the numbers. (http://managements.about.com/cs/moneys/a/CostBenefits.htm)
I would then advised Elizabeth focus was on growing her business that she accepts the students' proposal because it appears that the legs work has been done and agreement reached. The team of undergraduates presents this opportunity to a local grocery franchise that was excited with the outlook. With this contract Biddy's Bakery would focus its productions for the McDoogle pie, a deep rich chocolate ingredient combination in a cookie crust, which would be delivered in mass quantities to local stores twice a week. The quantity of pies required would use up all of the current excess space and occupy most of the space from the production of other sweets. Moreover increasing operational hours and labors needed to fulfill this new business practice.
References
Reid, R. D. & Sanders, N. R. (2010). Operations Management: an integrated approach (4th ed.). Hoboken, NJ: John Wiley & Sons. Reh, John F (2012). A cost analysis or evaluation is use to establish how successful (http://managements.about.com/cs/moneys/a/CostBenefits.htm)
Related Topics