Benefits of Studying Accounting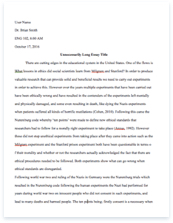 The whole doc is available only for registered users
A limited time offer! Get a custom sample essay written according to your requirements urgent 3h delivery guaranteed
Order Now
A career in accounting is one of the most requested by university students (Stockwell, Carly). Accounting majors have the possibility of obtaining a preparation to work in areas related to finance and business. According to the United States Bureau of Labor Statistics, the need for accountants has increased in the last ten years. Every company, institution, or business needs a group of people with knowledge about accounting, and the number of jobs in accounting reflects that need. The number of jobs of this occupation was 1,397,700 in 2016.
According to the projection statistics, this figure is expected to be maintained for the next ten years (U. S. Bureau). The accounting department of a company is in charge of preparing the financial information, analyzing the financial data and then providing a detailed summary of the financial status of the company. Once this summary is obtained, changes can be made within the company. An accounting career is more than mathematics, calculus, and statistics; an accounting major has to know how to write paragraphs, paraphrase, summarize, and conduct business, among other skills.
Accounting is a career that demands dedication and sacrifice, so accounting majors must undergo a process of preparation and training that will strengthen them in the different accounting areas. In order to enjoy the benefits of an accounting career, accounting majors must face academic challenges, develop math skills, and keep growing professionally. Accountant majors should know that they will have to face many challenges and adverse situations during their career; these challenges will be diverse and continuous.
West explains in his book, "Professionalism and Accounting Rules," that professional education is not just about following rules and mastering them. Throughout his research, West raises the need to create accountants who understand accounting, so they can practice this discipline effectively. Universities are graduating accounting majors that do not understand the depth of the profession. He also believes that there must be a series of basic requirements for students to be part of the accounting group of a company or business. For example, there must be stimulation or interest in mathematics.
An accountant who does not like statistics, analysis, and financial data processing is not eligible to belong to the accounting field. Also, he states that accounting majors must direct assessments. This is challenging for many workers who did not learn to practice critical thinking during their years of study. The development of critical thinking allows future accountants to improve their ability to observe and evaluate. The result of consistent and coherent work could help graduates become confident financial workers (West, Brian P. ). To become a confident accountant, Paul Volcker had to face many challenges.
Nobody can talk about economics without mentioning him. Volcker was someone who dealt with tough situations in order to achieve his purpose and show others that his new way of thinking worked. He is an example of real life. He is known because of keeping inflation under control during the years of 1980's. One of his biggest challenges was to accept studying at Princeton University. He states that he was not smart enough to go to study at a place like that, but his father encouraged him at all times. He wrote his final thesis about the Federal Reserve without knowing that his whole life was going to be linked to it.
Volcker states that he sweated, tried hard, and only wanted to graduate in the planned time. His dream at that time was only to finish his studies. After finishing his studies, he decides to marry; hence he faced family and economic problems during that time. Throughout his life he worked in the Federal Reserve, operated as Economic Advisor, and served as Secretary of the Treasury for International Affairs (Treaster, Joseph B. ). Moreover, challenges can be strong for accounting majors, but their success will depend on how efficient the education system is.
"Therefore, depending on how students perceive the course, it can attract or discourage them from majoring in accounting. If the course is dynamic, relevant and intellectually stimulating, it could attract the best and brightest students to the accounting major (Tan, Lin Mei)" Universities should create programs that actively involve students in creating daily routines. In this way, academic stress is prevented from affecting students. For example, many assignments, due dates, and courses at the same time could develop in sadness, insecurity, or discomfort.
A life full of challenges ahead is a life full of meaning, but students must know how to deal with them. The ability to solve mathematical problems is fundamental for accounting majors. The numerical reasoning, that is, the skill, speed, and accuracy to calculate, manipulate figures and solve quantifiable problems is essential. The accountant must have the facility to perform mental numerical operations and estimation of quantities with low margin of error (Blay, Allen D. ). For example, algebra and calculus are subjects that lead the accounting major to the analysis of situations in which a large number of variables intervene.
The same way, the future accountant must have the ability to manipulate documents and records with information to be classified and verified. Mathematics and statistics should be the universe of an accountant. In other words, accounting majors must acquire the ability to synthesize and conclude something in relation to a situation or reality in which numerous financial factors are involved. Accounting is a career that allows its graduates to grow and perfect different techniques and skills even after graduated.
Because accounting is a demanding career, the ability to design financial information systems should be improved by practicing and using the resources that support the improvement of the activity. To illustrate, the use of technology is an essential tool for the practice of accounting. As time progresses, softwares that are used in this field are constantly updated. An accounting software facilitates the registration of documents, calculations, and communication of information. This means that accounting majors have to keep preparing themselves in computer's software and its different programs such as Microsoft Excel and Access, among others.
Moreover, accounting majors can enjoy not only the intellectual development that this career provides, but also the short and long-term benefits of it. Accountants can earn salaries above fifty thousand dollars (U. S. Bureau). This is a great benefit since these amounts allow them to lead a comfortable lifestyle; Family and personal expenses can be solved without any problem. Similarly, learning this career allows them to carry out better management of money and personal expenses. Another benefit of the accounting career is to be able to work independently.
For instance, the accountant can create his own office and provide services to different entities. It is not necessary to have the pressure of a boss; the accountant can control his own time and determine the progress of a project according to his private calendar. Furthermore, the diversity of job opportunities is another great benefit of the accounting career. The professionals of the accounting career have the possibility of performing in different areas in the labor market. For example, the private sector, the public sector, the field of research and university teaching.
Of all the areas, those of the public and private sector are those with the greatest number of professionals. Accounting is based on the need to have accurate, timely, and complete financial information on documents and records that demonstrate the processes performed by an accountant. The results obtained reflect the financial situation of an entity. Any organization that performs a permanent or occasional activity, for its operation, requires controlling the operations that it carries out in order that the accountants can inform and interpret the administrative and financial results.
Accounting majors agree that Accounting is a specific economic science. Also, they will be the professionals who will have the responsibility, with the acquired knowledge and skills, to record the movements and economic operations that take place in the company. Accounting majors must know the importance of a countable career. They will evaluate the financial information which can minimize risks or maximize profitability.
Works Cited:
Blay, Allen D., and M. G. Fennema. "Are Accountants Made or Born? An Analysis of Self-Selection into the Accounting Major and Performance in Accounting Courses and on the CPA Exam." Issues in Accounting Education, vol. 32, no. 3, Aug. 2017, pp. 33–50. EBSCOhost, doi:10.2308/iace-51583.
Stockwell, Carly. "Same as it ever was: Top 10 most popular college majors." USA Today, Gannett Satellite Information Network, 26 Oct. 2014, college.usatoday.com/2014/10/26/same-as-it-ever-was-top-10-most-popular-college-majors/.
Tan, Lin Mei, and Fawzi Laswad. "Students' Beliefs, Attitudes and Intentions to Major in Accounting." Accounting Education, vol. 15, no. 2, 2006, pp. 167–187. EBSCO, doi:10.1080/09639280600787194.
Treaster, Joseph B. Paul Volcker: The Making of a Financial Legend. Wiley, 2004. EBSCOhost, db24.linccweb.org/login?url=http://search.ebscohost.com/login.aspx?direct=true&db=nlebk&AN=111555&site=ehost-live.
U.S. Bureau of Labor Statistics. "Current Employment Statistics.", U.S. Bureau of Labor Statistics from 2008 to 2018, data.bls.gov/pdq/SurveyOutputServlet.
West, Brian P. Professionalism and Accounting Rules. Routledge, 2003. Routledge New Works in Accounting History. EBSCOhost, db24.linccweb.org/login?url=http://search.ebscohost.com/login.aspx?direct=true&db=nlebk&AN=93086&site=ehost-live.
Related Topics