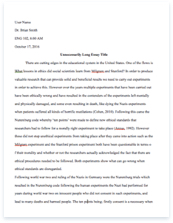 The whole doc is available only for registered users
Pages: 3
Word count: 702
Category:
A limited time offer! Get a custom sample essay written according to your requirements urgent 3h delivery guaranteed
Order Now
Ben & Jerry's strategic position is to offer an all natural approach in the preparation of their super premium ice cream. Through the use of pure, natural, and socially conscious products, Ben & Jerry's positions its products as high quality with unique flavors which ultimately differentiates it from the competition. They market their products through cause generated marketing , practicing social consciousness to present the values and goals of the company. Ben and Jerry's maintains a full-time research and development team dedicated to the development of original and unique cutting edge flavors. Ben & Jerry's strongly emphasizes taste as a differentiator of its product from its competitors through its use of pure, natural and socially conscious milk from Vermont dairy farmers and aggressively promotes its products' purity on its packaging. Their products are distributed through the media of supermarkets, grocery stores, convenience stores and restaurants that demonstrates corporate consciousness.
Company Issues
The major problems facing the company highlights the rising trend to health consciousness and the aging demographic of the baby boomers. There is also a rising competition with the super premium ice cream giant Haagen Dazs and small ice cream manufacturers that copy the Ben & Jerry menu. Ben & Jerry's distribution is also facing limited growth, they will need to expand to other channels. The company organizational structure is weak and will need to be redesigned as this creates poor employee morale. In terms of supply, Ben & Jerry's have a cost inefficient strategy, as they only buy from small farms for ingredients and is very time consuming and expensive.
Liquidity Ratios
19931994
Current Ratio(Current Assets)/(Current Liabilities)3.2393.589 Quick Ratio(Current Assets-Inv.)/(Current Liabilities)2.2112.658 Cash Ratio(Cash+Marketable Securities)/(Current Liabilities)1.1241.436
Based on the acid test ratio, B&J has an improved ability to pay out its current liabilities immediately in year 1994 than 1993.
Profitability Ratios
19901991199219931994
Gross Profit Margin
(Gross Profit)/Sales26.9%29.4%28.5%28.6%26.2%
Net Profit Margin
(Net Income)/Sales3.4%3.9%5.1%5.1%-1.3%
Return on Assets(Net Income)/(Total Assets)7.6%8.7%7.6%6.8%-1.6% Return on Equity
(Net Income)/(Average Equity)16.2%14.2%10%9.7%-2.6%
Based on the profitability ratio trends, it shows that B&J has a decreasing ROA and ROE. It is currently generating negative ratios which tells us that it is inefficiently managing its assets and investments. On the other hand, the company is also generating negative profits relative to shareholder equity and investment funds.
Market and Financial Position
Ben and Jerry's sales initially maintained a steady increase from 1988 through 1992, but then slowed dramatically in 1993 due to consumers' changing preference for healthier options. Virtually, all of its growth in 1993 came from its frozen-yoghurt line, which grew by 35 percent during that year. Net income grew steadily along with sales growth in 1991 and 1992. By year 1994, the company started to incur a loss, this loss based on the gross profit and net profit ratios reflect a dramatic increase in expenses by year 1993 and 1994.
Recommendations
In order for Ben & Jerry to increase market demand, a restructuring of its operations and production will have to be implemented and at the same time, perform according to its company values and goals.
Internal structure
B&J should reconstruct the company's organization structure, introducing product teams to include all members of staff from different departments. this will integrate the activities involved in developing new products and will speed up the process of introducing new flavors.
R&D
The changing consumer tastes puts B&J in a complex position which ultimately stresses the importance of R&D. Ben & Jerry's should maintain this advantage and further focus on how they can cope up with the changing consumers tastes towards low-fat products.
Promotion
Due to increased competition, B&J could offer coupons and discounts to attract more consumers. B&J can also expand the market through discovering and promoting new uses for the product.
International Expansion and Distribution
To combat seasonality problems of product sales, they should expand their distribution globally. They can distribute their products to hotter countries that experience a relatively stable hot weather. The U.S. super premium ice cream market is reaching its maturity stage with slow market growth thus making expansion more important. Also, B&J should expand their distribution channels aside from grocery stores. They could cooperate with both cafes and restaurants or distribute their products through take out stands in the street/mall.
Related Topics