American Dietetic Association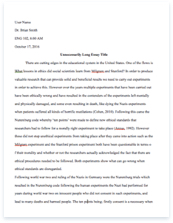 The whole doc is available only for registered users
A limited time offer! Get a custom sample essay written according to your requirements urgent 3h delivery guaranteed
Order Now
You are the registered nurse performing a health assessment on a newborn infant. From the functional health pattern portion of the assessment, you learn the mother is reluctant to breastfeed her baby. One of the most important aspects of health promotion in the infant is nutritional status. At this time, you take the opportunity to inform the mother about the benefits of breastfeeding. The American Academy of Pediatrics and the American Dietetic Association have released recommendations and position statements in support of breastfeeding. In addition, research has shown that the positive effects of breastfeeding last into adulthood. Find a research article in the GCU eLibrary that discusses the positive impacts of breastfeeding not only in infancy but also later in life. Summarize the article, and write one or two paragraphs stating how you would share this information with the mother to encourage the mother to breastfeed her baby.
List community resources that are available for breastfeeding mothers. Include in-text citations and references for each of the scholarly sources used. Respond to other learners' posts in a manner that initiates or contributes to discussion. Exclusive breastfeeding has been linked to a variety of health benefits. Breastfed babies have less diarrhea, vomiting, and infections when compared to formula fed babies. Exclusive breastfeeding between 6 months to 2 years has also shown a decreased risk of allergic disease, obesity, hypertension, hypercholesterolaemic later in life. The World Health Organization recommends breast feeding for the first 6 months of life.
Dr. Bernd Stahl, R & D Director of Human Milk Research at the Danone Research Centre for Specialized Nutrition in the Netherlands has been studying human milk for 20 years. Dr. Stahl stated that human milk serves both nutritional and immunological functions. Nutritional needs are met through macronutrients such as lactose, fat, and protein that helps with growth. Human milk also contains smaller functional proteins and nondigestible factors that aid digestion and help the developing immune system. He also stated the composition of human milk varies among individuals. It depends on diet, stage of lactation, genetic make up, and time of day. Omega 3 to Omega 6 fatty acids are also in human milk. These are important for metabolism, immune system, and brain development.
Related Topics