Albert Ellis and the Rational Emotive Behavior Therapy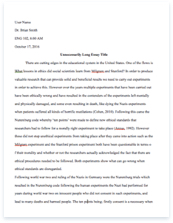 The whole doc is available only for registered users
A limited time offer! Get a custom sample essay written according to your requirements urgent 3h delivery guaranteed
Order Now
Albert Ellis and the Rational Emotive Behavior Therapy
Albert Ellis was born in Pittsburgh, PA on September 17, 1913. He was the eldest out of three children. As a child, he mostly took care of his younger siblings because his father was a business man and was mostly away on business trips. His mother was described as "self-absorbed" and "bi-polar" in his biography; so neither of his parents emotionally supported any of their children. During the depression, everyone was forced to work in order to keep afloat. Ellis, however, was very weak. At the age of 5, he developed a kidney ailment and tonsillitis. By the time he was 7 he had been hospitalized 8 different times, each time his parents no or little emotional support. For college, Ellis went to City University of New York where he earned his business degree.
For a few years, he tried to write and create a business; however he discovered that those were not his true callings. During this time, he became an expert in human sexuality and became a counsel. In 1942, Ellis decided he wanted to earn his Ph.D. in clinical psychology. He attended Colombia University and earned his Ph.D. in 1947. As soon as he graduated he worked part-time in private practice in New York, and full-time in New Jersey. He ended up quitting part-time, so he would be able to work in private practice full-time. Around this time, Ellis started becoming extremely controversial because of his push for sexual freedom and gay rights. He was known as a "sexologist". In 1953, he changed his title to a rational therapist. By 1955, he founded the rational emotive behavior therapy (REBT). He later passed away in 2007 due to illness.
Albert Ellis' REBT gave insight as to why people respond the way they do, therefore making it an interesting topic to explore. REBT is from the idea that behavior supports irrational thoughts and/or emotions, and all problems are self-generated. The goal of REBT is to change the behavior which will eventually change the thinking, and to help the patient learn how to experience their emotions in a more rational manner. Ellis' theory of REBT might have one wonder:
1. What are the irrational beliefs?
2. When does the irrational belief tie into REBT?
3. Has there been any experiments that test the REBT?
4. Is the REBT still effective today?
What Are the Irrational Beliefs?
The rational emotive behavior therapy consists of three main irrational beliefs, otherwise known as "The 3 Musts". The first "must" is a demand on yourself. This irrational belief has one think they have to get approval from others in order to be accepted or else they are worthless. This "must" often leads to anxiety, depression, and lack of assertiveness. The second "must" is a demand on others. This irrational belief is when one thinks that they must be treated fairly, lovingly, and reasonably by others, if not then the person is no good. This "must" leads to hostility, resentment, and violence. The third "must" is a demand on life. This irrational belief has a person think that life must be fair, easy, and hassle-free and if not, it's horrible. This "must" leads to hopelessness, procrastination, and addiction. When Does the Irrational Belief Tie Into REBT?
To make the process of people acting out on their irrational beliefs simpler, Albert Ellis created the ABC Model, which shows when the irrational beliefs ties into the REBT. The ABC model is a situation in three steps. 'A' being the first step, is when the situation is presented. An example of what 'A' could be is someone telling you that they think your shirt is ugly. The next step is 'B', which is the belief that the person holds. Going along with the example mentioned, 'B' could be that the person being told their shirt was ugly believes that it wasn't right for the other person to tell them something like that. The last step is 'C', which is the reaction based off their belief. Continuing with the example presented, 'C' would be that the person would become angry towards the one who said their shirt was ugly. Based off of this example, it shows that irrational beliefs are an effect from the situation and the cause of actions. Has There Been Any Experiments that Test the REBT?
There have been experiments conducted to test people's inference based off their beliefs. Psychologist have done test to prove "subjects who hold irrational beliefs will form inferences that are significantly more dysfunctional than those produced by subjects who hold rational beliefs," What the psychologists did in this study was have their subjects fill out a survey about how they felt before going to sleep, and gave them a scenario on a card where they would write and rate their actions based on their beliefs. Is the REBT Still Effective Today?
Many studies from clinical research and experiments have shown that REBT reduces ones emotional pain. It is also one of the most widely practiced therapies in the world. It has helped many people in a wide range of disorders from Obsessive Compulsive Disorder, to an eating disorder, and phobias. Thanks to Albert Ellis, the rational emotive behavior therapy has benefited millions of people all across the globe, plus many more to come.
References
Bond, F. (1996). Testing an REBT theory: The effects of rational beliefs, irational beliefs, and their control
or.. International Journal Of Psychotherapy, 1(1), 55.
Cash, Adam. "Playing Together Nicely: Behavior and Cognitive Therapies." Psychology for Dummies. New York: Hungry Minds, 2002. 288-89. Print.
Dr. Mike, & Dr. Abrams, L. (2012). Albert Ellis Biography by Dr. Mike and Dr. Lidia Abrams. Albert Ellis
Biography and Research Site. Retrieved from http://www.rebt.ws/albertellisbiography.html
Ross, W. (2006). What is Rational Emotive Behavior Therapy (REBT)? REBT Network: Albert Ellis |
Rational Emotive Behavior Therapy. Retrieved from http://www.rebtnetwork.org/whatis.html
Related Topics