Advocacy for Diverse Clientele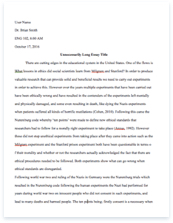 The whole doc is available only for registered users
A limited time offer! Get a custom sample essay written according to your requirements urgent 3h delivery guaranteed
Order Now
Advocacy for Diverse ClienteleName Capella University Advocacy for Diverse ClienteleOne of the populations that has a lot of culturally diverse individuals is the military and veterans. In veterans there is a lot of cultural diversity with individuals ranging in backgrounds from all over including African-American, Asian-American, Hispanic-American, and Caucasian-Americans. Veterans suffer from a wide range of mental illnesses including depression, PTSD, anxiety, suicide, and substance abuse. PTSD is one of the most common mental health problems that veterans face after returning from war. According to Loo (1994), individuals that are ethnic minority veterans tend to have higher rates of PTSD than white veteran counterparts.
PTSD can manifest in a few different ways including recurring nightmares, difficulty sleeping, anxiety problems, and difficulty with normal activities or daily tasks. There is a clear need in the veteran population for better health care of these culturally diverse individuals, especially related to matters of mental health. An important way to get better mental health care for veterans is through the process of advocacy which will advocate for programs, services, and polices for the veteran population. This paper will detail the advocacy process for the veteran population, addressing institutional and social barriers that impede this process. The paper will talk about local, state, or national policies that impact the services, describing three strategies for working with and advocating for the veteran group, and list at least three community resources available for the veterans. Advocacy Methods
Veterans deal with a variety of situations and experiences that are conducive to receiving counseling and mental health help. Instances such as PTSD, war related illnesses, even family circumstances like divorce that is brought on by the war are major situations for veterans that make it important to have counseling services well equipped to treat the veteran for different issues. There are several methods that can be employed when it comes to advocacy and evaluation of policies, programs, and services. In using on method structured interviews of influential people in the public and private sectors are conducted (Blair, 2007). In this method the interviews are head with policy makers which allows insight to where the policy makers are at on the issue, assessment of political outcome, and assessing how well advocacy messages have done (Blair, 2007). This method allows for advocacy by providing a look at what policy makers are thinking, where their votes might light, and how well the previous methods of advocacy have worked. It allows advocates to see where changes can be made and why the might need to be made. National Public Polices
According to Government Affairs: Current Issues (2014), legislation was passed in 2006 which allowed for qualified mental health counselors to work as mental health clinicians in order to take jobs in the VA and help veterans with the issues they deal with. The main advocate for the inclusion of qualified counselors came from the National Board for Certified Counselors that advocated for years and directly influenced the 2006 legislation ("Mental Health Matters" in advocacy, 2004). This allows counselors that are trained to deal with issues of mental health such as PTSD to get jobs and help veterans with their mental health. The passing of this legislation allowed counselors that were qualified and licensed to gain employment with the VA and thus having access to the services that veterans need being easily available. Three Strategies
There are several strategies that can be employed in order to assist veterans with mental health issues. In seeking services veterans can have family, individual, or group sessions in order to work on issues they may have. According to Dickens, Handa, Litz, and Vogt (2010), three strategies commonly used are coordination and collaborative approaches, family counselling approaches, and at-risk population approaches. In the coordination and collaborative approach the veteran's health care personnel such as primary doctor works with the counselors, psychiatrists, and any other medical health personnel to coordinate health services and collaborate on anything that needs to be done for the veteran. In the family counselling the veteran and their spouse or family seek care together in order to show support and work through problems that may arise within the family structure. In the at-risk populations individuals listed as at-risk include individuals that have seen combat and are thus placed into counseling upon return from war situations. Three Community Resources
There are several resources available to veterans depending on needs and locations. Veterans can use the VA website in order to find resources for different things such as mental health help, jobs, or even homelessness. In more localized resources the Mississippi Department of Employment has resources to assist in veteran issues, as well as veterans are able to visit VA locations in Mississippi for resources and help in person. Aside from the VA and state resources there are other resources such as the Sonny Montgomery Center for America's Veterans which can provide a wealth of support for veterans (Loo, 1994). Promoting the resources for veterans can be done through the VA so that veterans are aware of local resources and VA resources that are set in place to help them transition through the return from war. Additionally, having the resources readily available and printed out to veterans at counselor offices, doctor offices, and even in the bases where the veterans are stationed or reside once returning home will allow for the veterans to have greater access to the list of resources available for them.
References
"Mental health matters" in advocacy. (2004). Journal of Disability Policy Studies, 15(2), 126-128. Retrieved from http://search.proquest.com.library.capella.edu/docview/211208480?accountid=27965Blair, E. (2007). Evaluating an issue's position on the policy agenda: The bellwether methodology. The Evaluation Exchange, 13(1), 29.Dickens, B., Handa, S., Litz, B. and Vogt, S. (2010). Targeting Self-Stigma in Returning Military Personnel and Veterans: A Review of Intervention Strategies. Journal of Military Psychology. 22 (2).Erford, B. T. (2014). Orientation to the counseling profession: Advocacy, ethics, and essential professional foundations. (2nd ed.). Upper Saddle River, NJ: Pearson Inc.Government Affairs: Current Issues. (2014). American Counseling Association. Retrieved from http://counseling.org/government-affairs/current-issues/position-papers/2013/03/26/counselors-continue-to-be-all-but-shut-out-of-the-va.-here%27s-what-you-can-do-to-helpLoo, C.M. (1994). Race-related trauma and PTSD: The Asian American Vietnam veteran. Journal of Traumatic Stress, 7, 1-20.
Related Topics