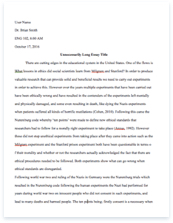 The whole doc is available only for registered users
A limited time offer! Get a custom sample essay written according to your requirements urgent 3h delivery guaranteed
Order Now
Introduction
Adidas, a world class leading brand for sports equipment, accessories and apparels. The German multinational corporation design and manufactures sports equipment, clothes, shoes and many more. They are known to have the best technology and design for their running shoes and clothes which has help many athletes to perform better. It does not only manufacture sports but stuff related to fashion such as watches, perfume and sunglasses. Adidas was founded in 1949 by Adolf Dassler in Bavaria, Germany. The Adidas group first started out by manufacturing shoes and their only rivalry was Puma which was owned by his brother.
Both the company wanted to excel further and outrun each other. Their success story begins here. Today Adidas Group has expanded its business to a large extend. They now have more company names and it has also gone into a public listed company. Adidas group has 50728 employees in over 160 countires and it manufactures over 650 million product units every year for sale. In 2013 Adidas has generated €14.5 billion. Adidas has a significant logo which is the three parallel stripes of the same color. Adidas group values are very strong. They are performance, passion, integrity and diversity. Adidas tag line "Impossible in nothing" has created a great awareness for their branding.
PESTEL
Now we will look in the Adidas group PESTEL (political, economical, social, technological, environmental and legal) analyses. From these we are able to analyze the internal factor which affects the company. Political
Political stability is an important factor for Adidas in almost all counties as they have outlets and their goods are being supply to many parts of the world. Political and regulation within the country must be stable in order for to continue its success in that country. Political unrest such as terrorism, government changes very fast which may lead to changes of polices of importing goods or taxation may get Adidas group into losses.
Economical
Adidas products are catered more to middle to upper class category. If the Economic growth is good, the Adidas group will be in favor as people can afford and spend more. Adidas stores are mainly located in highly developing or developed countries. Adidas also welcome distributors to resell her brand items to cities where they have not personally tap into in yet. This is a great advantage to the company as their goods are being sold at a faster rate. They should ensure the country currency rate do not clime very fast as they might lose out in the currency for example in 2007/2008 when the currency of USD fell, Adidas suffer a great loss.
Social
Adidas target many different people from different social background. They cater their products to all age, race, literacy level, gender and different level of income group. The buying patterns may be different for many of these different groups but Adidas has manage to cater to all. Adidas has also played any different social attributes in their marketing such as different enteric group has different a different marketing technics.
Technological
Adidas has always been keeping up and being innovative in their technology. They have invested a lot of money and time into RND for the latest product. They believe in increasing performance for every athlete. By investing in technology they believe in cutting down in energy and cutting down on labor cost as well. They have invested in online sales and online promotion. They are keeping up to date with the online technology as they can cut cost on retail stores. Customers can but Adidas products online throughout the world.
Environmental
Adidas group has a systematic way to manage environment impacts. They do not waste a lot of raw material while producing their products. They ensure that their products are all long lasting and durable. They control and monitor their factory emission of VOC (Volatile organic compounds) as this can be harmful to the environment. In 2009 Adidas participated in the "better place environment program" where they engage and develop practices in using non-harmful substances. They have manage to gain publicity by so as well.
Legal
In the industry of sports equipment there are a lot of competitors where Adidas has to be carful about. Such risk as trademark, patent of design, logo and other rights could get Adidas into trouble with the law. To reduce the risk, Adidas has to research carefully to avoid conflict with rivalry companies. Adidas could be fine heavily if they do not comply with the legal rights such as: Press Complaints Commission (PCC)
References:
Trade Descriptions Act
Sales and Supply of Goods Act
Advertising Standards Authority (ASA)
()
Adidas has to declare all their product for taxation while importing or exporting their goods.
Find out more from UK Essays here: http://www.ukessays.com/essays/marketing/marketing-audit-of-adidas-marketing-essay.php#ixzz3IHqBcGOR
Find out more from UK Essays here: http://www.ukessays.com/essays/marketing/marketing-audit-of-adidas-marketing-essay.php#ixzz3IHmVnk2q
http://www.ukessays.com/essays/marketing/marketing-audit-of-adidas-marketing-essay.php
Related Topics