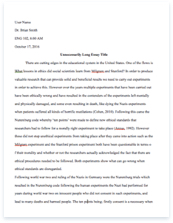 The whole doc is available only for registered users
A limited time offer! Get a custom sample essay written according to your requirements urgent 3h delivery guaranteed
Order Now
Exceeding a Goal, Achieving a Dream
Looking back on my younger years, I have often wondered what I would truly be able to accomplish as an adult, and how I would achieve those endeavors. As a child, my interests in career choices came and went in short spurts, and the fantastical choices were never-ending. Animal doctor? Rich and powerful business owner? I never really knew more than the simplicity of running around in a costume of an inspiring career at the time. Now, I must narrow down what I feel I can contribute in the years to come based on my passion, personal drive, and love that I have towards my chosen path. Knowing myself as well as I do now, running towards my dream of what I have a true passion for, and to exceed my educational limits as a lifetime career, is what I ever hope to achieve. I find strength in knowing I am capable of pursuing anything I set my mind on, and for me, that is to achieve my dream of studying and one day becoming a Nutritionist/Dietitian.
To begin, I have always been one to actively participate and blessedly achieve the goals I have set for myself so far. For example, some of my passions are biology and chemistry. These subjects pave the ways on my journey to accomplishing my goal of one day having a Nutrition and dietetics based career . These subjects have broadened my thinking past the natural skills I know I am capable of, and also help me widen my aspect of the learned skills I already know. Even though they brought me many struggles in my grade school years, chemistry and biology have always been the subjects that spark my fire. They stretch my thoughts farther than I ever imagined, carrying my dream along with it. With that said, anything that is needed to gain momentum in achieving my goal, whether it be my weakest or strongest aspect, will be undoubtedly attacked with full force. With continual hard work, I know I can achieve my dream.
To continue, being sociable, generous, and unique are the greatest weapons I yield in accomplishing the skills I need to exceed and achieve my dream. For example, I volunteer at Redeemer Bible Church, where I have been a member since birth. Preparing food for the homeless shelter for the Samaritan House in 2010, organizing the Teen Challenge visit to my church for the past three years, and visiting and organizing donations for the local Goodwill stores
have only been a few of my personal accomplishments. Most importantly, the feeling a smile brings in response to kindness brings great joy to my heart and has been greatly influential in my career choice. It will always be a factor in the way I live and how I will one day live my dream.
Lastly, receiving education relative to my career path from a University I hope to attend, would be the jump start I need to complete my goals and live the life I have always dreamed. Even though the college years are ephemeral, being a part of something that will lead me to my lasting dream will be the greatest steps towards the brightest, most exciting and important years of my life. These steps are what I undeniably look most forward in preparing for my life ahead. As David McCullough states, "Real success is finding lifework in the work that you love." Living by this quote, I know my greatest attribute will be doing what I passionately love most in my life. Furthermore, I will without a doubt, work my hardest to exceed my goal, and achieve my dream.
Related Topics