About The Difference Between a Growth Mindset and a Fixed Mindset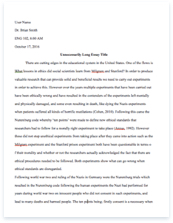 The whole doc is available only for registered users
A limited time offer! Get a custom sample essay written according to your requirements urgent 3h delivery guaranteed
Order Now
A growth mindset is the belief that intelligence can grow and strengthen with effort. Children with a growth mindset believe that they are capable of achieving what they want that by spending enough time and effort they can reach their goals. A fixed mindset focuses in a belief that intelligence cannot be changed significantly. Children with a fixed mindset believe that they are born with certain character traits and a fixed amount of intelligence and creativity, and that nothing they do can change anything significantly.
If one wants to develop a growth mindset in a child, it is better that our comments are about concrete results. For example, when a child does something well one should refer to the way and effort they used and put into it. Just the opposite of what a fixed-minded parenting style would do praise the person for the positive result, attribute it to their special gifts ('you are a very smart child') and not make too much reference to method or effort. A child who lives in a fixed mindset will be afraid of being a fraud and will show more anxiety about bad results and more intolerance to error or failure.
Education is one of the factors that most influences the advancement and progress of people and societies. In addition to providing knowledge, education enriches culture, spirit, values and everything that characterizes us as human beings. There are many factors that play into education and ways to get children to learn. As soon as a child starts school we are responsible for their education in every way. For example, the article says one of the reasons many students have a fixed mindset if because they don't have an adult at home telling them "good job" and praising them in anyway. That child's education can be affected because they're closing their mind into thinking they cannot learn when there's so much they can and will. Education is, therefore, a necessary learning that allows students to develop their personality and identity, as well as their physical and intellectual capacities. Learning throughout our lives is constant and goes beyond the formal field of education.
As a future teacher it shows me how to help and understand my students. There is something every child and adolescent needs to believe with every cell in their body, and when they do, it is when they thrive. Adults can nurture this belief helping them learn, grow and flourish. For example, "My teachers, my principal and everybody. They encourage me by saying things that make me feel better. If I feel discouraged they tell me I can do it. They encourage me to continue to try harder and work harder." This quote shows the impact encouraging and supportive adults have. Children and teens need to know that their brains can be stronger if they spend time and effort. It sounds simple, but the reality is that the effects of this belief are very profound. It is not easy to make children believe this, some of them will be able to believe it, but others will be sure that they are the way they are and that there is nothing that can change that. There is nothing like encouragement and praise in children of all ages to help them make great progress.
Research like this one helps me see the value of effort, persistence, and seeking to try new learning methods to enhance students talents and abilities. Most importantly though it taught me teaching tactics and principles that I will be using with my future students. In this way, it will change the way they process content and their knowledge. Every student is different meaning we have to focus on the interest and skill of each student as a teacher what I teach doesn't have to change but how I teach it's whats imporant.
Related Topics