About Five Strategies That Can Help Lead Me to Success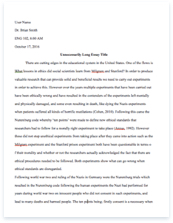 The whole doc is available only for registered users
A limited time offer! Get a custom sample essay written according to your requirements urgent 3h delivery guaranteed
Order Now
Over the semester we have discussed many informative and valuable information that I will continue to use throughout my college career. Although I have enjoyed every topic that we went over, there were three main topics that I think hold the most value to me. These three topics are strategies that I can still see myself using two to three years from now, and still holding up to its value. I these strategies are from a book called "Teach Yourself How to Learn" by Saundra Yancy McGuire with Stephanie McGuire. This book was highly recommended and was truly a great book.
The first strategy that I enjoyed during the semester was The Study cycle. The Study Cycle is a five-step guide on how to prepare for a class and an exam. The five steps of the study cycle are: preview, attend class, review, do the intense study session, and assess. This study cycle is my favorite strategy because this is so helpful in so many ways. I used to do step one, preview before class, in high school but I was not doing it correctly. Now after reading the Dr.McGuire book, I have a better understanding on how to properly preview before class with extra steps added on. After learning the steps to the study cycle, I have been using it to help me prepare for my classes, and I am using the intense study session to help me study for my final exams. This strategy has added great value to my studying, and I believe that it will help me stay on top of my classes in the future.
The next strategy I want to discuss is Growth mindset. Growth mindset is when a person believes that their intelligence can be enhance and grow over time; that they are not born with all the knowledge that they can have, but that they can always achieve at learning new things with the right effort. Having a growth mindset is a great thing to have when you want to achieve something, and finishing college is something I want to achieve. If I continue to have a growth mindset, then I know personally that everything I want to accomplish in life I can do it. That I know if I struggle with something, I can get better at if I just work harder and not feel the feeling of defeat. Learning about growth mindset was by far my favorite, and I have been using growth mindset with some of the classes that I want to get better at overtime. This is a strategy I know I can use throughout college and after college. This was my first time learning about growth mindset, and I am glad that I learned about this my freshman year in college because I know that the next three years of my academic career is going to be challenging, and I am going to need to have a growth mindset to push through.
The last strategy is the peer-to-peer teaching. The concept of peer-to-peer teaching is to know a material so well that you can fully teach it someone else. This strategy is so helpful because you might think that you really understand a topic, but when you try to explain it to someone else you, realize that you do not know it as well as you thought you did. Using peer-to-peer strategy in the future will be very helpful for me because I will know that if I can't talk out how to do something, then I really do not understand the material. With learning that I do not truly know the material, I know that I probably need to study more on that certain subject. Also doing the peer-to-peer teaching in class was kind of fun to do. It was something new, and I enjoyed teaching different topics to my classmates.
Overall, I have learned many strategies that can help lead me to success. I have many tip and resources to help me along the way of my college career, and I plan to take full advantage of everything I learned from the course. At first, I was not really looking forward to taking this class, but now I am glad that did because I have really enjoyed every part of this class, and I have gain so much knowledge. I know that I have a lot of schooling ahead of me, but with these strategies I feel more prepared than what I felt coming into college. Now that I have these amazing strategies, it's all up to me now to apply everything that I learned and be the best I can be.
Related Topics