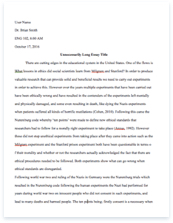 The whole doc is available only for registered users
A limited time offer! Get a custom sample essay written according to your requirements urgent 3h delivery guaranteed
Order Now
Critical Review Paper #1 – A Beautiful Mind
A Beautiful Mind is an amazing film by Ron Howard in which a brilliant man's life is depicted as his battle with schizophrenia worsens and it takes a toll on his own life and the lives of his family. This movie was created using all kinds of different movie making techniques which allow the viewer to truly see the whole story and actually sort of experience what John Nash is experiencing. I have seen this movie before and three scenes have stuck with me and made an impact in my mind. The first being in the very beginning of the movie where we are first introduced to John and he analyzes the man's tie, the second is the series of scenes where he is in the mental hospital, and the last and final scene that has stuck with me is in the closing moments of the film when John wins the Nobel Prize.
In the beginning of A Beautiful Mind, we are introduced to John in the yard of Princeton with several other young college men. This is the first time we see and meet John, and Ron Howard really did a great job early on of depicting the protagonist as different in some way, but we are not quite sure how yet. John walks up to a table and he sees the sunlight shining through the punch bowl and he is able to see in his mind how it relates to a man's tie. He goes up to the man and tells him, "there is a mathematical explanation for how bad your tie is." With this one line, the viewer of the movie is able to see that John Nash has a different personality and there is something more to him than just a mathematical genius.
Later on in the movie, John hits rock bottom and his battle with schizophrenia is at its worst. He is admitted into a mental hospital, but he thinks he has been taken hostage by the Russians. The doctors determine that John is schizophrenic and start to try to help him. I have seen this movie several times, and one of the scenes that always stays in my head is when John is in his cell and he is digging through his forearm to look for his number and it is not there. This is truly a time when he realizes that maybe all of his past experiences haven't been real, and this tragic scene with the blood and torn flesh shows just how confused and lost John Nash is in his life.
One of my favorite times in the entire movie is at the end when John wins the Nobel Prize in 1994. Not only is this one of his greatest accomplishments and greatest moments of his life, but to me it seems like this is the defining moment of success in his life. When I watch this scene, each time all that I can think of is that John has one his battle and overcome schizophrenia. As he walks out of the auditorium he looks over and sees the three people who are in his imagination and the three people that have caused him the most trouble in his life. He walks by, pauses to look at them, and keeps walking. This is such a cool moment, because he has truly won his battle with schizophrenia and can almost live the life of a normal person now.
A Beautiful Mind is one of my all time favorite movies. I have seen it several times now, and each time I see something new, and it still leaves the same lasting emotion on me. The entire movie is so powerful because it accurately depicts just how hard the life of a schizophrenic person could be. John Nash is a brilliant man and his life was filled with constant trials and tribulations and throughout the movie his struggles are perfected and he ultimately "wins the battle" with schizophrenia. John Nash truly does have a beautiful mind, and his story is equally as beautiful.
Related Topics