Loyola University of Chicago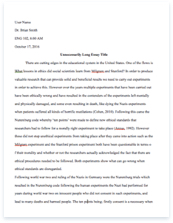 The whole doc is available only for registered users
OPEN DOC
A limited time offer! Get a custom sample essay written according to your requirements urgent 3h delivery guaranteed
Order Now
The very name suggests that the Loyola University of Chicago is a Jesuit university. The private university had been, in fact, founded under the name of St. Ignatius College back in 1870. It is still considered the largest Catholic and Jesuit university in the United States. The university has four campuses in different places, such as Maywood also in Illinois and even in Italy. The programs have experienced expansions through the years since the university has been established. If you are Catholic, you may be interested in being part of a Jesuit institution. If you are not, do not worry: the university is open to people of all faiths. All religions are explored and studied fairly in the Loyola University of Chicago.
Degrees offered
The university's strong point is its religious education. The seminary and religious studies on Christianity, Hinduism, Islam, Judaism and more are considered the university's best features. Still, the university offers very competent law, medicine, liberal arts and other good bachelor's and graduate programs.
Alumni
As proof that the Loyola University of Chicago has effectively expanded its fields of study, its alumni are composed of personalities from all sorts of fields and industries. In entertainment, Smashing Pumpkins' James Iha, Glee creator Ian Brennan and actress Leslie David Baker represent this industry. Author Sandra Cisneros, Archbishop Anthony Petro Mayalla, Olympian Tom O'Hara and many US politicians and judges are also included in the roster.
Rankings and reviews
The university is ranked 119th overall in the United States. Us News & World Report hails it as a best value school. It also considers Loyola's part-time Graduate School of Business as belonging to the top ten of the nation. Businessweek seems to agree by placing the university's part-time MBA 8th in the whole country.
Admission tips
Again, you do not have to be Catholic to be admitted into a Loyola program. However, you have to have displayed competence in your high school studies. You have to submit a good set of grades to compete against many other applicants.
Admission facts
Admissions Data (2009):
Percent of Applicants Admitted: 78%
Test Scores — 25th / 75th Percentile
SAT Critical Reading: 540 / 650
SAT Math: 530 / 650
SAT Writing: 540 / 640
ACT Composite: 24 / 29
ACT English: 24 / 30
ACT Math: 23 / 29
Contact info
The best way to find the correct set of contact information that you need would be to visit http://www.luc.edu/about/contactus.shtml. There you can find contact numbers and addresses for the undergraduate, graduate or professional course that you want to pursue.
Related Topics