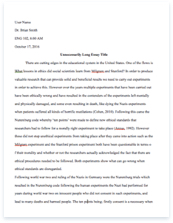 The whole doc is available only for registered users
Pages: 2
Word count: 410
Category:
A limited time offer! Get a custom sample essay written according to your requirements urgent 3h delivery guaranteed
Order Now
1.write a deatail account of the burma road riot in nassau bahamas. The 1942 riot in nasau was a short-lived spontaneous out burst bya group or disgusted labourers and occured against a background of narrow social -economic and politial policies-gail saunders. This riot start because of a labor dispute in the bahamas. On june 1942 thousands of bahamian workers came to bay street in march of solidonity that would come to be known as the burma road riot. The riot was a result of oppression of bahamian workers but was triggered by a wage dispute involving bahamian construction workers at the oakes field airport. The wages for all workers was set as four shillings ($1.00) per day even though the pleasant ville construction company was willing to pay eight shillings per day to the white people. They thought that eight shillings was to much money for black bahamian to have. Influenced the company to cut-pay or pay less. The workers learned that the white minority prevented their wage to increase, they decided to demonstate but the demonstration became a riot. In the riot four men loss their lives while others were injured. The wokers was represented by the Prime Minister at that time (Sir Milo Butler) A.F Adderly,Perry Christie and Dr.Claudius. Granted an increase one shiling per day and a free meal at lunch.
Burma Road riot was critical element in the fight for workers rights and resulted in the first increase in wages for Bahamian unions were formed between 1942 anmd 1958 included the bahamas taxi cab union, the bahamas union of teachers,the bahamas hotel catering and allied workers union, the airport airline and allied workers union and etc. 2. what factors contributed to the social unrest of teh 1930's and 1940's? Social unrest is define affirmative action of march 6 1961, provides advantages for people of aminority group who are seen to have traditionally ben discriminated against, with the aim of creatinga more egalitarian society through preferential access to education,employment, helath care ,social welfare and etc. Numerous factors of elements contributed to the social issues of the 1930's and the 1940's. FRom the social factors such as: crime, racism,lack of education ,poverty and prejudice.To economic factors like unemployment , the 1929 stock market cash, the great depression and underemployment. Political factors such as: the residents did not like who was in charge of the country and they did not have a say or a vote.
Related Topics