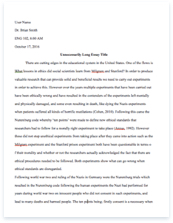 The whole doc is available only for registered users
A limited time offer! Get a custom sample essay written according to your requirements urgent 3h delivery guaranteed
Order Now
1. Company Profile:
a. History: Zappos was founded in 1999 by Nick Swinmurn after shopping for shoes and not finding the ones he wanted in a store or online, he decided to startup an online shoe retailer. (Zappos, Inc., 2010) b. Mission Statement: To provide the absolute best service online. To live and deliver WOW.(Zappos, Inc., 2010) c. Employers Expectations: Zappo looks for employees who understand the need for the Zappo core values and are willing to embrace and embody them. (Stershic, 2008) 2. Company Statistics:
a. Number of Employees: 3003 (CNN Money, 2012)
b. Annual Revenue for FY2010: 1,640 ($ millions) (CNN Money, 2012) c. Current Stock Value: Not a publicly traded company. Under Amazon d. Products: Zappos products include the online retail of clothing, Shoes, Accessories, Eyewear, At home products, Beauty supplies and Handbags. (Zappos, Inc., 2010) 3. Observable Components of Company Motivation Strategy:
• Organizational Culture: The values, norms, standards of behavior and common expectations Zappos expects of their employees. i. The Zappos family enjoys a fun unique workplace that has a little weirdness in the mix. a) "Fun in the workplace, such as team building activities and allowing people to be 'a little weird' and express their own personalities are just a few ways that we work to fight against that frustration at the Zappos Family." (Wolske, 2012) b) The only staff members in traditional offices with doors are those in legal (confidentiality reasons) and IT (temperature control for sensitive equipment). (Stershic, 2008) ii. Each cubicle is decorated to match the employee's personality and style. a) Zappos wants its employees to feel comfortable in their work environment while working for the company. (Taylor, 2008) b) Zappos employees get to express a part of themselves at work which can make them feel more comfortable. • Compensation: The pay, bonuses and company expense accounts that Zappos offers its employees. i. Zappos CEO Tony Hsieh admits that Zappos underpays in terms of salary. (Magill, 2007) a) The salaries at Zappo are at or below the market.
b) Zappos puts emphasis on benefits and culture over salary. According to Ian Myers, Zappos has paid profit sharing in the past. (Myers, 2011) ii. Employees at Zappos feel that the culture and work environment in addition to the salary are valuable. a) Employees say that the total compensation package delivers a greater total value than higher wages but lower benefits. (unknown, 2011) b) The benefit package is above industry averages thus making the total package great. • Benefits: The insurance, vacation and sick time, free meals, employee assistance program, discounts, monthly team outings and prepaid legal. i. Zappos offers a great benefit package, plus a corporate culture that includes employees into decisions. c) 100 % medical insurance coverage, dental, vision and life insurance are the basic benefits. Pet insurance, pre-paid legal, free meals, onsite wellness services, monthly outings, discounts on products and daily goof-off time goes above the normal benefits.
d) The managers are required to spend 10-20% of their time goofing off with the people they manage. (Chafkin, 2009) ii. Offering these benefits to the employees shows that Zappos wants the employees to be happy and motivated. c) Each year employees are asked to express their thoughts about the company's culture which shows incite to possible changes. (Stershic, 2008) d) According to Brooke Likens, an employer at Zappos," Zappos is absolutely a great employer. I've been here for close to three years now, and have never experienced anything quite like it. The culture is unbelievable, the people are amazing and the benefits are top-notch. Not only is our individuality embraced, but encouraged and supported. Fellow employees are no longer co-workers, but friends and family – and that is a great thing." (CNN Money, 2012) 4. Analysis of Company Motivation Strategy:
a. Both the Expectancy and Maslow's hierarchy of needs. Zappos rewards hard work to those who put in the effort and follows Maslow's hierarchy of needs by keeping employees happy. i. Expectancy Theory and Maslow's hierarchy of needs best fit Zappos. a) Expectancy Theory is the extent to which effort results in a certain level of performance. (Jones & George, 2011) b) Maslow's hierarchy of needs is the arrangement of five basic needs that motivate behavior. (Jones & George, 2011) ii. Link theory to each motivation component identified. a) Component 1 (Organizational Culture) is linked to the expectancy theory by the effort the Zappos puts into their hiring and what employees expect of each other. By giving the new hires the "Offer", Zappos is finding employees that will put forth the best effort that will result in high performance. The other employees know that the new hire that turned down the "Offer" has high expectations and will most likely have a high level of performance. This shows why CEO Tony Hsieh says "this is not just a company; it's like a way of life". (Chafkin, 2009) b) Component 2 (Compensation) is linked to Maslow's hierarchy of needs. While Zappos doesn't have the highest salaries and wages the employees still feel that their physiological and safety needs are met.
The pay compensation is enough to provide shelter, food and water for employees and they know their jobs are secure. (Insights) At Zappos if you want something, make it happen! (Myers, 2011) c) Component 3 (Benefits) are linked to the Maslow's hierarchy of needs. By offering 100 % medical insurance coverage, dental, vision and life insurance. Pet insurance, pre-paid legal, free meals, onsite wellness services, monthly outings, discounts on products and daily goof-off time meets the belongingness, safety, Self-actualization and esteem needs. In addition to the benefits listed above, Zappos offers additional training and has set goals to have the new hires be entry-level people with additional training they can become senior leaders in five to seven years. (Chafkin, 2009) b. Strengths of the company's motivation strategy?
i. Zappos Core Values:
a) Every employee at Zappos follows the 10 core values; this gives employees the sense of being a part of something bigger and having the power to make a difference. b) The core value "Pursue Growth and Learning" is what helps inspire employees to strive for excellence. (Zappos, Inc, 1999-2012) i. With the Zappos library, employees can further their professional growth. (Stershic, 2008) ii. Zappos core values:
• Deliver WOW Through Service
• Embrace and Drive Change
• Create Fun and a Little Weirdness
• Be Adventurous, Creative and Open-Minded
• Pursue Growth and Learning
• Build Open and Honest Relationships With Communication
• Build a Positive Team and Family Spirit
• Do More with Less
• Be Passionate and Determined
• Be Humble (Zappos, Inc, 1999-2012) ii. Not expecting constant work from employees.
a) By not focusing every minute of the day on work reduces the stress and frustration levels at Zappos. b) Identify positive impact on employee performance i. Employees feel a sense of control regarding their work load and pace. ii. Cubicles are decorated to reflect both individual tastes and the employee's respective departmental culture. (Stershic, 2008) Managers spend 10-20% of their time goofing off. (Chafkin, 2009) This shows employees that not just the work is important but so are they. iii. Liberating call center employees actually increases productivity. a) By no scripts, no monitoring, no time measures on the calls, gives the employees the responsibility to solve problems. This has given Zappos one of the highest ratings in customer satisfaction. (Conan, 2010). b) With the additional responsibility of solving customer problems, employees will feel more job satisfaction. They will feel like they are a part of the company not just working for the company. i. Call Center employees are encouraged to use their personal emotional connection on every call. (Ernst Beaudry, 2009) c. Weaknesses of the company's motivation strategy?
i. Offering below average salaries and wages. (Chafkin, 2009) a) Not offering average or above average salaries and wages can send a message to employees that they are undervalued. b) Employees may leave for better pay.
ii. Zappos lacking family benefits.
a) Lacking the onsite childcare, no 401k match and no tuition reimbursement may be a factor in employee's decision not to work there or to leave. (Myers, 2011) b) Employees may not work as hard if they feel the benefits are not worth it. iii. Zappos culture may be too much for some employees. a) While some employees may enjoy the carefree culture at Zappos others may want more structure. b) Employees that need structure may fail to meet expectations stated in the core values. d. Improvements to the company motivation strategy.
i. Encourage goal setting and follow through would allow Zappos to follow the goal-setting theory. The goal-setting theory focuses on identifying the types of goals that are most effective in producing high levels of motivation and performance and explaining why goals have these effects. (Jones & George, 2011) a) Having the ability to set what you do throughout the day should encourage employees to set goals to keep themselves on track. b) All employees have access to the Zappos library to expand their knowledge. The follows number seven of the core values. c) There is really no performance/motivation aspects currently set for something like this. ii. Brainstorming new company ideas.
a) The essays that the employees write each year. b) The CEO reviews the essays each year. (Chafkin, 2009) c) The Pipeline team provides training and has added to the company based off of essay material. (Zappos, 2012) 5. Conclusion: Employees are the key to any company's success. Zappos treats its employees like family and the company continues to thrive. Zappos may pay at or below average but the employees feel satisfied. Employees state that they enjoy coming to work in this type of environment and feel the culture and benefits are worth the lower pay. Zappos core values are one of the strengths this company has. The core values are the foundation that this company stands for. The employees respect the core values. The overall picture of employment at Zappos is one of a happy, carefree love for the work they do there. Zappos could improve on its benefits and personal employee goals. At this moment the current benefits seem to be satisfying the employee's just fine. My personal view on Zappos is, if I lived in Vegas I would go to work for them!
References:
CNN Money. (2012). Retrieved from 100 Best Companies to work for in 2012: http://money.cnn.com/magazines/fortune/best-companies/2012/full_list/ Chafkin, M. (2009, 05). How To Get A Staff Of Believers – Tony Hsieh of Zappos.Com Tells You How. Retrieved from NBPJobs.Org: http://www.nbpjobs.org/2009/09/how-to-get-a-staff-of-believers-tony-hsieh-of-zappos-com-tells-you-how/#.Tzh5PuQqiAY Conan, M. (2010, 01 04). Drive' Not Always Explained By Rewards. Retrieved from NPR: http://www.npr.org/templates/story/story.php?storyId=122221202 Ernst Beaudry, J. (2009, 05 04). Zappos Milestone: Customer Service. Retrieved from Zappos: http://about.zappos.com/press-center/media-coverage/zappos-milestone-customer-service Hsieh, T. (2009, 07 22). CEO Letter. Retrieved from Zappos: http://blogs.zappos.com/ceoletter Insights, Z. (n.d.). Frequently asked questions. Retrieved from Zappos insights: http://www.zapposinsights.com/membership/faqs Jones, G., & George, J. (2011). Essentials of Contemporary Management. McGraw-Hill Irwin. Magill, K. (2007, 10 01). Workers Paradise. Retrieved from Direct: http://directmag.com/online/marketing_workers_paradise/ Myers, I. C. (2011, 05 11). How does Zappos handle employee compensation: bonus vs. salary? Retrieved from Quora: http://www.quora.com/How-does-Zappos-handle-employee-compensation-bonus-vs-salary Stershic, S. F. (2008, 11 18). Quality Service Marketing. Retrieved from Internal Marketing Spotlight: Zappos.com: http://qualityservicemarketing.blogs.com/quality_service_marketing/2008/11/internal-marketing-spotlight-zapposcom.html Taylor, B. (2008, 05 19). HBR Blog Network. Retrieved from Harvard Business Review: http://blogs.hbr.org/taylor/2008/05/why_zappos_pays_new_employees.html unknown. (2011, 08 16). The Income Gap: The Growing Chasm Between Server and Served. Retrieved from Retail Prophet: http://www.retailprophet.com/blog/tag/zappos/ Wolske, J. (2012, 01 24). Make The Most Out of Your 9-5. Retrieved from Zappo Insights: http://www.zapposinsights.com/blog/item/make-the-most-out-of-your-95 Zappos.
Related Topics