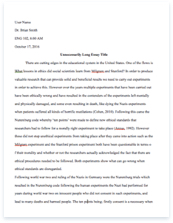 The whole doc is available only for registered users
Pages: 5
Word count: 1103
Category: Project
A limited time offer! Get a custom sample essay written according to your requirements urgent 3h delivery guaranteed
Order Now
I. Project Concept and Strategy
A. Was the Woody 2000 project well conceived? Give reasons for your opinion. Answer: Yes, because before they plan the project, they considered first the advantages and disadvantages of expanding their location and enumerated the risk that they will be encounter if they pursue relocating their business.
B. What were Woody's real objectives that could and should have been articulated? Answer: To improve the production efficiency of the company via computer controlled automation.
C. What strategies were there for achieving these objectives? What would you recommend? Answer: I recommend that conducting a feasibility study will help in achieving those objectives.
D. Did they consider other solutions? Give examples.
Answer:
E. How would you gauge the project success? Could success be measured? If so, when? Answer: If the objectives of the project were met. Yes, if there were improvement on the performance of the business function compared to its previous activities.
II. Project Scope
A. Why do you suppose renovation of the President and Executive Vice President Offices were included in the project and was that a good idea? Answer: I think including the renovation of the President and Executive Vice President offices in the project was not a good idea because It's not a priority in the project which is focusing on the production efficiency.
B. Write a simple project scope statement.
Answer: The scope of the project is to improved the production efficiency by expanding the work area and installing new and automatic equipments.
C. Develop a work breakdown structure.
Answer:
III. Project Planning
A. What should be included in a Woody 2000 project plan? What use would it be? Answer: The project plan must include
B. Evaluate Woody's plans for managing the project, including their approach to contracting for professional services and the construction work. What would you have done and would that change for successive phases of the project? Answer:
C. Did the project plan explain how the project and any changes would be controlled? Should this be part of the plan? Answer:
IV. Quality
A. How should quality be approached and what does it mean?
B. Why did Leadbetter not invoke the specifications to ensure quality? What was the result? C. What is the importance of Quality to a project like this
V. Planning and Scheduling
A. Identify and describe a set of project schedule milestones from project concept to project completion. B. Illustrate your milestones on a simple bar chart scaled to the information provided in the Case Study.
C. Would a good baseline plan have helped to show that the project would not meet its schedule? If so, how?
Answer:
D. How should float on the critical path have been managed? Would this have helped to complete on time?
VI. Cost Estimating
A. Develop a high-level estimate by "guesstimation".
Answer: about
B. How should the estimate be presented?
C. Is life-cycle costing a factor on this project?
D. Cashman kept his cash flow chart a secret. Why, and what would you have done?
Answer: Cashman may not want to let the others know the amount of money that have been (nalabas) and (napasok). Be professional. Don't jump to the
conclusion. Talk to him and ask why he would do such a thing.
VII. Contracting for Engineering and Construction Services
A. What were the contracting alternatives open to Woody's? Which would have been best and what would that have involved?
B. How should the contract(s) be organized and tendered?
C. How should they be administered?
D. Were the original Woody 2000 project requirements delivered?
VIII. Communication and People Management
A. Draw a project organization chart. What were the real relationship?
B. Should Leadbetter have been left to run the project?
Answer: Leadbetter should have been the one take reposibility for the project because as a Project manager, he is more accurate to the position of Moneyworth. Leadbetter may know something that Moneyworth didnt know. Yes, Training is a big help to everyone cuz it enhances your skills and abilities.
C. How should the Woody 2000 project plan be communicated and when?
Answer: They should have meetings depend on the meeting type. Combining all purposes of meetings into one can end up nothing gets done. The project manager must keep in mind if they encountered a certain problem/ issue, they must set a schedule for a meeting.
D. What communication (coordination) would you expect to see during execution?
Answer: A good communication with the development team. For them to prevent confusion and misunderstanding. Also they should never assume that everyone understands what they're saying, so make it simple and at the same time informative.
IX. Progress Monitoring and Control
A. Would a good baseline plan have helped to make up time?
Answer: Let us first define Baseline Plan. A baseline plan is a plan that defines what planners hope the project will look like. It includes cost, time, and goal factors. Yes, a good baseline plan really can help to make up time. Because all your resources, schedules, anything that concerns the project have been prepared at the beginning. The only thing to do of the team is to "sunod" (dont know the term).
B. Draw a responsibility chart for effective control.
C. What would you have done when you saw that the project would not meet the schedule?
Answer: first, ill set a meeting. then notify them to double time the project but not in a point where poorly completed work have been done.(hindi na ako sure dito->>) On the other hand, if the project really wouldnt meet its schedule, The Pm should inform the CEO or president about it and talk about the adjustment to make finish the project.
D. Project records were apparently poor. What records should have been kept and how?
X. Cost Control
A. Why was EID's first price so high? Was their position reasonable?
B. When did Woody's know they were in trouble with over expenditure? What was the result?
C. How should the project budget and expenditures be set out for cost control?
D. Draw a simple flow chart for processing changes.
XI. Risk Identification and Management
A. How did EID handle their risks? Was this effective? What might they have done?
B. List Woody's actual surprises and add other possible surprises. What was, or should have been, done
to prepare for and respond to them?
C. Were there changes?? What were the impacts?
XII. Facility Startup and Project Closeout
A. How was start up managed on the Woody project? How should it have been managed?
B. The Woody 2000 project was evidently not well run. Why? Give reasons for your opinion.
C. Develop a list of "Key Success Indicators" that could and should have been measured on completion.
Rank them in order of priority of this project.
Related Topics