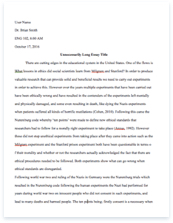 The whole doc is available only for registered users
A limited time offer! Get a custom sample essay written according to your requirements urgent 3h delivery guaranteed
Order Now
In this book review I will be writing about a book called Who Killed Change. Who Killed Change was published in 2009 by Harper Collins located in New York, NY. This book was written by an author with the name, Kenneth Blanchard. Kenneth Blanchard is an American writer and management professional, one of his books The One Minute Manager has sold more than 13 million copies he has also co-written 30 best sellers. I chose this book because it seemed to be the most interesting from a list of approved books. The book Who Killed Change is written to find what is killing change in everyday organizations. To do this the author uses a character called agent to interview thirteen suspects. This book is filled with wit which keeps the reader interested in the valuable lessons that it teaches. In this report I will provide a summary of major themes in the book, I will also be comparing and contrasting concepts from Who Killed Change with concepts from our textbooks. I will then give a well-reasoned opinion on the points from the book Who Killed Change. The Book Who Killed Change is written to address every day organizations, which have initiated or are going to initiate changes.
Most of these organizations will fail to initiate these changes costing them money and failing to increase the status quo. This book looks at who causes these changes to be killed so that they can be taught to change and stop costing the organization money. This book starts off by introducing the Detective named Agent McNally, who is on the crime scene investigating a murder of Change. With his assistant Anna the Agent goes on to interview thirteen suspects. The first of which is Carolina Culture. McNally learned from his interview that Carolina Culture understood the formal values of the organization but did not understand the values that were important, McNally believes Change would have done better if he would have followed the real values instead of getting advice from Culture. The next Interview was with Chase Commitment, through this interview McNally believed Chase was passionate about his job but lacked the power to convince leaders to commit to a change. The third interview was with Spence Sponsorship, through his interview with Spence, McNally learned that Spence had given a strong introduction of Change to the leaders but he failed to follow through.
McNally believed this happened because Spence failed to get along with both the Change Leadership Team and Accountability; he also didn't take advice from Commitment. The fourth interview was with Change Leadership Team (PECS), through this interview, McNally learned that PECS would lift Change up but he would fail to carry him anywhere which would hinder the process of Change. The fifth interview was with Clair Communication, through this interview, McNally learned that Clair failed at her job she did not communicate with Spence or PECS which led to people ignoring Change. The Sixth interview was delayed as McNally waited for Ernest Urgency to arrive for the Interview. Through this interview McNally learns that Urgency is very inconsistent although Ernest tried convincing employees to accept Change, he failed to ask questions about thoughts on Change; he also failed to spend time with the employees affected by the change in status quo and performance levels.
The next interview was with Victoria Vision a nearly blind woman, through this interview, McNally learns that Victoria could not see the organization for what it was she like the others avoided advice from Commitment. She also failed to get employees involved with her visions. The eighth interview was with Perry Plan, through the interview, McNally learns that Perry never worked on details; he failed to plan for small victory's to keep the employees interested in Change, instead Perry would only look at the big picture and the end goals. The next interview was interview nine with Baily Budget; McNally thought that she was very suspicious, because many of the others blamed her, because she failed to spend money on Change, she said why should she commit any funds if the others are not investing time to enable Change. McNally agreed that if a Change was not packed with time, effort, and funds would fail. The tenth Interview was with Terry Trainer, McNally learns that Terry had attempted to train the employees but failed because he didn't have his heart in it and he himself didn't have proper training.
The eleventh interview was with Isabella Incentive, McNally learns through this interview that Isabella failed to institute her ideas because she failed to make relationships with culture, and performance management work so budget didn't allow for fund to be used. The twelfth interview was with Peter Performance Management, through this interview, McNally learned that he was behind schedule because of deadlines missed by other leaders. The last interview was with Aidan Accountability, McNally learned that Accountability had been busy too busy to help Change so he let Delegation Follow-up and Consequence help him. In the end McNally puts the blame of the murder of Change on all thirteen suspects; they had all played a part in his untimely demise at the organization. The author also includes a guide to help apply the lessons learned in the story to your organization.
The book Who Killed Change has a few concepts that are shared with our text book by Stephen P. Robbins and Timothy A. Judge Organizational Behavior. The concepts that I will be comparing and contrasting between these two books are Culture, Communication, Plan, and Change. In the following paragraphs I will explain how the concepts differ from book to book and I will also share there similarity's
The first concept that I will be talking about is Culture. In the book Who Killed Change Ken Blanchard defines culture "As the predominate attitudes, beliefs and behavior patterns that characterize the organization." ( Ken Blanchard126) Ken goes on to say that the role of culture is very important when going through the process of change. Ken goes on to say that culture has the power to ruin change or to help it survive. Ken says that if you want culture to help change you will half to align the culture with the change. To align culture with change you must define in what way you are able to weigh the existing culture to help endure, and upkeep Change. Ken also says the use of accountability, sponsorship, and incentive should be used to help strengthen Culture so that Culture can upkeep Change. He also says that it is important to determine cultures alignment with change and if they are not aligned then you must find what is required to realign culture with change.
In the book Organizational Behavior the authors agree that Culture can be a barrier to change. They also agree that Culture can become a problem if it doesn't line up with future goals (change) that will benefit the organization. One thing these authors state that Ken doesn't is that culture can be very hard to change and that if not all conditions exist to change culture success is not likely, and even if culture changes its not dramatic it takes time.
The Second concept that I will be talking about is Communication. In the book Who Killed Change Ken Blanchard tells us that Communication is very important in the change initiative if you want change to succeed in the organization. To do Ken tells us that we must be focused on not creating one way communication but instead creating dialogue between change and those that need to change. He also shares that it's important that when communicating about change that the message be constant to avoid flustering the ones that need to change. Ken also says that communication should be used by respected sponsors and leadership members to advocate change.
In the authors of the book Organizational Behavior agree with Ken that Communication is a very important part of any organization when working with change. The authors also agree that Communication passes important information to employees (the ones that need to change) that needs to be held constant by leaders in the organization. One thing that is different between Ken and the authors of the Organizational Behavior book is that the Authors go into more depth on how communication can be transmitted and other aspects of communication.
The Third Concept that I will be talking about is Planning, Ken Blanchard covered this in his book Who Killed Change. Ken tells us that Planning is very important and can even be more important than the implementation of the plan. Ken believes that the following are important to a proper plan: defines priorities, gives details, includes those being asked to change, and defines the end goals so it is known when they have accomplished the plan goal. A successful plan should also include: plans to develop an infrastructure that can support the new change, gives small victories to those who need to see progress in order to support change, and needs to include pilots for early adapters.
In the book Organizational Behavior the authors agree that planning is very important for any organization. They also agree that a plan is put in place to change the behaviors of the organizations employees. They agree that a plan "encompasses defining organizational goals, establishing an overall strategy for achieving those goals, and developing a comprehensive set of plans to integrate and coordinate activities." ( S. Robbins, T.Judge 6). They don't go into further details about planning like Ken Blanchard does.
The Fourth and final concept I will talk about is Change. This is the main concept covered in the book Who Killed Change. Ken Blanchard gives hints on what change is throughout the book he tells us that Change must align with the culture of the organization to succeed, also change must have a strong implementation with a strong follow-through. He tells us that Change must be communicated in order to succeed. Also that Change must be planned from the perspective of the ones who are being changed. In the end he tells us that many changes don't succeed because many members of organizations resist change and fail to help it along the way.
In the book Organizational Behavior the authors believe that there are two types of change one that Ken does not talk about and that is unplanned change, but they also talk about planned change. They agree with Ken that Change is implemented to help an organization succeed. They also agree that Change should be planned from the view of the employees being forced to change. They also agree that many change initiatives get shot down because members of an organization fail to commit or resist the change initiative. Robbins and Judge look into the resistance of change from the employee's perspective not from the organizations managers like Ken does.
In conclusion Ken Blanchard's book Who Killed Change brings to light that change is fragile and failure is common for change, but if you need change to succeed then there are things that can be done. One of the these things is getting your management team to understand that without helping change by allowing it to fail can lead to damaging outcomes. Ken Blanchard tells us "Change can only be successful only when the usual characters in an organization combine their unique talents and consistently involve others in initiating, implementing ad sustaining change." (Ken Blanchard 144) When comparing these two books they both contain general information on Change and other concepts that influence it, but it is obvious to me that the Organizational Behavior book is written to give a more general knowledge on the topic of Change in an organization. Ken Blanchard's book Who Killed Change gives us both at general understanding of change followed by increasingly more information about the factors and concepts that can make a huge difference in the success of a Change initiative. I believe that by reading this book I have gained an improved understanding of not only change but of many factors that can affect it.
Work Cited
Blanchard, Ken. Who Killed Change. New York: Polvera, 2009. N. pag. Print. Robbins, Stephen p., and Timothy a. Judge. Organizational Behavior. Fourteenth ed. New Jersey: Pearson Education Inc, 2011. Print.
Related Topics