Where do I see myself in the year 2024?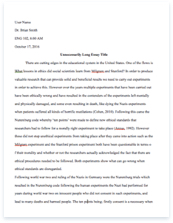 The whole doc is available only for registered users
A limited time offer! Get a custom sample essay written according to your requirements urgent 3h delivery guaranteed
Order Now
Latasha Edwards Editor-in-Chief of CosmoGirl magazine has been nominated as 2024 most prominent editor. Latasha has been working for CG magazine since June, 2007. She first began working as an intern, planning events, and even serving coffee for staff meetings. It was challenging for her to proceed to the next level as a writer. Latasha shared many different articles with her boss, but unfortunately every article was denied. "It was difficult because I was the only person who was inelligible to become a staff writer, one of the editor's grimacly looked at my article and told me I had nerve for showing this to him, then he threw it in the trash." she says. The only person that gave Latasha a chance was the Editor-in-Chief. She found Latasha's article in the trash can read it and put it in the next issue.
After writing several more articles Latasha was granted a perminent career with CosmoGirl; before she officially accepted the offer she put it on hold in order to continue her college education. At the age of 25 she received a master's degree from New York University with a major in Journalism and a minor in creative writing.She then, followed up on the offer as a permanent staff writerfor CosmoGirl magazine. Now at the age of 36 Latasha is fulfilling her career as Editor-in-Chief. She has definitely bestowed a positive vibe for the magazine. The CG issue includes Free applications for federal student aid, front-cover issues that promotes plus size models, and over 300 scholarship offers from the top Universities world-wide. When Mrs. Edwards is not preoccupied with her career she is constantly spending time with her three children and husband (Amati, Carington,Kenyon, and Kevin)." All thanks to an internship with CosmoGirl magazine I am doing what I've always dreamed of doing." she says.
Related Topics