When intelligence is (dys)functional for achieving sales performance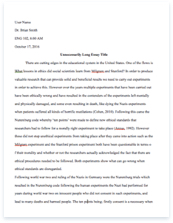 The whole doc is available only for registered users
A limited time offer! Get a custom sample essay written according to your requirements urgent 3h delivery guaranteed
Order Now
The present article was taken from the Journal of Marketing. The general purpose of the Journal of Marketing is to provide information about the recent needs and trends in marketing. The journal specifically deals with new techniques utilized for solving marketing problems, reporting of research that could aid in reviewing market trends, providing reliable and valid findings, and presenting ideas, theories, and illustrations that have only recently entered the field and practice of marketing. In order to provide all of these information, the journal is published quarterly by the American Marketing Association and the primary editor is Ronald T. Rust and is primarily an online publication. Journal of Marketing was established 1936 and is still currently in publication.
The manuscripts submitted to Journal of Marketing must all be in the following format: double-spaced, 12 point font, consecutively numbered pages, one inch margins on all sides, left justification must be used, and created in Adobe Portable Document format (.pdf). All submissions must be submitted via the JM website, manuscripts sent via post are not accepted. Likewise, manuscripts should not exceed fifty pages of text, tables, figures, appendices, references, and the like. All work submitted will be subject to review based on the readability and content of the paper. The content must have solid conceptual work, empirical work, limitations, and accuracy.
Subscription to Journal of Marketing issues can be made online. Prices vary depending on the individual's location, whether on the continental US or outside. Those on the continental US include Canadian residents who pay an extra percentage above that paid by US residents. Prices also vary according to the format opted by the individual who wants to subscribe. Formats vary from individual print only, institution print only, individual print + online, institution print + online, individual online (for those outside the continental US), and institutional online (also for those outside the continental US).
For this particular article, the authors were all highly esteemed academicians with good credentials. Prof. Willem Verbeke is a professor in Sales and Account Management in Erasmus University Rotterdam, Asst. Prof. Frank Belschak is affiliated with the Human Resources Management-Organizational Behavior Department of the University of Amsterdam, Prof. Arnold Bakker is affiliated with Work and Organizational Psychology also in Erasmus University Rotterdam, and Bart Dietz is an assistant professor of the Organisation and Personnel Management Department of the same university.
The article focuses on the relationship between general mental ability (GMA) and social competence and thinking styles of salesperson in helping them reach their sales goals. It is believed that high GMA, high social competence, and more diverse thinking styles enable a salesperson to come up with new ways to solve particular problems encountered in the workplace and thus allow them to achieve sales goals easier. The study found significant interaction between GMA and social competence. High social competence and high GMA resulted in higher sales performance. High GMA paired with low social competence led, however, to low sales performance. It is clear, therefore, that high GMA can yield better salespeople only when it is coupled with particular skills such as social competence.
Reference
Verbeke, W. J., Belschak, F. D., Bakker, A. B., & Dietz, B. (2008). When intelligence is (dys)functional for achieving sales performance. Journal of Marketing. 72(4), pp. 44-57.
Related Topics