Western Front and Jünger's The Storm of Steel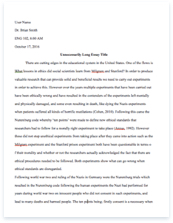 The whole doc is available only for registered users
A limited time offer! Get a custom sample essay written according to your requirements urgent 3h delivery guaranteed
Order Now
The First World War erupted only a decade into the twentieth century, and it defined civilizations for many subsequent years. Erich Maria Remarque's All Quiet on the Western Front and Ernst Jünger's The Storm of Steel both concern this war, however the two offer different perspectives of the war and its effects on societies and soldiers. The contrast between their accounts is seen in reactions to the enemy, feelings upon killing an "enemy" soldier, opinions of death in war, and reaction to the war as a whole, however a similarity exists in the war's impact on both.
The most visible display of Paul Bäumer's identification with, sympathy for, and empathy with men who are supposed to be his enemy occurs when he finds that a Russian prison camp alongside their camp. "It is strange to see these enemies of ours so close up," Bäumer states, "… they look just as kindly as our own peasants" (Remarque 258). Though Jünger and Bäumer see the enemy in entirely different lights, they both realize them as human. Jünger, in his preface to the English edition, says there is much in common between enemies: a similar experience of war and a similar personal growth offered by war.
Both Jünger and Remarque discuss their respective reactions to encountering the death of their enemy, though their reactions differ greatly. Remarque offers, through Bäumer, an immense guilt, as if he'd stabbed himself when stabbing the enemy. "He has an invisible dagger with which he stabs me: Time and my thoughts" (Remarque 299). Bäumer is seriously shaken by his experience of killing another soldier, and feels as if he's robbed himself of life. Bäumer continues, "My state is getting worse I can no longer control my thoughts" (Remarque 301). Jünger describes his interaction causing the death of his enemy in a brief, concise, unaffected story. "My Englishman lay in front of it, a mere lad. I had shot him right through the head. It is a strange feeling to look into the eyes of a man whom you have killed with your own hands" (Jünger 265).
Just as different feelings of their own causing death, the authors promote different opinions of death (generally speaking) though a similar view is held regarding their own potential death. Paul Bäumer spends the entirety of his tenure as a soldier attempting to avert death, though he is surrounded by it. "Our knowledge of life is limited to death," he shares, suggesting he knows nothing other than the death that has surrounded him in war (Remarque 356). "By the animal instinct that is awakened in us we are led and protected … we reach the zone where the front begins and become on the instant human animals" (Remarque 80-81). Bäumer's only instinct, only goal is survival. According to Jünger, those who are dead as a result of war, and all who fought in the war, had purpose. "We stand in the memory of the dead who are holy to us, and we believe ourselves entrusted with the true and spiritual welfare of our people" (Jünger 318-319).
Similar to their feelings on death, the authors differ on their view of the war in general. Remarque, through the narrator and other characters, offers that the war has robbed them of their youth, and by no means made them better. As Albert, Paul Bäumer's comrade, says "The war has ruined us for everything" (Remarque 123). Bäumer continues, "He is right. We are not youth any longer. We don't want to take the world by storm. We are fleeing. We fly from ourselves" (Remarque 123). Remarque, through several characters, hypothesizes that the war has stripped soldiers of their youth, innocence, happiness, and opportunity of doing or being anything other than the animal-like creature they were forced to become. Jünger is similarly impacted, stating "wounded men never ceased to utter their fearful cries… Such moments can never be forgotten" (Jünger 246). Jünger introduces an idea that, however atrocious war may be, "Time only strengthens [Jünger's] conviction that it was a good and strenuous life, and that war, for all of its destructiveness, was an incomparable schooling of the heart" (Jünger xii).
As aforementioned, Remarque and Jünger aren't entirely different. The protagonists of both writings are German soldiers, both seriously affected by war, and both made into new beings. Remarque, through Bäumer, postulates that an animal instinct arises "we reach the zone where the front begins and become on the instant human animals" (Remarque 80-81). Jünger and Bäumer both share their feelings of loneliness and homesickness, as one would assume is a simple truth for any soldier. "There was a deeper homesickness than any peace in this world can set at rest," Jünger shared (xii). Bäumer, similarly, provides that he has these tendencies, in addition to other basic feelings. "All that meets me, all that floods over me are but feelings – greed of life, love of home, yearning for the blood, intoxication of deliverance. But no aims" (Remarque 392). Ultimately, Jünger and Remarque share "more than meets the eye": they both experience lasting impressions from the war, however, due to their differing status and differing worldview, they offer perspectives that differ in their respective reactions to the enemy, feelings upon killing an "enemy" soldier, opinions of death in war, and, more generally, their reaction to the war as a whole. Though the First World War was fought on a global scale and resulted in lasting global implications, a glimpse into the mind of two soldiers provides an exceptional insight into how the war affected actual individuals.
Works Cited
Remarque, Erich Maria. All Quiet on the Western Front. New York City: Random House Trade Paperbacks, 2013. eBook.
Jünger, Ernst. The Storm of Steel. London: Chatto & Windus, 1929. Print.
Related Topics