What were the weaknesses of Swissair's differentiation strategy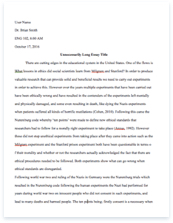 The whole doc is available only for registered users
A limited time offer! Get a custom sample essay written according to your requirements urgent 3h delivery guaranteed
Order Now
1) What were the weaknesses of Swissair's differentiation strategy
Differentiation is a generic strategy aiming to create an edge over rivals and have a differentiation package that is sustainable over time.
As markets become more competitive, organisations strive to differentiate themselves from the competition. The aim of differentiation is to create an edge over rivals and to have a differentiation package that is sustainable over time. This can be 'real' (e.g. product design feature) or 'imaginary' (a strong brand image). People have to believe there is a difference. Swissair were recognised as the best airline however this was not sustained due to the collapse of the airline.
An additional point to consider is that consumers may question the value offered for a price premium. Swissair offer leather seats and gourmet meals to the economy class service as well. The value offered for the price may not match and therefore a weakness is formed in the differentiation strategy.
Another weakness to the differentiation strategy is that as the market matures, imitators might reduce margins. This will result in Swissair having to reduce the prices of their products to retain customers, which will overall effect the profit of the company.
Swissair's differentiation strategy also has implications of it becoming difficult to retain the level of marketing investment in the long term. It may be difficult for Swissair to keep spending such huge amounts on marketing in order to keep coming up with new and innovative ideas.
Finally, new types of competitors might disturb the status quo. New companies will most likely have better products or have lower priced products, as to compete with existing competition. This will upset the 'status-quo' of the company and how they are developing their new products. They may need to re think when they will launch their product or the price they will charge as more often than not it will be cheaper.
The difficulties with differentiation stem from the environmental changes. More experienced consumers may see through 'imaginary' differences and even question the value offered for the price premium. As the market matures, imitators might reduce margins and new competitors may also disturb the status quo.
Swissair competed on a quality basis using a differentiation marketing strategy based on a brand that appeared to offer added value. It was positioned as one of the world's premier airlines and was viewed as the market leader in terms of quality. Overall customer satisfaction was high and the Swissair brand became linked with the countries own of efficiency, reliability and superior quality.
Swissair had the product, price, promotion and service but sought after a place differentiation that ultimately caused the company to come undone. Swissair had aligned itself with second and third tier airlines which did not share its ethos nor its exacting quality standards. Swissair's reputation for quality was potentially undermined. Finally, this expansion programme was extremely costly and weakened the company significantly. Swissair had over differentiated and incorrectly reacted to market conditions. The company's market strategy was overly costly and in attempting to please everyone the airline gradually fell from grace as one of the worlds leading airlines.
2) Conduct a SWOT analysis of Swissair and identify the company's main sources of advantage. (40 marks)
Strengths (Internal and controllable)
* Swissair have established a good reputation for in flight service and punctuality.
* Good reputation for quality level of service.
* A well established company – 1931
* Respected brand image representing quality
* Value added product compared to competitors
* Known for its innovation, most notably in e-services. First to offer 'on line check in' this extended its customer service leadership position.
* Good location for current market and easy access to future expansion.
* Linked to other companies which are worldwide market leaders
* High level of customer loyalty especially with business market.
Weaknesses (Internal and controllable)
* Taking on minority airlines – being aligned with '2nd and 3rd tier air lines which do not share Swissair's' ethos and reputation for quality could jeopardise their reputation.
* The expansion would be costly – heavy financial commitments. Non-viable cost structure.
* Quality is main priority however upholding an 'expensive image' is costly
* High level of pay for pilots "the highest paid pilots in Europe"
* High number of employees.
* Targets both business and leisure markets – rather than just focussing on one. And Swissair is just perceived as being a business traveller airline.
* 1998s' crash of the MD – 11 aircraft
* Overly spread air network that reduce perception of airline quality and customer appeal.
* Over differentiated product
* Perceived as costly compared to other airlines
Opportunities (External and uncontrollable)
* Keen expansion based on strong brand, hoped to allow access to US market
* Excellent public perception of brand appeared to make airline 'invincible'
* Support of Swiss government especially since Swissair is countries only major airline
* Being the market leader they are able to buy their way into new markets.
* Switzerland largest banks offered the airline a lifeline (money) which allowed the company to operate for a further six months, affording the company time within which to restructure and rethink the future of the airline.
Threats (External and uncontrollable)
* September 11th had led to a downfall in the air travel market and with Swissair's massive expansionism, heavy losses were inevitable.
* Low cost airlines had begun to enter both markets
* There is a general public perception that Swissair is overly expensive
* Variety of needs and demands across European and US markets – Swissair may not be able to meet all of the aboves' needs
Company's main advantage
Swissair is the national airline for Switzerland and there is limited competition in the area. They have a reputation for quality which cannot be matched and therefore differentiates them from competitors. Their value added product is more highly regarded than their competitors. Finally, Swissair have a good location as they have access to Europe and the US.
3) Compare and contrast the strategies of Swissair and Swiss in meeting the six tests of an effective core strategy. (40 marks)
The core strategy focuses on how objectives can be accomplished and consists of 3 key elements; target markets, competitor targets and competitive advantage.
Six Tests of an Effective Strategy
1) Clearly defines target customers and their needs
This company offers a broad range of services in all classes, economy class, business class and first class. Even the economy class has a lot of added extras that one would not associate with economy class. Customers in economy class may feel that many of these added extras are not needed and that they may find a cheaper flight without all these unnecessary supplements, therefore there is questions over whether Swissair have defined their target customer and their needs. Implementing e-travel services all those years ago meant that they captured the business market, however only in the least 2 years has the internet became more accessible. Before then it is probable to say that people travelling 'economy' could not take advantage of e-travel services, through having insufficient access to the internet. Swiss Air attempted to cater for business and leisure markets. Although they segment the markets to target each effectively, it is probable to say that because they attempt to cater for both markets they do not successfully achieve this.
Swissair try and evoke quality and they receive a lot of business through their good reputation. Tarnishing their name by a minority stake within a number of second and third tier airlines means that although they can reach more destinations, existing customer's quality needs are being over looked.
There have been many misconceptions about Swissair. The high quality associated with the company has led potential customers to believe this will reflect a higher price. The efficiency, reliability and superior quality has led to many potential market customers being driven away.
Swiss is said to reflect the multicultural, cosmopolitan character of Switzerland and the typical Swiss characteristics of quality. Swiss focuses on the premium business market and these are the typical needs of this target market. Swiss doesn't aim to be the most expensive airline and intends to offer better value than the competition. This is a very effective mix and captures the needs of their target market. Swiss have been effective in clearly defining their target customers and their needs.
2) Creates a competitive advantage
Swissair achieved a competitive advantage through offering superior performance. The differentiation of offering such high quality however was not completely successful because of the high standard. People believed this would be reflected in the price, misconceptions had led potential customers to believe otherwise so in many eyes Swissair did not deliver the lowest cost and therefore did not achieve competitive advantage.
Swiss creates competitive advantage through differentiating itself as a quality airline through trading off the Swiss image, however does not take it to the extremes like Swissair did and therefore costs are lower and consequently a lower delivery cost can be maintained resulting in a competitive advantage.
3) Incurs acceptable risk
Swissair do not adhere to this rule either to achieve an effective core strategy. Swissair take a considerable amount of risk by taking on an unsuccessful company. Swissair's market expansion strategy involved taking a minority stake within a number of airlines this incurred a substantial amount of risk because the expansion programme was costly and they aligned with second and third tier airlines which was also risky because it jeopardised their reputation for quality.
Swissair was the first airline in the world to offer passengers online check-in. The innovative e-travel services, this carried a considerable amount of risk, because of the experimentation and innovation involved, however e-travel enhanced customer loyalty and retention.
After the bankruptcy of Swissair, Swiss played it much safer. Swiss's operations are 30% smaller and travel to fewer destinations than Swissair. They have kept the profitable regional service of Crossair and because they know that it is a profitable service it incurs little risk. Swiss have partnered with American Airlines to allow greater access to the American market
4) Resource and managerially supportable
In attempting to encourage US trading Swissair over expanded and overspent taking on too many resources and incurring too much cost however they aimed to achieve cost savings by combining advertising, schedules and use of airport facilities. Swiss were supported by their government, downsized and refocused, and as a result the company is expected to be in profit by 2003. This fact alone proves that the airline can support its resources and is becoming independent.
5) Derived to achieve product market objectives
Swissair's market objectives were to supply a quality of service unmatched by any other airlines competitors. Before its expansionism it appears as if Swissair was meeting its objectives. However, by associating itself with second and third tier airlines it appears as if the airline had lost its focus and altered its objectives. These new objectives of appealing to the US market for example were too costly to realistically meet. Swiss seems to be a more suitable setup than Swissair. To attempt to reach the US market the new airline is in partnership with America Airlines and attempting to join the one world alliance – two measures that are both cheaper and more realistic.
6) Internally consistent
Both Swiss and Swissair appear to have been internally consistent although Swiss has made moves such as reducing pilot pay to improve the company's internal structure and costing.
Related Topics