We should Cherish Our Children's Freedom to Think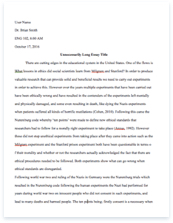 The whole doc is available only for registered users
A limited time offer! Get a custom sample essay written according to your requirements urgent 3h delivery guaranteed
Order Now
We should Cherish Our Childrens Freedom to Think In Kie Hos essay We should Cherish Our Childrens Freedom to Think, Ho argues that America education is not as advanced in academics as other countries but it is surely much better in other ways than many countries in the world. Ho shows that American education tends to teach young children to develop their own creativity more, rather than trying to fill their brain with knowledge, like a can of sausage. The essay consists mainly of the personal experience of Ho and his son in American school. When Ho was young he always had to memorize things, such as all the major cities in the world, lines from Hamlet, and a lot of math formulas. In contrast, his son in California learned everything through experiences, for example, when he was six he had to draw a map from his home to school and label every streets and building that he passed. Ho supports his argument about creativity and memorization very carefully, but it was not based on sufficient research. Some of his arguments are ineffective because he only used his own personal experience and his sons experience in the American school.
When my brother An, he first went to the American school, he was impressed with the developing of the creativity. Most of Hos personal experiences are very similar to my brother personal experiences when he was in his American elementary school. Hos argument on the development creativity is true, to my brother. He himself was really impressed by the way American school offered many different opportunities to the students to do whatever they wanted. For example, I recognized when An in elementary school, he knows how to created an apple bug, and know how to name it. Its body was made from an apple, apple bug eyes were made from two red cherry and its feet were made by many toothpicks. It was the weirdest and unusual bug in the world. An delighted experience was very closely related to the way Ho admires that the public school had provided these children with opportunities and direction to fulfill their creativity. (P.126) However, Hos argument on the memorization is insufficient.
In other country Vietnam, students have had to memorize things such as multiplication table and the Periodic Tables of Elements. Ho concentrated on an aspect of creativity and practical basic fundamentals of USAs education. Ho also believes that asking student to take memorization seriously will retard their impulses and frustrated their opportunities for self- expression (P.126). I believe memorization in an important part of our education system. If it were not important, then it would not still exists today. I remember when I was in elementary school I had to memorize the multiplication table, because I could not use the calculator to solve problems on the math test, so in order to do the test I had to memorize the multiplication tables by heart.
Sometime in class the teacher asked me an oral exam on the multiplication tables, I never felt retarded or frustrated like Ho was mentioning in the essay. But rather liked it that way and also felt just the opposite as Ho did. Consequently, every student should be encouraged by teachers to be creative and memorize every single thing. In a way, memorizing is good because students need to prove some theories to knowing the formula such as physic mathematics, and chemistry, which are important for students to interpret the result of certain exercises.
On the other hand, for college students if you memorize all of the elements in the Periodic Tables and know how each element react to each other then you can save a lot of time in the class and labs. Kie Ho said: When I was 18, I had to memorize Hamlets to be or not to be soliloquy flawlessly. (P.126) Author compared his early education in his country, Indonesia, with his sons American education. I would like to say that Americas way of education makes students think and express their own opinions; this is the good way to develop students thinking, and this method is effective in education.
In conclusion, Hos argument had some points effective and some ineffective. But through the essay I found Hos argument more ineffective than effective. He supported all his argument with a sympathetic personal experience, but that was not everyones experience. Because everyone has a different experience and perspective, I strongly believe that Ho is inaccurate, because he only used his own perspective and his sons experience in the American school.
Related Topics