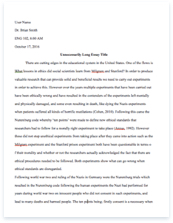 The whole doc is available only for registered users
Pages: 2
Word count: 309
Category: War
A limited time offer! Get a custom sample essay written according to your requirements urgent 3h delivery guaranteed
Order Now
War is an invention not biological characteristic or social behavior as some people argue. Just like other live inventions, war develops due to human desires to colonize new territories, exercise power, protect their property, and be recognized in the society. It is creditable to note that war is more prevalent in highly developed and civilized societies of the world where the invention has evolved over time. In fact war seems to be undergoing evolution from the initial crude form to a more complex, well defined and organized activity (Mead Margaret, 1990) it sounds logic to believe that the societies in their early stages of civilization, warfare rarely exist.
For instance, absence of warfare among the Eskimos is a characteristic of a socitety at its low stage of invention adoption. If war was a natural instinct common in all human around the globe, all groups would be using warfare to further civilization.Concequently, war being an invention instead some groups around the world knows nothing about the war whatsoever (Mead Margaret, 1990) According to Margaret Mead's document, some groups like Pueblo Indians used war to defend there civilization and not to expand their land. These people initially new nothing about war and would not have known it were it not for another group that brought war to them.
The chances of war becoming obsolete are minimal. Despite having known better methods of resolving conflicts many years ago, warfare still thrives. If all nations of the world were peace loving (not aware of the invention) and strive to solve differences amicably, war would become obsolete (Mead Margaret,1990) However people have ingrained tendency to hold on to past -inventions believed to be worthwhile. Undoubtedly war is an invention.
References
Mead, Margaret. "Warfare is Only an Invention — Not a Biological Necessity." InThe Dolphin Reader. 2nd edition. Ed. Douglas Hunt. Boston: Houghton Mifflin Company, 1990. 415-421.
Related Topics