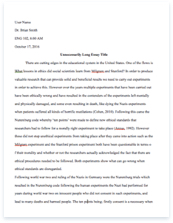 The whole doc is available only for registered users
A limited time offer! Get a custom sample essay written according to your requirements urgent 3h delivery guaranteed
Order Now
What were Wal-Mart's cultural oversights and how could they more effectively adapt to meet the needs of Japanese consumers?
The fact that Japanese consumers buy more fresh products than shoppers elsewhere. That made lowering costs difficult since most farms and fisheries in Japan are small, family-run operations that frequently offer better deals on smaller orders rather than on larger ones.
The supermarkets in Japan are located in cities and town in every neighborhood, and the idea of a retail store was practically new because of the invasion of international retail stores. So many people would just keep on buying in there local store.
Another aspect of the Japanese market was the need for local customization since something may sell well in Hokkaido is often avoid by Kyushu. They have to sell items according to the region, therefor they have stop standardizing there stores throughout the country in which they want to have a boost in sales.
Supermarkets as well as specialty supermarkets are very popular shopping destinations for day-to-day products among the Japanese consumers and tend to buy small quantities of products. This tells us that japanese people want to have fresh grocery and household products for a short time, they are not very fond of purchasing in larger amounts and having it in stock for larger periods of time. They prefer to get there products in intervals of time, this is because of the limited amount of area japanese home have for this and other products.
Japanese consumers are very different in their tastes and preferences for retail products as compared with consumers in other parts of Asia, as well as other developed countries. Japanese won't buy food that have a stain on them and/or marks on it of any kind, because in this markets the image of the product is what makes the decision easier for the costumer on whether buying it or not.
But note this japanese people likes luxury items as well and will indeed buy them like some handbags, glasses or something else entirely. Luxury items in Japan represented 40% of the worlds purchased luxury goods.
Japanese people like to have high quality items, and hearing the Walmart's well known slogan "Everyday Low Prices" they won't even think of buying something from them just because "low prices" means for them "low quality".
So in conclusion what they need to do is get rid of the slogan, because people will think they have low quality and won't buy anything.
They'll have to find a way of organizing themselves with the fisheries so they may have fresh seafood and in the agriculture area they'll have to make regular checks of there fruit and vegetables so they look in perfect condition with no signs of any stains or marks.
Sell smaller products of household products so people may buy them, because they'll have room for it. Finally they will have to adapt themselves to every region, because Japan is not the same everywhere some will like a products and others won't be very fond of that items, and they'll lose sells on them.
Related Topics